It's Cybersecurity Awareness Month!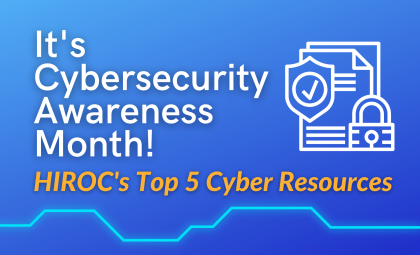 We at HIROC know cybersecurity is top of mind across the healthcare sector, and we're here to help!
Just last month we published our latest cyber-related resource focusing on how healthcare staff can spot phishing emails, which is one of the most common ways hackers infiltrate organizations.
Here are five of our top cyber resources to download and share across your organization:
Tabletop exercises are a cost-effective way of validating emergency response plans and ensuring staff are properly trained on current procedures. With this resource, you will learn the key elements of a tabletop exercise, access templates for creating your own, and find out how HIROC can help in your journey.
An organization's success in managing a crisis event is dependent, in part, upon its ability to communicate effectively. This guide will help teams develop a robust cyber crisis communications plan, complete with sample checklists, case studies, and advice on how to get major stakeholders involved in planning.
In this previously live webinar, HIROC and its partner in cybersecurity, CyberClan, provide top advice for building an extensive approach to cyber and securing data online. Learn how new cybersecurity policies and procedures can impact business operations, particularly for small to medium-sized organizations.
This guide will assist in developing a comprehensive cyber risk management program at your organization. It includes practical incident prevention and post-incident risk management strategies, as well as recommendations to minimize the occurrence or impact of cyber-related losses and promote vigilance against attacks.
A one-pager promoting key measures that healthcare entities and providers can take to facilitate the prevention of cyberattacks, and the immediate steps to be taken to mitigate harm should an attack occur.
If you have any questions about our resources, prevention strategies, or cyber coverage, please don't hesitate to reach out to us at inquiries@hiroc.com.