Cyber Risk Management: A Guide for Healthcare Providers and Administrators
This resource is only available in PDF. To download, select the icon from the top right-hand corner of this page.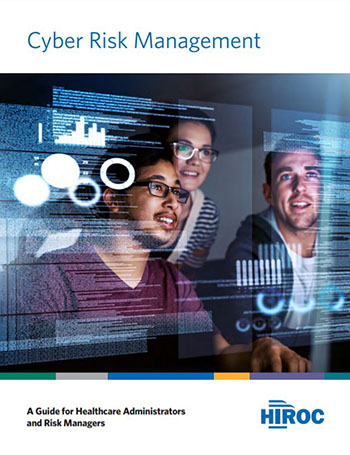 In this guide, you'll find:
Introduction
Purpose of the Guide
The Cyber Threat Landscape in Healthcare
Accountability Rests With the Board and Senior Management
Cyber Security Incident and Loss Prevention Strategies

Build resilience through cyber security awareness and training
Understanding the "current state"
Essential information technology processes and solutions

System updates and patch management
Proper passwords practices
Multi-factor authentication
Privileged accounts
Detecting cyber security incidents early on
Other key controls and mitigation strategies

Protecting the premises
Medical devices and cyber security
Vendor management and third party risks

Cloud service providers
Select and follow a standard cyber security framework

Cyber Security Incident Response and Business Continuity Plan

Who is on your Incident Response Team
Backups and restoration
Clearly articulate your system downtime policy
Create a Communications Plan
Identify legal obligations
Review your insurance policy

Immediate Management of Cyber Security Incidents
Post-Cyber Security Incident Recovery and Management

Why reporting is critical

Final Thoughts

References
Appendix: Ransomware checklist
Download a copy of the complete guide by selecting the PDF icon near the breadcrumb above.