Integrated Approach to Risk Pays Off for Bluewater Health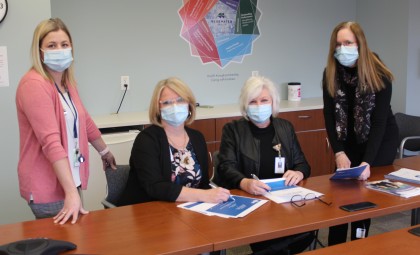 We are delighted to share with you the following article provided by our Subscriber partners at Bluewater Health, who are sharing their experience using HIROC's Integrated Risk Management (IRM) tools. If you have any questions about starting your journey in healthcare risk management, including inquiries on any of the tools and services HIROC provides, please reach out to us at riskmanagement@hiroc.com.
Bluewater Health has experienced great success by integrating the processes of Quality, Patient Safety and Risk Management utilizing HIROC's Integrated Risk Management (IRM) tools (Risk Register and Risk Assessment Checklist [RAC]). Bluewater Health is seeing excellent results in the first year of implementation and is proud to be recognized as a best-in-class solution.
Since the launch in October 2020, multiple sources of data — including Bluewater Health's patient safety incident reporting system (RL6) and HIROC's RAC and IRM — function collaboratively and synergistically to assess risk and patient safety concerns more accurately. Additional regulatory requirements have also been integrated, including Accreditation Canada Standards, Ontario Excellent Care For All requirements, Quality of Care Reviews and HIROC Best Practice Guidelines. 
Previously, risk incidents and patient safety adverse events would be entered into various repositories at Bluewater Health. The respective mitigation strategies would also be entered into the same systems, and the result was often duplication of effort, with many people in different areas of the hospital working on the same risks in isolation, sometimes with contradictory strategies.
Changing the Way We Look at Risk
Risks at Bluewater Health are now assessed and tracked through their lifecycle using a new algorithm. Some are identified as corporate and prioritized with the top three corporate risks by the executive team. Others are program-level risks, identified by each program. The risks are scored for impact and likelihood by the individual experts for each risk. Mitigating strategies are identified by key stakeholders. The scoring matrix looks at impact and likelihood with consistent coordination and objectivity. The IRM tool monitors the priority risks and progress on existing risks.  New risks are identified and entered into the IRM Risk Register as they are identified through Bluewater Health's patient safety incident reporting system, RAC or quality reviews. 
Quarterly reports, which include monitoring of each risk and an updated action plan, are presented to key stakeholders and the IRM Board Liaison Directors, then submitted to the Hospital Board. An annual review is held to identify the top corporate risks. From a list of 52 risks, ten key corporate risks were identified, which will be monitored by executives and the Board. Current Bluewater Health priorities include health human resources; pandemic recovery; cyber security; fall prevention; acquired pressure injury prevention; and workplace violence prevention.
How Using the IRM System Helps
The new integrated model has demonstrated many benefits. It optimizes human resources and avoids duplication of work. Ease of use is achieved with a clearer structure for risk identification. A focused approach on IRM reduces the number of items and updates within the system. The IRM can be delegated to an existing team or added to regular meetings as an agenda item. The system has improved the identification of gaps in care, enabling prioritization of projects to close those gaps, and the corporate action plan has been communicated at all levels, including all Quality committees.
One area of significant improvement is appreciating status changes in patients with deteriorating conditions. Timeliness has been improved in identifying the deteriorating status and ensuring a plan of care is in place. Appropriate and timely use of the Critical Care Outreach Team has been enhanced. Progress has been made in promoting a "Speaking Up Culture," so staff feel empowered to say something when a patient requires a higher level of care. The result has been improved patient outcomes.
The new IRM approach allows the hospital to focus time and resources on major organizational risks that need leadership attention. Quality, Patient Care and Risk Management are enabled to provide hospital managers and directors with more resources and consulting services, ensuring they use the systems without unreasonable demands on their time and resources. The experience at Bluewater Health can be replicated in other healthcare organizations for improved risk management and patient care.
By Linda Schaefer, Manager, Quality, Risk and Patient Safety, Bluewater Health
     Shannon Landry, VP Support Services and CNE, Bluewater Health
---
If your healthcare organization has any questions or if you want to share your story, please connect with us at communications@hiroc.com.