Honouring National Indigenous History Month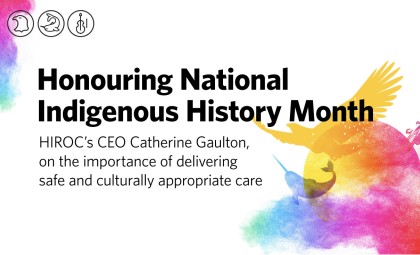 Throughout the month of June, we are reminded of Canada's past – where we came from, and how we look to and need to build a stronger and more inclusive future. This message resonates in Pride celebrations across the country, and in the learnings from National Indigenous History Month.
June 21 marks National Indigenous Peoples Day – it is extremely important that we acknowledge what this day means for Indigenous People and all Canadians.
Our team at HIROC is on a learning path together – recognizing and celebrating the heritage and diverse cultures of all Canadians. Knowledge of and doing our part to address the inequitable treatment of First Nations, Inuit and Métis peoples are an important part of our learning journey.
This is also critical work for HIROC's Subscribers. Indigenous Canadians are our patients, clients, residents and their loved ones. It requires work from all of us to ensure we are delivering safe, equitable and culturally appropriate care to everyone who our health system has the privilege of serving.
We see many great examples of how our Subscribers are working hard to ensure high-quality and safe care and specifically ways healthcare organizations are shifting their care delivery models to serve our diverse communities.
Just last month we connected with Churchill Health Centre in Manitoba to learn about their approach to serving the community. We would love to see and share more examples of this important work that we know is happening across Canada. If your organization has a story to share, please do reach out to our team at communications@hiroc.com.
Thank you for continuing to build a safe future in healthcare for all. 
From all of us at HIROC, Happy National Indigenous Peoples Day. 
Catherine Gaulton
CEO, HIROC