A Community Approach to Men's Mental Health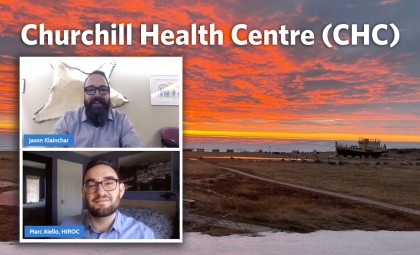 In the spirit of partnering with healthcare providers from across Canada, we are sharing the following article from our Subscribers at Churchill Health Centre in Manitoba to spotlight their innovative solution to mental health care in remote communities. If you have any questions about the article or have a successful initiative at your healthcare organization that you'd like to share on HIROC News, please connect with us at communications@hiroc.com.
Churchill Health Centre (CHC) is located on the western coast of Hudson Bay and provides healthcare services to a local community of roughly 900 people, as well as serving the smaller, more remote towns in the surrounding area. Known as the polar bear capital of Canada, Churchill, Manitoba, is one of the most isolated locations in the Winnipeg Regional Health Authority (WRHA) with the only access in being either by plane or train.
The remoteness of its location partially forms CHC's scope and approach to healthcare, with the other major influence being the participation of the local community in the system itself. However, this innovative peer support model of care didn't always exist in Churchill, and I was curious to learn more about it in a sit-down with Jason Klainchar, Executive Director of CHC.
"When we first thought about creating a framework of care here in Churchill, we quickly realized we needed a long-term plan that would be much more tangible to the community and our staff compared to traditional models of care," says Klainchar. "We decided the best course of action would be to develop our community's local capacity to build its resilience and healthcare knowledge, instead of doing things like transporting our patients elsewhere to receive care."
Learning More About Churchill Health Centre with Jason Klainchar

In 2018, Klainchar and his team began their journey by consulting the local community to learn their pain points and healthcare priorities. Those involved in the consultations included elders from Churchill's majority indigenous population, local community leaders, and several businesses within the area. From these talks came two core pillars to CHC's operation: The Subarctic Friendship Circle and the Churchill Framework.
The Subarctic Friendship Circle is a collaborative community group operated by CHC that acts as a pseudo-board. This group sets CHC's programs and services but does not have hiring or financial power. The Churchill Framework is a result of their deliberations – a plan focused on building trust and reducing mental health stigma within the community by producing new programs and constant peer support development. The framework also places patients at the centre of care, in between healthcare options such as inpatient services, personal home care, and community resources like child and family services and Manitoba housing.
"Part of growing this local capacity for care has been doing things like hiring local, developing training programs for healthcare aides, and ensuring succession within our organization to build a baseline of healthcare knowledge within the community," says Klainchar. "Normally patients would be using either telehealth or flying out to larger institutions for acute care. We've found it more effective to treat patients here by building our rapport and trust, and engaging people in a different way when they're not in crisis."
The Warrior Caregiver Program
One of the most effective and innovative engagement programs maintained by CHC's peer support model is their Warrior Caregiver Program, an initiative that began in 2019 in collaboration with Movember Canada to improve men's mental health in Churchill and its local communities with land-based activities.
"After our consultations, the need for programs that concentrated on men's mental health was so loud and clear," says Klainchar. "We wanted to be able to focus on life promotion through doing things like bringing youth and elders together and bridging the generational gap that may have occurred because of things like residential schools and systemic racism."
The Warrior Caregiver Program's activities include organizing wild hunts for snow geese, moose, and caribou, communal cooking classes and cookoffs, mushing with dogs in the spring, beluga whale watching, and sacred lands hikes in the summer. CHC also works and consults closely with a local Knowledge Keeper group representing the Cree, Inuit, Metis, and Dene peoples to guide practices whenever they're doing something culturally sensitive.
The program's coordinator is Jill Larkin, whose previous experience outside of healthcare at Parks Canada and background in sustainability and bio-conservatism lend to creating an even better, more engaging program for participants.
According to Klainchar, over 100 men have attended as active participants in the program, which is roughly 20 per cent of eligible men in the community. Evaluation on the Warrior Caregiver Program is currently being done by a third-party organization separate from the Movember Canada charity so that CHC can gain a true analysis, with much of the focus being on qualitative results.
"A lot of the feedback we've heard from participants over the years has been things like 'I enjoyed working with my son,'" adds Klainchar. "It's encouraging to see conversations between men and stigma reduction happening naturally. As more men share their experience with the program, it continues to grow."
Thank you to the team at Churchill Health Centre for sharing their peer support initiatives with HIROC Subscribers. If you have questions, or a story from your own organization to share with HIROC, reach us at communications@hiroc.com.