What Pride Means to Me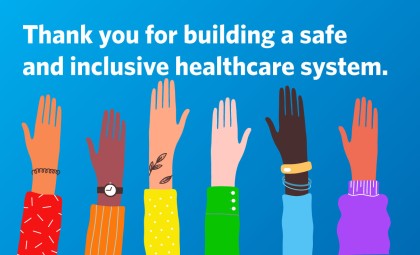 HIROC's CEO Catherine Gaulton takes an opportunity to thank staff and Subscribers for their work in fostering free and diverse communities
Freedom, love, expression and understanding – these are the values that Pride Toronto, and organizations across the country stand up for. These values demand the very best of us and they translate for all Canadians.
As a leader, these are also the values I look for in my team and the HIROC community at large.
While conversations about fostering free and diverse communities must happen year-round, I love that pride month gives us a chance to take stock and to celebrate. 
With the start of Pride 2022, I want to take this opportunity to thank HIROC's Subscribers. Thank you to the leaders, providers and administrators who push to strengthen diversity, equity, and inclusion in healthcare. This work happens within organizations at the staff level; but it also happens at the front doors of our organizations, where every patient, client, and resident deserve compassionate, high quality and fair treatment and to be heard.
I also want to thank HIROC staff for putting their best foot forward, for accepting all members of our team and having the courage to speak up.
I encourage all of you to take a moment this month to think about what we as individuals can do to create a more equitable world, and to celebrate with pride.
Catherine Gaulton
CEO, HIROC