Cybersecurity: Guiding Principles and Risk Management Advice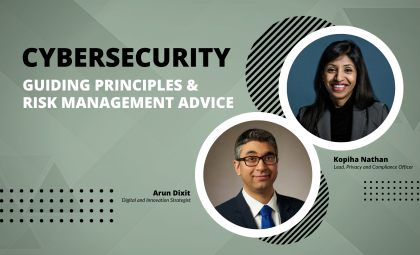 With more sensitive data stored and transferred online each day, implementing strong cybersecurity measures at your organization is more vital than ever before. That's why team HIROC has come together to produce a new educational paper providing guidance for healthcare boards, senior leaders, and risk managers on the latest trends in cybersecurity.
Cybersecurity: Guiding Principles and Risk Management Advice has been published via Longwoods, and you can find a copy on HIROC.com. We had a moment to sit down with two of the paper's authors, Arun Dixit, HIROC's Digital and Innovation Strategist, and Kopiha Nathan, our Lead, Privacy and Compliance Officer, to discuss the paper, the current state of cybersecurity in healthcare, and what HIROC Subscribers can do now to plan and prepare.
Key Video Moments
(0:44) "What inspired you to write a paper like this? Tell us a bit about the motivation behind it."
(2:04) "How can Subscribers best use this resource?
(4:09) "

What are the both of you seeing on the horizon right now in cybersecurity, especially in the way that it affects healthcare? What do you recommend Subscribers do now?"
For any questions about what was discussed in the video, cyber coverage, or HIROC's resources, please connect with us at inquiries@hiroc.com.
More Cyber Resources