Why RAC? With Wendy Hooper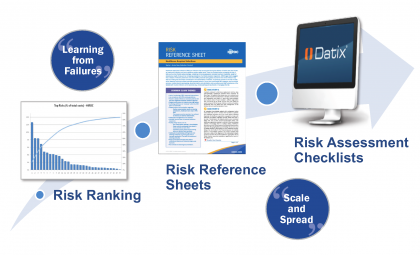 Wendy Hooper is a Senior Healthcare Risk Management Specialist at HIROC and a big proponent of the Risk Assessment Checklists (RAC) program. HIROC's Communications and Marketing team sat down with her to find out why she recommends that healthcare organizations enroll.
What is RAC?
The Risk Assessment Checklists (RAC) program is HIROC's virtual self-assessment tool offered exclusively to our subscribers at no cost. It's streamlined to prioritize a healthcare organization's top risks, allowing them to take inventory of their current risk reduction methods and compare them to HIROC's evidence-based mitigation strategies.
Essentially, the RAC program is a high-level diagnostic helping organizations identify potential gaps and areas for improvement, ultimately guiding leaders in making key decisions to positively impact patient care.
Why should my organization consider signing up?
It will help set a path for your organization's safety journey by actively engaging all staff, physicians and other leaders to be part of quality and patient safety improvement activities. The RAC program translates to safer and more efficient care for patients, and a safer workplace for staff because it has the potential to shift your organization's safety culture. If your organization is committed to providing the highest quality care, the RAC program is in alignment with that. 
When I was on the subscriber side, HIROC's RAC program was an incredible value-add to my organization. It wasn't reactive or retroactive because it is a proactive risk management program. Our organization was able to self-assess and identify our challenge areas using the program's systematic approach. To meet those challenges, we used mitigation strategies found in HIROC's Risk Profiles* and other resources to help us get started on closing any gaps.
What are the benefits of the program?
In addition to the RAC program being no cost to subscribers, it also gives a 5 per cent liability premium discount to all participating organizations when they submit annual updates and meet Accreditation Canada standards.
"The Risk Assessment Checklists add immensely to our patient safety programming."

– Colette Ouellet, Queensway Carleton Hospital
HIROC's other risk resources are also exceedingly beneficial. Our Risk Reference Sheets* can be used as a starting point to inform individual risk assessments and provide you with information on what areas you should be spotlighting for course-correction. They translate into an opportunity to review what you have in place and what you don't by using their included common claim themes, cases studies and mitigation strategies. We currently have 58 Risk Reference Sheets covering a wide array of topics, and they are our top-rated resource.
How can I request a demo?
If you're interested in a demo and receiving more information about the Risk Assessment Checklists program, please contact riskapplications@hiroc.com or call 1-800-465-7357.
Wendy Hooper was interviewed by Marc Aiello, Communications and Marketing Coordinator, HIROC