Staying Ahead of the Curve: Assessing the Adoption of New Technologies in Home Care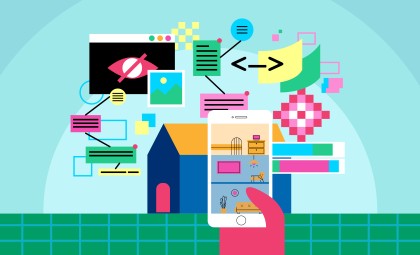 From new methods of monitoring patients remotely using artificial intelligence, to drastic advancements in fall detection systems, new technologies are constantly disrupting our healthcare system.
Because healthcare organizations are continually looking to improve patient outcomes and processes, the quick adoption of new technologies can be extremely tempting. Especially when they often come with the promise of offering significant benefits – a magic fix.
However, while these technological advancements do help healthcare organizations in their mission, it's critical to consider how they come with potential risks.
Considering Digital Transformations
At a recent online webinar hosted by HIROC's partners at the Canadian Home Care Association (CHCA), the impact of digital transformation in home care settings was a topic of discussion.
"The CHCA's desire to increase awareness and stimulate a conversation on the future of work through a technology lens is key to highlighting changing and promising practices, and to catch the imagination of leaders in the sector to guide transformation within home care," said Marg McAlister, host of the webinar and Principal at MMC Consulting. "Shaping Future Workplaces, Technology Factor Initiative, involved interviews with leaders from across the country. This most recent panel convened to share lessons learned from the past six months," shared McAlister.
HIROC's Leo Dias, Director of Information Services, was a member of the highly-skilled panel, joining virtually to share his expertise and insights on this important topic.
According to Dias, healthcare organizations must take a careful and measured approach to adopting new technologies, and thoroughly evaluate both the risks and benefits while developing safety strategies to mitigate potential harm.
"As with any innovation, there's always new risks to consider," said Dias. "I often say, what's amazing about home care technology is that health data is accessible everywhere… what's frightening is that it is indeed accessible everywhere."
Dias recommends that when organizations begin to consider incorporating a new technology, they take the opportunity to assess and dig into the details to learn everything about it, such as:
Becoming familiar with regulatory requirements regarding privacy and security, such as HIPAA or PHIPA, to understand your compliance environment
Assess technology vendors to understand their approach to privacy and security
Conduct assessments on systems with experts that can help spot threats, risks, and weaknesses
Consider enhancing cybersecurity policies with data encryption, access control, and other important mitigation factors
"If a potential vendor offers a solution to make all your problems go away, be skeptical," adds Dias. "Cybersecurity is really a layers game – layers of controls. For example, consider layering your cybersecurity approach with application security, network security, and of course the human element still being the biggest one."
While still being very optimistic about the future of new technologies in healthcare, Dias is a strong believer that it's important to encourage the perspective of working "problem back, not technology forward."
Elaborating on this point, Dias believes organizations may already have many of the technologies and data necessary within their ecosystems to solve current problems and need not take several years for a digital transformation. He says it's important for organizations to first start with a problem and learn how technology can solve it, rather than incorporating the technology first and then finding what it could do.
Cautiously Moving Toward the Future
After the webinar, HIROC Communications reached out to Marg McAlister for her thoughts and foremost takeaways from the event.
"Overall, I think a key message was that home care providers and organizations need to resist the temptation to treat technology adoption as automating the current state," said McAlister. "We heard over and over that the technology itself is the easy part, and that the work is in being clear about goals and optimizing processes."
According to McAlister, home care providers can best utilize these advancements in technology, such as the improved compilation of data, to take actions like better predicting patient needs, providing care and keeping people at home – both on an individual and population level.
"As Nadine Henningsen says, it is not if you will be a caregiver, it is when. Increasingly, Canadians can expect to be providing support to someone at home. We all have a stake in the future, a future where care is provided at home, and it is fabulous that HIROC recognizes this and works to keep the sector safe."
How HIROC Can Help
Interested in learning more about HIROC's cyber coverage? Please connect with us at any time by sending your inquiry to inquiries@hiroc.com.
In the meantime, check out our cybersecurity and other technology resources found on our website's Resources library. To get specific about cyber security, simply select Cyber as a category to drill down.
Here are a few of the resources you'll find: