The Property Top Three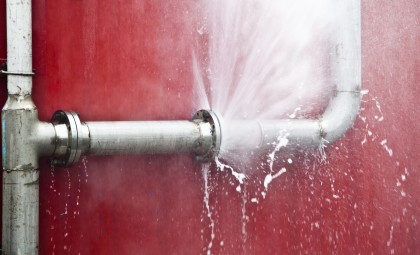 From small facilities to large hospitals, every organization should be thinking about facility maintenance and risk mitigation. Property incidents can happen without warning and can result in costly claims. 
To help, each year FM Global visits HIROC subscribers across the country to tour facilities and review processes. Depending on the size and the type of facility, a number of recommendations may be made. 
To make things easy, we've distilled our data to identify three things that organizations should consider to help mitigate facility risks.
1. Develop a Water Leakage Emergency Response Plan 
With water being the number one loss driver for healthcare organizations, responding to leaks should be a priority. Ensuring that any leaks that occur within a building are promptly identified, isolated and repaired is key to minimizing the extent of the damage.
A comprehensive water leakage plan can help you prepare. This plan should include:
Preventative maintenance (such as labelling critical isolation valves, and verifying drains are free of debris)

A contact list for designated team members (facilities personnel, security and janitorial staff)

Regular drills to review response procedures

Actions and materials for restoration (such as a cart with absorbent socks, squeegees, dryers and fans)

Contact information for a restoration contractor
Download a sample Water Leakage Emergency Response Plan.
2. Contractor Management for Hot Work
While we don't yet know what caused the Notre-Dame cathedral fire, events like these allow us to reflect on best practices. A leading source of ignition, and an area we should maintain focus, is hot work management. 
To mitigate this risk, ensure any contractors and facilities personnel follow a structured hot work management process, complete with precautions, action items and fire watch. The process should also include a fire monitoring period, after the work is finished.
To learn more about hot work, review the FM Global resource Understanding the Hazard – Hot Work and HIROC's Hot Work Management Risk Note.
3. Sprinkler Maintenance and Testing
Automatic sprinkler protection is the best defense against a fire in its early stages. Organizations with sprinkler systems have a major advantage when it comes to mitigating fire damage. However, even facilities with sprinklers are at risk if they are not in proper working order. Failing to control a fire in the first few minutes can result in a catastrophic loss of property and an inability to resume normal operations. 
In order to verify these systems are in service and ready to respond as needed, a comprehensive testing and maintenance program should be in place. This should include regular checks, alarm testing and exercising of critical valves.
To learn more about system testing and maintenance, review the FM Global resource, Lack of Inspection, Testing and Maintenance of Water-Based Fire Protection Systems.
For more information on these and other facility recommendations, contact Jean Asuncion (jasuncion@hiroc.com), Engineering Liaison Associate at HIROC.
---
This article was originally published in The HIROC Connection – Spring 2019.