Prioritizing Your Risks: HIROC's IRM Risk Register Clinics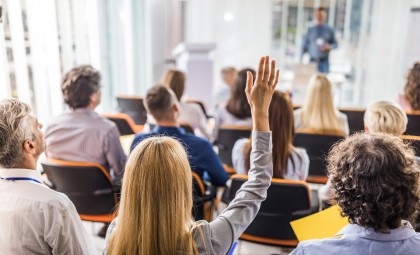 In April of this year, HIROC hosted its fourth Integrated Risk Management (IRM) and Risk Register Clinic in Toronto. 

The conference room it was hosted in was teeming with eager subscribers from across Canada, ready to learn from expert speakers, build their network of risk management peers and engage in the day's activities.
"We know experiences vary from organization to organization, due to things like developments in each of their risk management journeys and how mature their programs are," says Lori Borovoy, Senior Healthcare Risk Management Specialist at HIROC and one of the Clinic's coordinators. "The IRM Clinic provides an opportunity for subscribers to come together and learn from the experiences of other organizational leaders."
Kristin Taylor, HIROC Board Member and Vice-President of Legal Services and General Counsel at the Centre for Addiction and Mental Health (CAMH), opened the Clinic by presenting CAMH's IRM story. She spoke openly about the challenges and breakthroughs her organization experienced throughout its risk management journey. Taylor also shared some of CAMH's risks with delegates and demonstrated that Canadian healthcare organizations do face many of the same risk challenges and obstacles.
"We had to ask ourselves, 'if you had an unlimited budget, what would you do with risk?'" said Taylor. "Combined with the implementation of IRM, we were able to identify new risks such as quality patient care, foundation success, cybersecurity, redevelopment and CEO succession."
During the group activities, I immersed myself among a group of subscribers from Markham Stouffville Hospital (MSH) to find out more about their risk management focus.
"We're only a year into our risk journey, but our leadership loves the IRM program and uses it regularly," says Silva Nercessian, Integrated Risk Manager at MSH. "Our leadership practically has HIROC's IRM Taxonomy of Healthcare Organizational Risks memorized, and we refer back to it often."
After the event, I reached out to some of our Risk Management team who helped coordinate it for their thoughts.
"The Clinic provides attendees with a lot of practical information to take back to their organizations," said Sara Chow, Senior Healthcare Risk Management Specialist at HIROC. During her presentation, Sara demonstrated the ins-and-outs of HIROC's Risk Register system and took questions from attendees. 
"It was great being able to connect with a room full of subscribers and gauge where they wanted me to focus," Chow continued. "For as much as they learned from me, I learned from them! I'll be looking at their feedback to see how we can make the system even more useful for other users." 
The next Advancing Integrated Risk Management Clinic will be held on Friday, September 27 in Ottawa. The clinic will be hosted by Borden Ladner Gervais at the World Exchange Plaza (100 Queen Street, Suite 1300). 
On October 2, our subscribers in the west will have an opportunity to attend HIROC's Integrated Risk Management Clinic in Winnipeg. The event will be held at Qualico Family Centre in Assiniboine Park.
For more information on upcoming clinics, contact corporateadmin@hiroc.com. 
If you're interested in learning more about the Risk Register program, please contact a member of our Risk Management team at riskmanagement@hiroc.com.
Marc Aiello, Communications and Marketing Coordinator, HIROC