A Partnership Rooted in Shared Values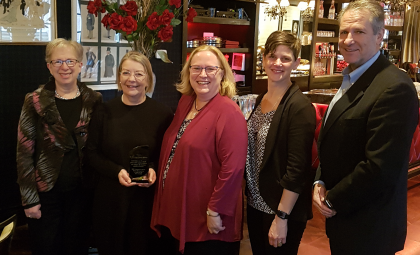 The Association of Ontario Midwives (AOM) and midwives across the province are valued subscribers, and one of HIROC's best examples of a positive and collaborative partnership.
This spring HIROC was honoured to celebrate with Ontario's midwives as they marked the 25th anniversary of publicly funded, regulated midwifery, and the restoration of indigenous midwifery in Ontario.
"25 years is an amazing accomplishment – although, we all know, midwives have been providing an invaluable service for many more years than that," said HIROC Board Chair, Richard Wilson during the opening ceremonies of the Ontario Midwifery Conference.
"Our shared values – that of ensuring safe perinatal care – is what drives the passion within the entire team at HIROC," he added.
Bobbi Soderstrom, the AOM's Midwifery Insurance and Claims Advisor, shared a compelling story of how the AOM and HIROC joined forces. "When the bottom fell out of the insurance market in the sad days following September 11, 2001, I met with Peter Flattery, HIROC's previous CEO," said Soderstrom. "By the end of that meeting, I knew HIROC was committed to making it possible to partner with midwives and what an amazing shift it would be for the Association to be out of the commercial market and come on board as a subscriber to the Reciprocal." 
Soderstrom also touted the shared values of both organizations as a difference-maker. "HIROC has never tried to tell us what to do, but instead asks how they can support what midwives do," she said. "We see how closely aligned our values are during the development of risk management tools and when providing support to members." The AOM has been using HIROC's Risk Assessment Checklists (RAC) Program for four years now.
"We want to thank HIROC's CEO, Catherine Gaulton for continuing to embrace and champion midwifery in Canada and we want to acknowledge the collaborative leadership of HIROC staff," said Soderstrom as she closed her touching speech.
To mark this milestone, HIROC announced the start of an annual scholarship fund for students entering the Midwifery Education Program.
Congratulations midwives!
By Philip De Souza, Director Communications & Marketing, HIROC
---
This article was originally published in The HIROC Connection – Spring 2019.