It Takes a Village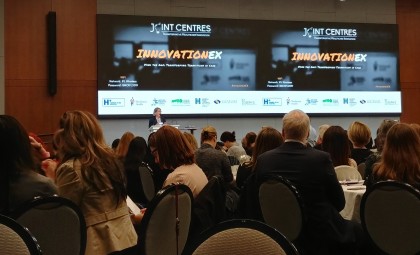 Have you ever thought of yourself as a little transport unit for healthcare organizations? I hadn't until I heard Huda Idrees, Founder of Dot Health, speak at InnovationEX last month. She talked about patients who carry stacks of papers and binders with their health information from hospital to clinic, from provider to specialist.
What Idrees was saying immediately took me back. While my dad was going through treatment for cancer, he created binders filled with test results and appointment schedules. Then when his father was diagnosed, one of the first things my dad did was make him a binder.
In my family, we laughed about dad the "control freak," and dad the "luddite," but hearing Idrees speak, for the first time I realized how normalized this had become. It also clicked that it truly was about power. My dad felt that when it came to getting the best care, he knew he needed to have everything on-hand, ready to show the next specialist who walked in the door. He was literally an open book.
This is just one small example of a gap in our system that InnovationEX delegates heard that day – we were there to talk about solutions. In line with the theme of Mind the Gap, each speaker brought their own spin on how we can empower patients and ensure they move seamlessly throughout the healthcare system.
"We are here today to talk more about how we can improve value and care delivery for those whom we serve," said Jo-anne Marr, President and CEO of Markham Stouffville Hospital, and Chair of the Joint Centres for Transformative Healthcare Innovation.
About the Joint Centres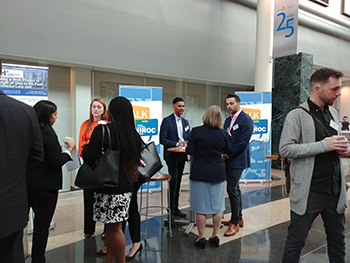 The Joint Centres is a partnership between seven large community hospitals focused on improving care through collaborative innovation. Its members are Humber River Hospital, Mackenzie Health, Markham Stouffville Hospital, Michael Garron Hospital, North York General Hospital, Southlake Regional Health Centre, and St Joseph's Health Centre Toronto.
As a risk and safety advocate, HIROC is proud to support the annual event – now in its sixth year. We continue to be amazed by how the Joint Centre organizations are able to create opportunities and provide a forum for shared innovation and learning.
Mind the Gap
For Idrees, recognizing the gaps in patient information led her to found Dot Health, an application that puts patients at the centre of their care. Rather than creating another patient portal in isolation, Dot Health's app goes with patients across multiple care sectors, from hospital to community and home care. "We are turning the power structure on its head," said Idrees, explaining that in order to access records via Dot Health, providers have to request approval from the patient. And because it's all done on our devices, this means no more binders.
While they have solutions, Idrees and the other keynote speakers all understand they can't bridge these gaps alone. It's not one technology or one hospital that can transform the system, "It takes a village," said Dr. Sonny Kohli at InnovationEX. Dr. Kohli is Co-Founder of Cloud DX, he also moderated a recent session on innovation at HIROC's annual conference.
Dr. Kohli's aha moment came out of his time volunteering at a hospital in Haiti. He was trying to diagnose a patient without a functioning ECG so he transformed a broken military machine. After diagnosis, Dr. Kohli realized the patient would need routine monitoring and care, something he couldn't do after he returned home. Dr. Kohli looked down at his phone and wondered why he couldn't use it to provide care, leading him to found Cloud DX.
One of Dr. Kohli's main principles is that technology has to be consumer-friendly, and you need champions who can speak to the benefits. And as much as we need to learn to communicate and break down silos in healthcare, it's also about staying in our own lanes, so things don't get messy.
All three of the morning's keynote speakers pushed the importance of putting patients at the centre of our work. "Patients are craving information," said Dr. Kohli; "they want to be involved in their care."
"But this can't happen alone," said Shirlee Sharkey, President and CEO of SE Health, who explained that we need structured processes and a massive redesign. A key component of this is, said Sharkey, is developing trust but also practicing and training. There were nods across the room.
"We need to give our people the freedom to experiment, to collaborate, and to think big," said Catherine Gaulton, CEO of HIROC, reflecting on the opening keynotes. "The piece around making the patient the aggregator is phenomenal, it's the way in which we will improve."
Stories that Hit Home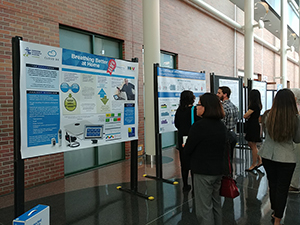 For Gaulton and my HIROC colleagues in the audience, hearing about the amazing work our subscribers are doing to innovate and create a safer, stronger healthcare system reminds us why we come to work each day. As Gaulton said, we need to give our people the freedom to explore solutions.
Stories about healthcare organizations coming together to solve problems really hit the messages from the morning keynotes home. Take the collaborative between Markham Stouffville Hospital (MSH) and North York General Hospital (NYGH). Stepping outside of their silos, they took the work they were individually doing on opioid reduction and brought it together for maximum impact and greater learning.
Dr. Sanjho Srikandarajah, Director of Acute Pain Service at NYGH, shared that one of their studies found that over 2,000 unused pills were being prescribed for pain management. The problem with unused pills is that they can be found by family members, friends, and kids in the home.
A solution that MSH had was writing partial-filled prescriptions. The idea is that patients can return to the pharmacy for the second half of their prescription if the pain doesn't subside. Both MSH and NYGH also integrated a heavy education component into their pre-surgery work, emphasizing safe medication practices and proper storage and disposal of opioids. "We can still manage your pain," said Dr. Srikandarajah, "but the focus doesn't have to be on opioids."
This was just one project story from the day. Delegates also heard about Humber River Hospital's Reactivation Care Centre, and many more innovative projects displayed on poster boards around the venue.
"The education component of InnovationEX, coupled with the interactive Design Jam was fantastic to see," said Philip De Souza, Director of Communications and Marketing at HIROC. "Our focus at HIROC is around sharing knowledge and scaling transformational change across our subscriber base and the broader healthcare system, so working with the Joint Centres just makes sense."
Bridging these gaps and empowering patients can't be done alone – not by one provider, one patient, or one binder. It really does take a village.
By Michelle Holden, Communications & Marketing Specialist, HIROC