Better Outcomes Together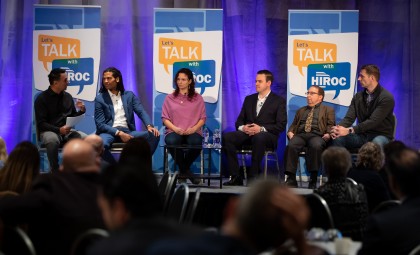 "What's your moonshot?" asked Dr. Sonny Kohli, co-founder of Cloud DX. On April 29, Dr. Kohli moderated the Innovation Imperative panel at the HIROC Conference in Toronto. The panel challenged healthcare leaders in the audience to consider the coming wave of technology and interconnectedness. The big question is whether we embrace our ambitious projects and shoot for the moon today, or risk falling behind tomorrow.

"It's amazing to see all these new data streams, that healthcare hasn't seen before," said panellist Bill Simpson, Science Liaison, from Toronto start-up, Winterlight Labs. "There are different ways to approach what should happen with that data, but largely, all organizations we partner with are looking to have better outcomes."
Simpson shared examples of how Winterlight and their many collaborators are working to not only protect patient data but also to assist organizations in identifying the tools they need. These tools could help to create more effective therapies for dementia, reduce re-admissions in hospitals, and identify issues earlier in a disease trajectory.
Dr. Anna Goldenberg, Chair, Biomedical Informatics and Artificial Intelligence at SickKids spoke to the critical importance of wearables and the data that can be gleaned. "It's very important to bring wearables into clinical care," she said. Dr. Goldenberg spoke to the many things that happen to us at home or at work that can provide valuable health information. "Getting this data will be very helpful in early detection, which is key to a better quality of life," said Dr. Goldenberg.
Pat Clifford, Director of Innovation at Southlake Regional Health Centre, applauded his organization's leadership – "We've been fortunate because our leadership have helped position us as an innovation hub," he said. For Clifford and his team, this has been made possible by exposing all the players at Southlake (from clinicians to finance staff) to new ways of thinking, new technology, and new services that help drive safe care.
Clifford challenged the audience to think beyond the tool itself, "It's really not about the widget, it's more about what the widget does," he said. "Does it help us change how we deliver care, can outcomes be improved, has the staff and patient experience improved."
At Lab100 in New York City, Dr. Joel Dudley and his colleagues are focused on better integrating technology into the clinical environment and working toward disease prevention. "We collect over one million data points per patient encounter," he said.
Dr. Dudley shared how his work includes capturing digital phenotypic data. "Right now it's very sparse and messy data… there are huge limitations to catch this data in the moment," he said. His model aims to pinpoint and map this critical information with the hope of preventing disease.
While the panellists considered these ambitious targets, everyone in the room was thinking about their own moonshot. For Dr. Mjaye Mazwi, Staff Physician at SickKids, that moonshot is about a change in mentality and how we approach problem solving. "If we can recognize that clinical research and clinical care are one in the same, we'll be able to create all the right kinds of structure to unshackle researchers and innovators."
At Southlake, Clifford and his team maintain a focus on the people involved – the teams, the communities and the patients. "The moonshot for acute care is massive transformation – engaging with communities and shifting to wellness."
"He can't win a game by himself"
While innovation took the driver's seat early that morning, the HIROC conference was also buzzing with insights on Effective Teamwork and Communication – a session presented by Dr. Jeff Klassen, Emergency Physician at St. Boniface Hospital in Manitoba.
Dr. Klassen shared with delegates that on any given day, 1,600 hospital beds across Canada are full because of medical error. These are technologically-skilled and well-meaning individuals, so what happens? A part of the problem, says Dr. Klassen, is teamwork.
"We tend to focus so much on our job, rather than seeing how much we're dependent on the person to our right, and who's dependent on us," said Dr. Klassen, using his 'Connor McDavid Theory' to shoot the puck home – so to speak. "As good as Connor McDavid is, he can't win a game by himself."
St. Boniface has undergone a significant culture shift over the past few years with respect to teamwork – in large part due to the TeamSTEPPS program and a focus on psychological safety. The concept of psychological safety is the shared belief that it's okay to blurt out an idea, ask a question, take a step back, and think through ideas without ridicule.
Dr. Klassen's focus is grounded in Google's Project Aristotle, which found that individual character traits don't necessarily matter when it comes to high-functioning teams. It's more about being attuned to others – recognizing when someone is uncomfortable and asking them what's going on.
As much as Dr. Klassen's examples and analogies made the audience feel like 'Yes, we can do this!', he reinforced that it does take work. "Teamwork is not naturally going to happen, teams have to actively think about it and work towards it."
Welcome to the Command Centre
Dr. Klassen wasn't the only speaker who touched on improved communication. At the morning breakout session, delegates were privy to a presentation by Humber River Hospital on enhancing and monitoring safety.
One way that Humber has sought to improve safety and communication across the hospital is through its Command Centre. Barbara Collins, President and CEO, and Trevor Hall, Director, Quality and Patient Safety, walked delegates through the various phases of this project.
The Command Centre is about point-to-point communication and automation, freeing up time for staff to spend more patient-focused time at the bedside. "There is no hunting no gathering, no running around," said Collins. With 26 screens and data being updated every four seconds, Collins says it's possible to know everything that is going on in the facility.
And it's evident that this dramatic uptake in technology is also improving patient flow. Collins says their occupancy rate is currently 110% but they don't use hallways.
Collins and Hall shared the next phases of the Command Centre project with delegates. We at HIROC are certainly excited to see where things go.
Stepping outside of our comfort zone
During the final keynote of the day, things got electric. In an effort to take delegates away from what they live and breathe every day, HIROC invited David Collie, President and CEO of the Electrical Safety Authority (ESA), to talk about harm reduction.
During Collie's first week on the job, a child was electrocuted after he climbed a hydro poll. For ESA, there was nothing they technically did wrong, but harm did take place. This signalled to Collie that the things we spend most of our days on are probably not the things that have an impact on harm reduction.
So Collie and his team went straight for the data and identified five key harms that account for 75 per cent of electrical fatalities in the province – and since then, they've been shifting their focus to reducing harm in these areas.
This strategy wasn't immediately met with organization-wide support. "We were changing the way they were delivering safety," said Collie who admitted that it took some time to adopt a new culture.
Collie and the ESA also learned to leverage partnership – an example of this is their work with the burn unit at Sunnybrook Health Sciences Centre. "When our system fails and someone does have an electrical injury, we want to make sure that care is there," said Collie.
Throughout all of the sessions at the 2019 HIROC Conference was the common thread of safety and teamwork – ultimately reinforcing the belief that better outcomes are possible when we work together.  Just like Connor McDavid, we can't win the game by ourselves.
Philip De Souza is Director, Communications and Marketing, HIROC
Michelle Holden is Communications and Marketing Specialist, HIROC
---
This article was originally published in The HIROC Connection – Spring 2019. For photos from the event, check out the magazine.