Healthcare Leaders Shine a Spotlight on Crucial Conversations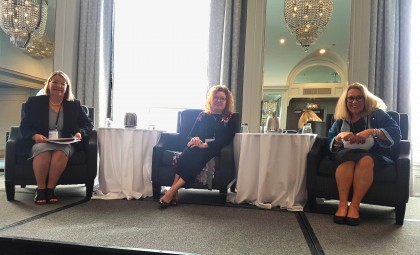 The Spark Conferences Integrated Risk Management in Health Care Settings event had a new backdrop this year – Halifax, Nova Scotia.
As an educational partner, HIROC helped kick off the day of learning.
Catherine Gaulton (CEO of HIROC) was joined by Barbara Hall (President of MaxxCare Solutions and former Vice President at Capital Health) and Janet Davidson (Interim President and CEO, Nova Scotia Health Authority). The three shared their journeys both as leaders and as board members of Canadian healthcare organizations.
When asked about the tools that are out there to support board members in the area of risk, Davidson told delegates, "I use HIROC's 21 Questions tool."
Gaulton provided delegates an overview of the highly popular resource. "21 Questions was created to help boards of every type of healthcare organization," said Gaulton. "It's meant to be a guideline for boards, ensuring they ask the right questions."
Whether it's board members posing questions to management, or even to themselves, asking questions was a point to drive home for Hall.
"When I sit with boards, I sometimes find they don't fully understand what their risk scores or scorecards are telling them," she said. "I probe them and tell them it's their duty to ask questions to better familiarize themselves with the data, even if that means asking for some education on how to read them."
Hall also brought up the topic of psychological safety as it pertains to board members. "I get the sense that smaller boards are sometimes intimidated to ask senior management questions because they are friends with them and have some discomfort posing tough questions." She emphasized that boards must think of their interaction with management as a collective – the board, as a group, has a responsibility to ask questions.
Davidson added, "I suggest to boards that they put space on agendas specifically to ask tough questions to the CEO or Chair." Doing this, Davidson believes, will help normalize a culture of asking questions.
The three leaders suggested placing patient safety and quality items at the top of the agenda, rather than burying them at the end. "I remind boards that quality is job one," said Davidson.
"The tragedy will be when you get no questions," said Gaulton. If board members don't speak up, it may mean they're not engaged, or they don't know what type of questions to ask.
Their advice wasn't exclusively directed to boards. "Senior management must look at their board members as allies," said Hall. "Ask them for advice and also be sure to use principles of adult education – don't give them too many slides."
Hall's top three tips for strong board involvement are:
Selecting indicators together, so there's a vested interest
Understanding the nuances of employee engagement data – not in the operations sense, but rather through ensuring someone is doing it, monitoring and then asking questions about what the data means
Teaching the board to ask the tough questions
Davidson added to Hall's list by pinpointing the need to be relentless when looking at indicators. "You need to understand the why behind the data."
Safety in the spotlight
Several sessions at the Spark event focused on safety successes in the Maritimes – these stories helped translate theory into action.
CPSI and the team from Colchester East Hants Health Centre shared their journey implementing the "five dimensions," or five questions to ask.
"It's all about having a dialogue," said Anne MacLaurin, Senior Program Manager at CPSI. "This method helps us move from a rearview mirror-approach to focusing on the now and changing the way we think about safety."
Tammy Parker and Carla Hynes, both from Colchester East Hants Health Centre, spoke to the value in having conversations with staff, patients and their families. "Staff didn't want yet another survey to complete, but quickly realized this was different," said Parker.
"Applying the framework can be disruptive for some, but it gets easier," said Hynes.
What's working
Leaders from a variety of provinces took time to share what's working for their organizations when it comes to risk. We summarize a few of their key takeaways below. 
Eastern Health with Debbie Perry
A continued focus on their IRM program's maturity and growth with the use of HIROC's Risk Register 
Leveraging communication to ensure staff see and understand high-risk areas, as well as acknowledging areas that are showing improvement (through the use of risk ratings and projected targets)
Continued use of HIROC's Risk Profiles and Risk Reference Sheets as they become available
The spread of IRM to other management levels in the organizations
Horizon Health Network with Sandra Rooney
Engagement takes time and energy 
Avoid reinventing the wheel – many healthcare risks are known
Continued use of HIROC's Risk Profiles – they're very helpful
Working with senior leaders to help develop risk assessment worksheets, coupled with ongoing education and awareness
Nova Scotia Health Authority with Angela LeBlanc
Engaging with leadership to ensure they know what their risks are
Conveying that ERM/IRM is not a "make-work project" – it's a culture shift
Supporting leadership in helping them understand the data
Philip De Souza is Director, Communications & Marketing at HIROC