Strategies for Improving Documentation: Lessons from Medical-Legal Claims
This resource is only available in PDF. To download, select the icon from the top right-hand corner of this page.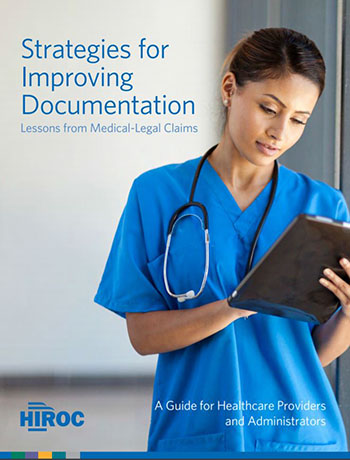 In this guide, you'll find:
Introduction

Why Document?
Purpose of the Guide
Documentation's Impact on Medical-Legal Claims

Purposes of Documentation
The 6 Essential Elements of Good Documentation

What care or service was provided 
Who received the care 
Who provided the care or service 
When the care or service was provided
Why the care or service was provided
The patient's response and outcomes to the care or service provided

Special Considerations for Good Documentation

Incident Reports
Informed Consent and Informed Choice
Other Factors Pertaining to Informed Consent and Informed Choice
Medical Directives
Making Corrections and Deletions Properly
How to Manage Late Entries
Email and Text Communications
Charting by Exception (CBE)
Checklists and Pre-Printed Templates
Records Retention
Chart Audits: a Valuable Quality Improvement Tool

Electronic Health Records (EHRs)

Migrating to EHRs
Security Protocols – Integrity of the EHR
Documenting in the EHR
Editing, Correcting and/or Deleting
Copy and Paste
Make Sure Your Audit Trail is Secured
Destruction of Records
Legal Considerations
Final Tips on Working With EHRs
Conclusion

Electronic Health Records Checklist
References
Documentation Quiz
Appendix – Chart Audit Guide
Download a copy of the complete guide by selecting the PDF icon near the breadcrumb above.