Sarah Downey: A Time of Excitement and Challenge in Mental Health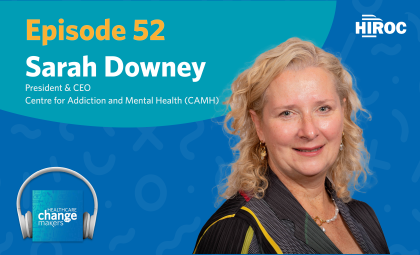 Transitions are tough, but as CAMH's newly installed CEO, Sarah Downey is excited about being part of an organization with a worldwide reputation in research, treatment and advocacy for mental health. There is nothing more important in her view, than dignified care for people with mental health issues.
Show Summary
Today's guest has a special place in the HIROC archives. Sarah Downey was our first guest on Healthcare Change Makers when we turned on the mike in 2018. The years that followed that fun interview have been busy for Sarah. For 7 and a half years she was the CEO of Michael Garron Hospital where she shepherded the hospital through a major redevelopment project that included the newly opened Thomson Centre. 
Six months ago, Sarah made the decision to move into the President and CEO position at the Centre for Addiction and Mental Health, better known as CAMH. Leaving Michael Garron and the East York community was tough, but the pull to the mission of CAMH was stronger. Sarah believes mental health is the most important health issue of our lifetime. 
It's a new place and a new culture to learn about, but Sarah always comes back to the importance of being human and being vulnerable in a leadership role. Where talking to people in the coffee line-up is one of the most important things you can do as a CEO.
Mentioned in this Episode
Transcript
Imagine you could step inside the minds of Canada's healthcare leaders, glimpse their greatest fears, strongest drivers and what makes them tick. Welcome to Healthcare Change Makers, a podcast where we talk to leaders about the joys and challenges of driving change and working with partners, to create the safest healthcare system.
Ellen Gardner: Welcome to Healthcare Change Makers, a podcast produced by HIROC. I'm Ellen Gardner with Michelle Holden and Philip DeSouza. Today's guest has a special place in the HIROC archives. Sarah Downey was our first guest on Healthcare Change Makers when we turned on the mic in 2018. The years that followed that fun interview have been busy for Sarah. For seven and a half years, she was the CEO of Michael Garron Hospital where she shepherded the hospital through a major redevelopment project that included the newly opened Thomson Center.
Six months ago, Sarah made the decision to move into the President and CEO position at the Centre for Addiction on Mental Health, better known as CAMH. Leaving Michael Garron and the East York community was tough, but the pull to the mission of CAMH was stronger. Sarah believes mental health is the most important health issue of our lifetime. 
It's a new place and a new culture to learn about, but Sarah always comes back to the importance of being human and being vulnerable in a leadership role, where talking to people in the coffee lineup is one of the most important things you can do as a CEO.
Ellen Gardner: Welcome to Healthcare Change Makers, Sarah, it is so great to have you back. Philip and I really remember when we first came to interview you. It was five years ago at Michael Garron and we just had such a lot of fun, so it's really wonderful to have you back.
Sarah Downey: Well, thank you for coming back. I appreciate it. 
Ellen Gardner: We know it's been a busy few months for you. You've transitioned away from being CEO of Michael Garron Hospital to CEO of the Centre for Addiction and Mental Health, better known as CAMH. So first off, maybe tell us how things are going.
Sarah Downey: Things are going well. I'm, in the end, so privileged to work in healthcare. As tough as it is, it's a time of great excitement and challenge and in spite of 30 years in healthcare, I still feel inspired by the work of healthcare and I feel privileged to have been part of a great organization of Michael Garron and I'm thrilled to be reintroduced to an organization I knew seven or eight years ago at CAMH. It's been a process and some of those transitions are not easy. It's not easy to say goodbye. It takes a lot of energy to say hello, but I feel like I'm kind of through that process and fully engaged now in CAMH.
Ellen Gardner: Tell us a little bit about that goodbye. I'm sure it was tough because you'd been at Michael Garron for seven and a half years and you accomplished so much during that time. You always talked about how it was your neighbourhood. So tell us what it's been like and, yes, the transition to a new organization. 
Sarah Downey: Yeah, you forget, I guess, until you have to do those transitions, just how emotional they are, and they're emotional because I formed genuine connections with the cause and more importantly the people behind that cause at Michael Garron that really meant so much to me. And so it just takes a whole lot of energy to respectfully say goodbye to people and explain your decision, which is sometimes not easy, and to find energy and place it in your heart for a whole pile of new people that you're going to get to work with in a new different cause you're going to embrace. So these things take time and it's important through tradition and through respect and connection to do those things respectfully, and I hope that I've been able to do that between the two organizations.
Ellen Gardner: CAMH is not an unfamiliar place to you. You served as executive VP of clinical programs for three years between 2011 and 2015. Nice that you get to see some familiar faces and meet new people. Is anything standing out for you that's different now from when you worked there previously?
Sarah Downey: As you know, healthcare organizations change so much over time and this one is no exception, I mean in the time I was away it opened two fantastic new buildings that actually front onto Queen Street. A major part of this hospital's vision has been to create an urban village on West Queen West and I was part of the visioning of the latest round of redevelopment when I was here last time and I got to miss all the hard stuff, which is building the buildings and paying for them. I get the immense pleasure of seeing the occupants in their new spaces.
The fundraising at CAMH has been extraordinary, and we launched a fundraising campaign last week of $500 million, of which over $400 million has already been raised. That is immensely different. There's a lot of advances in research and expansion of the research mandate at CAMH. That's been a thrill to get to know. 
And like many healthcare organizations, there's a lot of new talent out there and I've met some young leaders and new leaders who are truly inspirational here. That's been a wonderful part of getting reacquainted with the place is to figure out what is different and find out all the many things that are indeed better than when I was here before.
Ellen Gardner: Can you talk a little bit, Sarah, about the new buildings? What makes them unique? What's special about them? 
Sarah Downey: This campus is extraordinary and the amazing benefit for CAMH actually, which is a merger of four organizations 25 years ago, has been to be able to build the organization, physically build it, and emotionally build it and programmatically build it, but to physically build CAMH that is different than the elements that came into this merger. 
And so this is the third phase of the four phases of redevelopment. A few unique things. One is a consolidation of all the clinical programs onto the Queen Street site. So it was the two new buildings are about 225 beds of some of the most acute units that we have at CAMH. It's a new emergency department. And every room, which is a standard for mental health, is a private room with its own washroom, and that is so different than what many of the buildings that were built many years before were like for people with mental illness.
So they're respectful spaces focused on recovery and healing and dignified care for people, many of whom are acutely psychotic and/or spending a long period of time in our care as they find their path to recovery. They're bright, they're airy, they have outdoor spaces, there are gardens around that help in their recovery, and so the clinical facilities are superb. 
In addition to which is a brand new education space for the immense education mandate that exists here and a new auditorium. And some of the unique features of construction here is the artwork that forms part of the wayfinding and the symbolism of what's important at CAMH. So for anybody out there who wants a tour, please do get in touch with me. This is a remarkable example of respectful and recovery-focused and innovative construction. It's thrilling to see these latest two buildings and to think ahead to the next phase of construction here over the next five years that in fact will be the biggest phase of redevelopment in CAMH's history.
Ellen Gardner: CAMH has such a reputation, it's been just part of the Toronto landscape for so long and I just remember all those years seeing the facility on Queen Street and I think what's changed is that our whole approach to mental health has really evolved. And if you think about it, it's a completely different philosophy around mental health care and treatment. Do you remember those years?
Sarah Downey: I do. Well, I've read the history of some of those years. There has been a mental health facility on this location since 1850 when it was called the Provincial Lunatic Asylum. And you fast-forward to 2023 and you look at the urban village and the respectful spaces and the park areas. I mean people used to cross to the other side of Queen Street to avoid walking in front of the old asylum and the walls that were built around it to protect the patients from the people outside and to protect the people outside from the patients inside, to a place where that is now a historic wall. Parts of it are taken down, but part of it remains and it's actually a beautiful wall that reminds us of the past that once was how we treated people who lived with mental illnesses. And we've come such a long way. 
Mental health is health. I think we all know and understand this. It's not just a one in five will get mental illness in their lifetime. It's in everybody's family. We know that. And it's in all your social circles and it's in all your employees, it's everywhere. And we need a different kind of movement I think in mental health in order to make substantial changes in the diagnosis of these illnesses, in the treatment of these illnesses, the acceptance of people who live with it. And that's one of the reasons I came back was to try to build a movement of accepting and designing much better programs and systems for people who live with these real illnesses and real struggles in life.
Ellen Gardner: I read recently an article about a person who'd had long-term depression and it really was, despite everything that was tried, nothing really worked, and it just shows you how far we have to go in understanding and treating an illness like depression.
Sarah Downey: Some of it, in fairness, is the application of evidence-based treatments in the area of a depression. And I'll give you an example. We've developed a brain stimulation protocol that's not yet funded but hopefully will soon be to treat what's called treatment resistance or refractory depression. So there are treatments and tools available on some of these fronts that actually need to be standardized and made available to people consistently, because I don't think we're always getting the right treatments or therapies to people. In appropriate cases, some use medication. It's the understanding that the talk therapies are also really important and required to help manage some of these chronic mental illnesses.
Treatments for families, interventions for families are helpful, and the incredible impact on such social determinants of health for many people who live with mental illnesses. People who live on the streets, people have precarious housing, people can't get employed, people who don't have family with them. It takes a lot of different aspects to treat this. I used to work in the cancer system, and my 10 years in a cancer system were all about increasing standardization and precision of treatment for cancer and the precision of diagnosis as well. And I sure look forward to the day that we're talking about the same things in mental health and addictions.
Ellen Gardner: You mentioned earlier how coming to CAMH was a big transition for you. You were drawn to the fact of it being an accelerating movement. So I want to ask you, what did attract you to this new position?
Sarah Downey: I believe that mental health is the most important health issue of my lifetime. I think it's a thing we're still trying to figure out how to get it right. It's the most complex of systems, and it's a part of our bodies that we understand the least. And I think about all the accelerations and things we were able to do by working together in this pandemic. And I'd love to see, right, health systems and research and science and governments and policy makers and funders and fundraisers galvanize support to make a huge impact now on mental health and addictions. And so that's why I came back. It's the potential of all this and that it is, in my opinion, the most important health issue of our lifetime.
Ellen Gardner: Have you seen a mental health crisis up close? Is it something that's touched you personally? I know it touches a lot of us, but has it touched you personally? 
Sarah Downey: Of course it has. It's everywhere. It's in my colleagues, it's in my family, it's among my friends, and I don't know that people are always as open and upfront about it as they might be if they've broken a leg, but there are a lot of people who talk about their struggles in a different way. I had forgotten actually until I had come back how many people call to get advice on how to navigate the system and I must get two or three phone calls a week from people just trying to figure out what to do with their teenager who won't get to school or their elderly mother who can't remember things anymore and probably shouldn't be driving, or a sister who really is drinking too much and how do they get them help. And so this is everywhere.
Ellen Gardner: It's no surprise to anyone that there's been a widespread increase in mental health challenges facing teenagers, and while rates of smoking and even drinking of gone down, rates of depression, anxiety, self-harm and even suicide have risen sharply. In fact, a report from the CDC found that 57% of teenage girls felt persistently sad or hopeless in 2021. That's the highest rate in the decade and almost twice what was reported by teenage boys. 
So part of the problem in the States is there aren't enough mental health treatment options available for adolescents. Just from what you've seen, Sarah, do we have that sort of similar experience here in Canada. Are treatment options a big problem?
Sarah Downey: We have exactly the same problems. I don't know that we effectively capture access to care challenges and struggles the way we should and I think we should, but a hundred per cent. It's amazing how many eating disorders programs were opened during this pandemic. I opened one at Michael Garron. 
There's a lot of pressure on university students. CAMH has a partnership with the University of Toronto's mental health program to identify U of T students in our emergency department and help them back up to services in the U of T because universities need to be experts in supporting some of their students who at a prime age for mental health problems to occur. Who's more important for us to invest in than our young people? They are our future and we need them to be healthier and more resilient to create the kind and compassionate world, fix the number of the world's problems that we face today. And so I look forward to working with all kinds of partners in creating that movement and getting better, faster service to people.
Ellen Gardner: Part of the problem, as you say, is related to a shortage of professionals and lack of options for treatment. So I'm sure at CAMH, you're experiencing the shortage of people. What are some of your ideas on bigger solutions to the problems we're seeing around keeping staff engaged and attracting new people?
Sarah Downey: There is no easy solution and so what I talk about inside my organization is the importance of retention because of course to have to replace somebody who has years of experience takes a long time. And so whenever I talk to staff, I try to make sure that understand what it is that makes them choose to come back for another year and avoid dipping into their pension plans. That's a lot about wellness. I would encourage everybody to look at the amount of even psychological benefits they have as part of their benefit plans. What are some of the tools in place to help people stay longer? How do we treat older or more experienced employees in our organizations to make them continue to want to stay in these professions? What educational opportunities do we pay for to get people to advance their education, have interesting and diverse careers in our organizations?
So I think retention is a huge issue. The other of course is recruitment and bringing new recruits up to speed in what are very complicated and complex professions. And I'm amazed when I go and I talk to staff on units here, and I'm sure the same is true at Michael Garron, is how many of them have been in practice for three to five years and sometimes less, right? There's a lot of junior staff out there. And so education supports and after-hour supports are really important to factor in because it takes a while to be experts in their chosen professions. 
This is going to take years and it's going to take the promotion of health professions. I mean, neither of my teenagers talk at all about wanting careers in the health professions. I'm sure they're not unusual, but it's going to take a lot of work to value, again, these professions and to create meaningful careers for people that can stay 20, 30 years in these fields and advance and progress and make them want to stay in it even as long as I have, which is now 30 years.
Ellen Gardner: Then I really wonder, Sarah, just based on your years in the profession and years as a healthcare leader, what advice would you give other healthcare leaders about being a clear communicator and just connecting with people, being human in your communications? Do you have any key pieces of advice that you would give?
Sarah Downey: Yeah, I think to be human, to connect with people, to show genuine interest in people, to be vulnerable, to remember their names, to listen to them honestly, to regularly connect with people, to use a bit of humor is important. They want to know that their leader is real. 
As I was leaving Michael Garron, there was a woman who worked in the chemotherapy clinic and she was a housekeeper and she came up to me on my going away party. She had taken the day off to attend, which was beyond lovely. She came up to me and she hugged me and she said, "You're the only CEO that I've ever been able to touch," and I thought, "How can... This is somebody who's older than me who's probably worked in an organization run by several CEOs in the past," but it's that idea of being human. She's a mother, I'm a mother, she's a working mom, I'm a working mom.
There's so many areas of commonality that we share with people. We do different jobs, but her job was as important as mine, maybe more important in that organization. And it's all of those human, relatable conversations you have with people all the time that to me make a difference. They've made my job entirely more fulfilling. I think that they feel they work in an organization that cares for people when their CEO knows their name or knows their story or can have a casual conversation. I think that's how you stay in touch with the tone of an organization.
And for sure CEOs and director, manager level people, anybody in management gets so busy in their jobs. But I often thought the most important part of my job at Michael Garron, and the same is true here, is the time you spend on a coffee lineup, the time you spend walking to a parking lot or in an elevator lobby. Just take that chance to talk and connect with people and hear how things are going. And it's amazing the stories you'll learn and the people that you will connect with that you'll keep in your heart forever. And I'm fortunate to have a heart full of incredible people and stories that have inspired me for a long time.
Ellen Gardner: You've always made your own mental health a priority, just seeing how you spend time with family, you take vacations, you've said you make a point of leaving work at work. Has anything changed for you in the last couple of years?
Sarah Downey: I would say that the tough thing about becoming a CEO is you can never actually leave your responsibility for an organization. And as I've often said to my family when we go away on vacation, I'd say, "Something terrible happens at home, I do have to go back. If something happens at the hospital, no matter where we are, I will have to return," because you can never sign out that responsibility as a CEO. You can on other levels of the organization, and I gladly gave my responsibilities to my bosses at different times as I travelled the world and did exciting things. But you have to create spaces between your worlds in order to be able to survive. And I feel I've made career choices that have kept me close to my family. Working at Michael Garron, when I went there, my kids were in grade one and grade three and they were at school two blocks down the street.
One of the big factors was to be close to home in a community hospital that mattered. I now feel a lot of passion for mental healthcare because I have adolescents, and this hospital's like 10 kilometres maybe from my house. So it is a little further and that takes 45 minutes to get to in Toronto with the traffic. But I feel passion for that and that is because of the passion and energy I feel for this generation of people who need access to care.
So it's linking your worlds and keeping them separate at different times. And as my kids and husband would say about me is that I get up and I run to work. As much as I love them, I feel passion and energy for what I do and I think that's good for them to see.  
You really do need to take a break, and that has been hard in this pandemic. The vacation banks and organizations have grown tremendously because the definition of vacation changed. I used to think, "To take a vacation, I've got to get on a plane and go somewhere." We've all had to redefine what vacation means. It's been even more important in the last three years to find a break and a space. But what an opportunity to learn. I've gotten to know parts of Ontario, taken local vacations that I hadn't contemplated before.
Philip De Souza: It's Philip here. Sarah, we could probably talk to you all day, but we know you have to go soon, so I'll ask you only a couple of questions. Ellen touched upon just how many in healthcare in the sector admire you because of your true authentic self. And we know that... I'm sure that came to you through something, I don't know if it's through family. I can tell how much you care and love about your family. So I don't know, perhaps it's a lesson learned from your parents or another loved one, but can you share where did that come from? Tell us that story.
Sarah Downey: It comes from both my parents, but particularly my dad. So my parents are Newfoundlanders though they left Newfoundland in their twenties, but came from nothing, came from outports in Newfoundland, were able to go to university because of scholarships granted by Joey Smallwood, the then premier of Newfoundland to get kids out of outports to go to university. 
I had a terrific dad. He passed away almost a year ago who from growing up from a generation of fisher people, which is important and noble work, which is what got them from England over to Newfoundland in the first place. My dad would, through education, get a PhD in English literature, become a university president. He was president of three Canadian universities. He's an officer of the Order of Canada, who was always incredibly humble and understated in everything he did. And so I guess he was a great influence on me and I miss him dearly, of course, now that he's gone. But I hold his lessons in my heart every day and try to act in a way that would always do him proud.
Philip De Souza: I love that story. And it's true. I was on a call the other day, we were talking to somebody who... funny, you mention Newfoundland. There's this doctor named Dr. Hilda Tremblett and she... There's a wellness center named after her. So I was talking to somebody that asked if we could find her, we wanted to interview her, and then the person who answered  phone said, "You know what? We need to tell people while they're alive," and thankfully Hilda's still alive, "but that we want to pay homage and pay respect to all the stuff they're teaching us and everything they've given us. That's why we named the building after her now." She's like, "Why are we going to wait for somebody to die?"
And then I was telling my team after, "You know what? We should tell people every day in the moment who are helping us change our lives," and so I can tell just from hearing how you talk about your children and your family, that how much they mean to you. And I can just tell, I don't even know you, I don't come to your house for dinner or anything, but I can tell that you probably each tell each other that.
Sarah Downey: You act in a way that becomes your family's norm, and anything that would ever appear arrogant or conceited would be poorly seen. In fact, I remember when I was working at Princess Margaret, my father was working in Toronto at the time, him coming to see me in my beautiful office on the 16th floor, Princess Margaret, a venerable institution as a vice president at the time. 
He was there at the end of the day and the housekeeper came in to clean my office and of course I knew her name. How would I not know her name? I'd see her every day when she came to clean. And when she came to clean, I said, "Hi, Betty, how are you today?" And my father said, as we left, he says, "I'm really proud that you know the name of the person who cleans your office." At the time he recently stepped down as President of the University of Waterloo. And her great pride was that she had two children at the University of Waterloo.
Ellen Gardner: Beautiful story, Sarah. And I think so much of our lives always relates back to lessons we learned from our parents. So really glad you shared that with us. 
So we're moving into the Lightning Round. I want to start by asking you, if you were arranging a special dinner with three other people, who would you choose to invite and why?
Sarah Downey: For obvious reasons. I would invite my dad who passed away last year, and I'd love to have dinner again with my dad. I'd invite Julia Child to cook it and hear all her stories and I'd invite Drake to sing and dance at it.
Ellen Gardner: Sarah, what's your best tip for dual career couples? 
Sarah Downey: So I'd say appreciate the tiny moments. I think sometimes I find this, you try to put grand plans together every Thursday night we'll have a date night. And when that falls apart because life gets busy, then you feel frustrated. But we try to appreciate the moments as they exist. And so whether it's watching CBS Sunday morning at 9:00 AM on Sunday mornings or getting through a Netflix series or whatever it is to find... Don't look at the long run. Sometimes look at the small moments you're able to capture together and enjoy something and not worry too much about the big things.
Ellen Gardner: Are you better at being a good party guest or a good party host?
Sarah Downey: I love to host a party. Before the people have left, I tend to be organizing the next one. So I love to host a good party. Maybe that's the Maritimer in me and a good Maritime kitchen party. But I love to host a party.
Ellen Gardner: What would be one word or a couple of words of advice for someone just starting their career?
Sarah Downey: Be patient, get to know people, and keep learning.
Ellen Gardner: So finish this sentence, "If I wasn't in healthcare, I'd be working as a..."
Sarah Downey: So I'd love to be a diplomat and I'm sure they're really hard job. So I fantasize about someday being the Canadian ambassador to France. I don't know how you do it. It's years and years of hard work, and it's clearly too late for me to do that, but that is my fantasy of living in the Canadian embassy in Paris and hosting nonstop parties.
Ellen Gardner: You've picked a good country. So that's great. Thank you so much, Sarah, for coming back to talk to us again. It's been, as always, just a real pleasure and we always enjoy speaking with you.
Sarah Downey: Well thank you and thank you to HIROC. I've loved listening to many of my esteemed colleagues and friends do this series and thanks for stepping up and trying to make healthcare leaders seem human and approachable. So thanks for doing that. The sector learns a lot from this experience.
Ellen Gardner: You have just been listening to our interview with Sarah Downey, president and CEO of CAMH, the Centre for Addiction and Mental Health. For more information about HIROC and to listen to past episodes of Healthcare Change Makers, go to our website HIROC.com. Thank you for listening.
Thank you for listening. You can hear more episodes of Healthcare Change Makers on our website HIROC.com and on your favourite podcasting apps. If you like what you hear, please rate us or post a review. Healthcare Change Makers is recorded by HIROC's Communications and Marketing team and produced by Podfly Productions. Follow us on Twitter at @hirocgroup or email us at communications@hiroc.com. We'd love to hear from you.