Marni Panas: An Investment in Diversity and Inclusion is an Investment in Risk Mitigation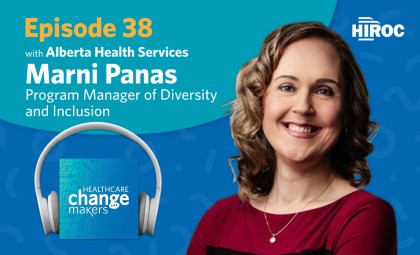 (Access show transcript) In the world of healthcare, having people bring their whole selves to work increases innovation, and has a direct impact on patient safety, experience, and outcomes. For Marni Panas, Program Manager of Diversity and Inclusion with Alberta Health Services, this happens when we work together to build inclusive systems and celebrate diversity as a strength. 
Show Summary
At the 2021 HIROC Conference, we had the honour of hearing from Marni Panas, Program Manager of Diversity and Inclusion with Alberta Health Services (AHS). This episode is a recording of that incredibly information session, edited for length.
While walking delegates through the work she and her team have done at AHS, Marni connected diversity and inclusion to patient safety and risk mitigation. Much of that work has meant collaborating with staff – involving them in policy, educational initiatives, and celebrations. 
We encourage you to share this episode with healthcare Human Resources and leadership teams. Marni and her colleagues have found that leaders want to support these important conversations but either don't know how, or don't have the language to do so. But if we want to change culture, we need to start here. 
Mentioned in this Episode
Transcript
Imagine you could step inside the minds of Canada's healthcare leaders, glimpse their greatest fears, strongest drivers, and what makes them tick. Welcome to Healthcare Change Makers, a podcast where we talk to leaders about the joys and challenges of driving change and working with partners to create the safest health care system.
Michelle Holden: Welcome to healthcare change makers, a podcast produced by HIROC. From communications and marketing, I'm Michelle Holden. At the 2021 HIROC Conference in October, we welcomed Marni Panas from Alberta Health Services to the virtual stage. Marni is a certified inclusion professional and program manager of diversity and inclusion at AHS. Marni's pronouns are she and her. Marni connects diversity and inclusivity to risk management. She highlights how having an inclusive organization can increase innovation and creativity and directly impact patient safety experience and outcomes. Marni's talk was so well received that we wanted to bring it to you in podcast format. What you are about to hear is a recording of her presentation edited for length. We hope the learnings from AHS will help other organizations who are looking to build a more inclusive workplace find a place to start. Without further ado, here it is.
Marni Panas: So, yes, my name is Marni Panas. I am the program manager for diversity and inclusion with Alberta Health Services. I use she and her pronouns, and diversity inclusion and the connection to risk management couldn't be more strong. We know that by creating an environment where people feel safe, welcome, valued, a sense of belonging, where people can truly bring their whole selves to their work, not only are they happier, more productive, the team around them is more productive. We take less sick days. There's less absenteeism, less turnover. So financially it makes sense. But we also know that in a world of healthcare, having people bring their whole selves increases innovation, creativity, which is something healthcare depends on. And all of this has a direct impact on patient safety, patient experience and patient outcomes. And so an investment in diversity inclusion is an investment on risk mitigation. And so I'm going to talk a bit about our story within Alberta Health Services in implementing diversity inclusion, the focus that we've taken. The first little bit will be part of that. And then the second part of it will be really focusing on our anti-racism work and how that has really guided this organization in a very profound way.
A little bit of an introduction and orientation to diversity inclusion that Alberta Health Services, having an environment that is safe, fair, respectful of people and individuals and their similarities and differences is part of the priority. Building a work force that's reflective of the communities we serve. We know that one of the most effective ways of reducing discrimination is to be able to see yourself in your healthcare system, to be able to see yourself in your leadership is an important rule, way of breaking down discrimination. And then of course, is to improve our capabilities as a healthcare system, as individual providers to provide culturally safe and competent care and services.
So that is the purpose by which guides all of our work. And so to that end the goals of a diversity inclusion within Alberta Health Services to is to be able to provide culturally competent care and services to our clients, patients, their families, to each other, as colleagues that ensures that there's the leadership commitment that leaders throughout the organization embody an advocate for diversity inclusion, respectful workplaces, psychological health and safety through their actions and their own professional development by ensuring that each other, that our workforce has the knowledge, the skills, the attitude, the confidence to create safe and inclusive environments, to be able to stand up for each other, to speak out when it's necessary. And then of course, that is systemically that we have a stewardship and governance structure. That means that it doesn't matter if Marni is in this role or amazing CEO is in their role, that we, that the work still continues and it gets embedded into everything that we do in the organization.
So from a governance perspective, we have our center of expertise. So I'm the program manager of our center of expertise and have a couple of people who are part of my team, but it's more about the three or four of us that are on this team. It's about ensuring that 130,000 people are doing diversity inclusion, not just us 3 as Canada's largest healthcare system and Alberta's largest employer. It is important not only that we be safe and inclusive, but that we model that not beyond the walls of our hospitals and clinics and the borders of our province. And so to get 130,000 people being and doing diversity inclusion, we have a community of practice, a series of workforce resource groups that help create a connection of people together, site-based D&I committees that are emerging this year, a diversity inclusion council that sets the pace and direction of all of our work.
And then we'll talk about the subcommittee down to our racism advisor group in a moment. So of course, part of that is including celebrating diversity and inclusion, celebrating our identities. And during COVID, during our pandemic, we were able to take those celebrations to the road like we did in these pride events where we had, you know, our systems, our ambulances and protective services teams, and a number of staff drive past all of our different sites and hospitals throughout two of the major cities in, in Alberta to celebrate diversity, to bring people together in this time of pandemic to also to say thank you and show gratitude to each other for the work that people have been doing, really, really difficult work over the last year. When we could gather together, it would be supporting spiritual cultural celebrations like Eid, or just recently with our indigenous wellness core, leading a number of events that attracted thousands of people from across the organization outside of AHS to honor the data, to reflect on truth and reconciliation on September 30th.
So those are the events. We're creating a space for those celebrations and acknowledgements to occur. And then we look at it from a structural point of view. We have guides to support creating reflection rooms for people to meditate and pray and to reflect. There might be inclusive washrooms and looking at how do we provide buildings that feel safe and welcoming to everybody within the province of Alberta. We also have, provide a lot of consultation services on ensuring that we have language that is inclusive of everybody that we provide care and services to. Language is such a powerful tool. One of the most powerful tools that we have to embed expectation to start to reeducate people. Sometimes uneducate people and reeducate people on inclusive language so people can see themselves reflected in the organization through our communications, through our policies, through our collective agreement, all of, wherever language is used.
And so a lot of the work that we do day to day is our consultations. We review forms, Albert Health Services, a hundred thousand forms. And so are they inclusive? Are they asking the right questions? Do we have to ask some of the questions that we're asking, whether in terms of race based data to the correct way of asking gender? Or do we have to ask gender? Maybe we need to ask, where are your, what body parts do you have? Like, it really can be that specific. So we provide a lot of consultation on our forms, resources that are being developed, education that's delivered over the course of this last year. We've delivered education to nearly 12,000 members of Alberta Health Services workforce, which is probably one of the best years that we've had, which is interesting that during this time of pandemic and COVID that this education and being able to support each other and to professional development around inclusion has never been more visible and necessary.
So that's been an interesting finding. How we support the organization in communicating and all of this through an inclusive lens. So again, providing a lot of education, we look at things at a very systemic level. So if we have, you know, we could do all the education that we want, but if the systems themselves aren't supporting an inclusive environment where they're providing inclusive care, then we're not going to make a lot of impact. So a lot of our work is truly at the systemic level. So just over the last couple years, we launched a new electronic medical record system through Connect Care that approaches it from a very inclusive lens, being able to look at how we're collecting patient data, how we're using that patient data to make clinical decisions. And so not basing decisions on assumptions and in the case of gender and sexuality, not basing assumptions on how ID is marked and how somebody's name might appear, but truly to base decisions in a clinical environment on the parts quite frankly that they have and what they're presenting with to our clinics and hospitals.
And what's been interesting is that has, by being able to address such a foundational system has allowed us to impact changes from... even looking at how we do diagnostic codes through from the WHO, so we're really being able to inform that work as well, as well as our own benefit plan systems and saying, you know, we have people who are neither men or women working for Alberta Health Services, but maybe fluid among genders. We're going to start sending you this information, insurance companies. You need to deal with that. And to their credit, they have been able to do so for our workforce. So that's the really deep system level work that we've been able to accomplish. Looking at our collective agreements where we're in a position in negotiations to embed inclusive language and inclusive process to collective agreements, and of course, looking at our policies through an inclusive lens.
So that is a real systemic level that we've been able to accomplish. Looking at supporting workplace concerns, when reports come from patients and families, we provide a consultation to many investigations that would happen in those spaces, and then support an organizational response when incidences of racism or discrimination occur not only within our own sites, but that throughout the country, being able to respond as an organization to ensure that, you know, we're modeling an anti-racist anti-discriminatory model of inclusion. So that's a lot of the work that we are involved in. It's not one or any of these things that shifts culture and shifts the attention to addressing the impact of not being inclusive in terms of risk. It's all of these things working together. So we're very intentional about being, looking out from a very holistic view.
Another key resource that we've been supporting developing is what's called change the conversation. And it's a series about 60 different documents that we currently have that we're adding new ones every single day, that provides a means, language for people to have really challenging conversations about racism, about indigenous misunderstandings. It could be ageism, how to manage emotions in a workplace, deal with stress. And during times of COVID all of these different types of topics that, because what we're hearing is that people want to be able to have these conversations. Leaders want to support important conversations in the workplace, but don't know how. Maybe don't have the language to go into these conversations. So these change the conversation documents have provided a means for people to have really challenging conversations and over time creating a culture where it's okay to have difficult conversations.
So when something difficult does occur, that people have gained the skills and knowledge to engage in these important conversations. So a lot of resources have been developed in that space. We talked about workforce resource groups. And one thing that we've come to really appreciate probably over the last year and a half around the time that George Floyd was killed, we launched just prior to that actually, we had launched a workforce resource group for ethnic minorities members of Alberta Health Services workforce. We had about a hundred people sign up and then as the events started to show in the media and in the stories, that grew to 600 people within a week. And what we were finding is that people were being re-traumatized by the events that we're seeing in the media, that they would look around and not see anybody who looks like them in their leadership or in the workplace, so having it difficult to connect with people to support each other.
And then during times of physical and social distancing, where a lot of us were working from homes, even further feeling a sense of isolation. Workforce resource groups at that time provided a place for people to connect with each other, to share resources, to find a sense of, you know, there are other people like me who work in this organization who are going through similar experiences. And that sense of connection helped really support the psychological health and wellbeing of our colleagues that had been quite damaged through the impact and the trauma of racism that was being experienced and seen. And so that led into some of our other work that I'll talk about in a moment. To that end, we also knew that there, a lot of sites, a lot of our teams were wanting to have a more local approach to diversity inclusion.
And so we created a number of resources to help hospitals at various sites set up their own frontline D&I committees that could help, you know, really address issues that are local to that site while still being connected to the D&I overall strategy of their organization. So once we launched a few resources, we had 10 different sites already just in the last few months that have started their own D&I committees. And this provides us with a direct connection to people who are most impacted by the decisions around diversity inclusion. And so when we look at that from a risk mitigation perspective, we can really hear from the frontline what is happening, what is needed, and provide more local attention to some of the issues that might be emerging. And so that has proven to be quite a powerful way of addressing more local based issues.
So, you know, whether it's a D&I committee or workforce resource group, they meet to share resources, knowledge, and expertise. It inspires change by acting as D&I ambassador. So that's how, instead of three people, we've got thousands of people doing a diversity inclusion within the organization, creating that environment where learning and awareness on D&I topics is something that can be offered. Planning and participating in education events like indigenous people's awareness day, pink shirt day, addressing local D&I needs, building community connections and allyship. So those are all important aspects of a workforce resource group and D&I site based committees.
Okay. Now I want to talk specifically, I set the stage for D&I. You know, what's really been important about this work, it's been the years of invisible work, the system stuff behind the scenes. When the events started occurring in the spring and summer of 2020, we as an organization were in a position to respond in, as effectively as we possibly could. Not perfect, but certainly in a position to respond. So I want to talk specifically about that work as it relates to the anti-racism work. None of us will ever forget 2020. I think that's an understatement. The COVID-19 pandemic changed our world and our lives forever in ways that we have yet to realize and understand. We also know though that the pandemic was not the only event that impacted the psychological, social and emotional health and wellbeing of our colleagues, our patients, and our families, and impacted our ability to provide culturally competent, safe care and services.
We know what can happen when systemic racism, intolerance and inequality are left unchecked. Those racially motivated and violent events that we saw in the media, including the impact of George Floyd's death and so many others brought the discussion of racism to the forefront as triggering events for many of us. We also saw a rise of anti-indigenous, anti-Asian racism, Islamophobia, anti-Semitism worldwide, and in Alberta and within the walls of our own facilities. This world's collective awareness of the existence of racism increased. Those events also served to remind us of the pain of racism and discrimination that many people experience every single day. And so to that end in 2020, the Alberta Health Services launched on a very important journey of anti-racism. So when we looked at the workforce resource groups that I mentioned earlier, we went through the workforce resource groups to recruit members to be part of the anti-racism advisory group.
Over 90 people expressed interest representing indigenous, black, people of color and Jewish identities from across all parts of the province and included the diversity of ethnicity, faith, spirituality, gender, sexuality, age, and abilities, and physicians across the organization. This advisory group was supported by the D&I center of expertise, the diversity inclusion council members, leaders from EMS, physician wellness and executive leadership team. But it was the advisory group who really led this work. We approached our work by modeling ageless values of compassion and respect. We created a safe and trusting place where people felt brave to share openly about their experiences. We shared difficult truths. We heard difficult truths. We listened with compassion. Together we became stronger. And as a result, we know those efforts will have invested, will have an enduring impact. One of the first deliverables of the anti-racism advisor group was the position statement, the anti-racism position statement for Alberta Health Services, which was really intended to serve as an anchoring statement for all anti-racism at all anti-discrimination activities at Alberta Health Services.
This was done in consultation with a number of teams. The advisor group developed this anti-racism physician statement which was received overwhelming support by our executive leadership team in May. And if I can quote our CEO, Dr. Verna Yiu, who talked about in this time of COVID, we cannot be oblivious to the impact, all of the other impacts on the health and wellbeing of our colleagues, our patients, and families. So it's essential that we be seen as being held accountable and being leaders in this work. So on June 30th, this was launched not only internally to our organization, but externally for all of you to read and leverage and to use and to adapt for your own conversations around anti-racism. So you can read the full statement at ahs.ca/diversityandinclusion.
What the statement does do is it's broken into three sections. It's to create a clear, concise, strong statement to allow people to be reflected in that statement and will bring a consistent and comprehensive approach to anti-racism activities. It breaks the statement into three sections, an acknowledgement of the truth, the pain that people experience of racism and discrimination, our commitment as an organization. We also knew that, you know, our diverse inclusion center of expertise, even the nine members of this advisory group, plus all the supports, that's a lot of burden to carry, to represent so many people within Alberta Health Services. So to ensure as many voices inform the recommendations as a report as possible, we invited our workforce to participate in confidential survey and focus groups.
And we honestly hoped that we could get a couple hundred people to support this work. But what we found is we had 150 people register for the focus groups, nearly 750 people shared their thoughts through an online survey, nearly 900 people participated in this report, which is quite astounding actually to have the voices and including 50, 40% of which were identified as being racialized.
And this includes a representation from across the province and across the organization. And we also found that it included an intersection of people who identify as Canadian born, as part of a visible minority and part of the LGBTQ++ community. What we asked during those consultations is what does feeling safe and included at work look like to you? What does an anti-racist and anti-discriminatory Alberta Health Services look like to you? What does Albert Health Services need to get there? And what do we need to know about your experiences that will help guide this work of the anti-racism advisory group? What was interesting is that, you know, in these focus groups and surveys, people trusted us to carry their voices forward. This was the first time many individuals opened up about their experiences ever, let alone in the workplaces about racism and discrimination.
They were brave. They felt safe that in the place that we created for them. Now, these individuals are looking for us to carry their voices forward. And the recommendations of this report are a collection of those voices. So just before we get into some of the recommendations, what we heard very clearly though, some very strong themes emerged, including a sense of safety, trust, respect, and allyship. But when we went through all of the quantitative and qualitative data, we went through a quite robust series of theming that was supported by people from across the organization. Safety was the word that we definitely heard most often. Safety is where our workforce feels safe to engage in meaningful conversations about racism and discrimination, where people feel safe to stand up and speak out. And that is what we heard. And to be safe, to feel safe, it includes focusing on allyship, being able to support each other, treating each other with respect and dignity, that I trust not only the people around me, but I trust that my organization is going to have my back.
And then the other set of themes that we heard once we have that sense of safety is focusing on that sense of belonging and inclusion. So the components of fairness, equity, and diversity when working together help people feel safe and included in the workplace. So we looked at the data and found that, you know, creating that sense of inclusion and belonging means that there's an equitable approach to the work, that we see diversity as a strength, as an organizational strength that can help individuals feel included. This can make them feel that they truly belong with us, and that AHS becomes a place where people want to be, where they want to work, where they want to come and get care.
That is the investment in risk mitigation, is that when people want to come here for services, and that's an important sense of belonging. So what does this mean from how do we get there? So those are the themes that we heard. What are the actions that we can take? And so that led into a series of recommendations. These recommendations were offered. There's 36 recommendation in the area of 8 themes, 36 recommendations. It sounds like a lot, because it is a lot. It's going to take a lot of work over a long period of time, and everybody working together to truly have the impact that we seek. These recommendations honor our vision as an organization for healthy Albertans, healthy communities together. They provide meaningful and tangible actions that we can all take to live Alberta Health Services' values of compassion, accountability, respect, excellence, and safety.
They align with one of our foundational strategies, core foundational strategies, and our people strategy to create a safe, healthy, and inclusive workplace where we can truly bring our health to our work and support our people in reaching their full potential, thereby providing high quality patient care. They build upon meaningful work that is already underway. A lot of the recommendations, which you're welcome to read, they're on that same external page that I shared with you earlier. All the recommendations are there for you to read, but a lot of them are already, is work that is already underway, aligns with our commitments under indigenous strategy and aligns with our obligations around harassment and violence as per the policies within Alberta Health Services and occupational health and safety legislation in Alberta, and enables people to stand up and speak out against racism and intolerance. So as we look at these recommendations, particularly in the themes, again, the word safety is something that appeared most often.
And that includes the first seven of our recommendations, really talked about having a safe reporting investigation system. We know that this was one of the most discussed issues. An overwhelming number of respondents indicated that they would not report acts of racism or discrimination for a variety of reasons. They would not be believed. The amount of emotional energy that goes into explaining discrimination, that goes into educating people who may not have experienced it themselves is laborious and is a reason why people may not report. And of course is the very real fear of retribution. And so a lot of the recommendations really look at doing a comprehensive review of the reporting process from the perspective of everybody who's involved in an investigation of racism and discrimination, including people in investigating leaders, the respondent, the complainant. And what about when our colleagues experience racism and discrimination from the public? From patients and families? All of that is part of this review.
And then we look at accountability. Again, the word accountability comes up and it's in this order for very specific reasons, because we know that it is the system that creates an environment and a culture where leaders feel supported and workers feel empowered to be inclusive and anti-racist. So by looking at the organization, accountability, it's about embedding these actions into our foundational strategies, working with our union partners, looking at our policies, looking at the supports to support the organizational response. That creates a space where what we heard from our leaders, it's that leaders at all levels, especially our frontline leaders play a vital role in changing culture. They have a direct relationship with frontline workers, they model and reinforce norms and expectations of the culture of their organization, of their teams. What leaders identified as important are powerful in establishing a culture. There's a strong desire amongst the leaders to create that safe and inclusive environment at Alberta Health Services, but we also heard from many of leaders that they don't have the knowledge or the confidence to engage in those challenging conversations around racism.
So a lot of the recommendations focus on providing core education and resources to leaders. And then of course, it's a workforce accountability, developing a campaign to communicate this work. Workforce resource groups, again, to foster that connection and to, and we just launched a series of education resources and how to be that ally. And so, and again, moving on to training and education, shoring up a lot of our education or continuing to developing more education so workers feel that they have the knowledge to stand up and speak out. Valuing diversity inclusion is essential, so we want to celebrate diversity as a strength within our organization. And that includes celebrating events like indigenous people's awareness month, black history month, Jewish history month, pride, Eid, creating a sense where we're celebrating, creating platforms for people to celebrate their identities and feeling safe and empowered to do so.
Then the theme around representation is, again, one of the most significant ways to reduce discrimination and remove barriers is to see yourself in your healthcare system, to see yourself in your leadership. And so representation has improved through effective recruitment, retention, succession and promotion strategies. So we have a lot of tactics built into number seven, talk about mentorship, sponsorship, providing for people in underrepresented communities, resources for hiring managers to reduce barriers and to be more inclusive in the hiring process. And then finally, measurement. You can't change what you can't measure. So we need to measure the outcome of these actions and how they, and are they reducing the impact of racism in our workforce and patients, and to inform ongoing quality improvement, again, from a race mitigation perspective. You know, high quality care and services helps us reduce risks. So there's a number of actions that are already a way to start doing that.
We know that it's not any one or two or three or five of these recommendations. It's going to take all of these recommendations to create the culture we ought to be part of. But we also know it's going to take time. Racism and discrimination didn't just start in a year and we're not going to end it in a year. That has never been the goal. So when we look at these recommendations, it's important to read them as a whole. And by working together over time, we know that we can build a culture where everybody feels safe, welcome, and valued, that we create a place where people want to be, where they want to work and come for care and services. So that gives you a bit of a sense of where we've come to in this work over the course of the last year. In our next steps, it's been, these recommendations have been fully accepted, endorsed by executive leadership by the AHS board.
The report has been posted online now. So you're welcome to read it for yourself hopefully inspire change and opportunity within your own organizations. We've identified leads for each of the recommendations, each of the 36 recommendations. So it is not the diversity inclusion that is leading the work. We have created the opportunity for these conversations to happen. Now, the report is being given to the organization for people to put into action and to recognize where leaders are in each of these spaces. So those actions and reporting will happen through one of our foundational strategies. So regular quarter reporting that doesn't get sat on a shelf. It is embedded into quarterly reporting on the progress of all of the actions.
Michelle Holden: You've just been listening to a recording from the 2021 HIROC Conference with Marni Panas, Program Manager of Diversity and Inclusion at Alberta Health Services. To reach Marni and access all of the resources she outlines, head over to albertahealthservices.com. To watch a video recording of Marni's session and others from the conference, reach out to us at communications@hiroc.com, and for more information about HIROC, and to listen to other episodes of Healthcare Change Makers, go to HIROC.com. Thank you for listening.
Thank you for listening. You can hear more episodes of Healthcare Change Makers on our website HIROC.com and on your favourite podcasting apps. If you like what you hear, please rate us or post a review. Healthcare Change Makers is recorded by HIROC's Communications and Marketing team and produced by Podfly Productions. Follow us on Twitter at @hirocgroup or email us at communications@hiroc.com. We'd love to hear from you.