Inspiring Impact with Lisa Levin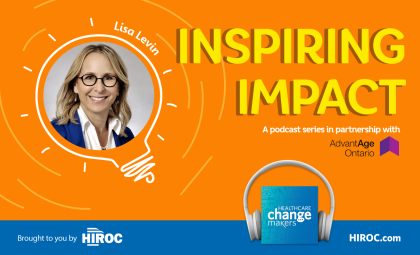 (Access show transcript) We're back this year with the Inspiring Impact mini-series, a partnership between HIROC and AdvantAge Ontario to highlight the work of several presenters at their 2022 convention.
Show Summary
Lisa Levin's passion for seniors' care started when she was just a child, watching her young and intelligent grandfather battle dementia. Today, as CEO of AdvantAge Ontario, Lisa and her team are the voice of not-for-profit seniors' care, dedicated to supporting their members in creating the best possible aging experience.
Again this year, HIROC and AdvantAge Ontario have come together to produce the Inspiring Impact podcast mini-series. This four-part series highlights several amazing presenters at the 2022 AdvantAge Ontario convention, and explores the innovation and passion at play in the long-term care sector. 
Today HIROC's Philip De Souza chats with Lisa about her organization's work, what delegates can look forward to at the convention, and what drives Lisa to push for change in the sector. 
Mentioned in this Episode
Transcript
Imagine you could step inside the minds of Canada's healthcare leaders, glimpse their greatest fears, strongest drivers, and what makes them tick. Welcome to Healthcare Change Makers, a podcast where we talk to leaders about the joys and challenges of driving change and working with partners to create the safest health care system.
Philip De Souza: Hey listeners, and welcome to Inspiring Impact, a special series from HIROC and Advantage Ontario. From HIROC's communications and marketing team, I'm Philip De Souza,
Last year, in partnership with Advantage Ontario, we launched a unique series called Inspiring Impact. Our goal was to highlight not only some amazing presenters at the annual convention, but also make some space to hear how the long term care sector is inspiring impact. The series was a hit and we're delighted to bring it back this year with four more new episodes. And today we're talking with Lisa Levin, CEO of Advantage Ontario. Good morning Lisa and welcome to the show.
Lisa Levin: Good morning.
Philip De Souza: So before we get going, I think it's good for listeners to know a little bit about Advantage Ontario, who you are and what you do.
Lisa Levin: We've been around over a hundred years.
Philip De Souza: Wow.
Lisa Levin: And we represent not for profit and municipal long-term care homes and seniors housing providers from all across Ontario. And a number of our members have campuses of care. Many of our members are hospitals or work with hospitals. So we have over 200 long term care homes, and the rest of our members provide housing and or community support services. So we are really the voice of not for profit seniors care. And we provide a bunch of services to our members, such as advocacy and having the voice of not for profit seniors care heard by government. We provide a lot of education and training. We help our members interpret legislation and policy. And we also have many services and supports such as regular communications with our members, regional meetings. So we have nine regions across Ontario that our members participate in. And then we have other things like we provide benchmarking information on different costs of long term care.
Philip De Souza: That's fantastic. So first of all, wow. Over a hundred years, that's amazing. And secondly, we do, we here at HIROC also really value the bulletins you send out, especially over the past couple years with everything going on. So that's amazing work you guys are doing. And for those of you who may not know the scale of the impact you and your team at Advantage have, can you share a little bit about how you support this sector specifically?
Lisa Levin: So Philip, we provide a wide range of services to help our members. And I would say that during COVID the work has intensified significantly. But we spend a lot of time speaking with government. We speak with the Ministry of Long Term Care, and we speak with the Ministry of Health and the Ministry of Labor and the Ministry of Housing and Treasury Board and Finance to advocate for seniors in Ontario, as well as the Premier's office. We speak with both bureaucrats and political staff. So we have been in touch with people on almost a daily basis since the beginning of COVID. And we are really making sure that the things our members need like funding for COVID expenses, comes through clearly.
And one of the things we've done recently is we were able to get the government to provide loan guarantees so that long term care homes that are not for profit have an easier time being able to build because they have access to financing. We also hold one of the main courses for administrators in long term care. Because to be an administrator in long term care, you have to have a hundred hours of education. So our administrator leadership program has been in place for over 20 years now. And in addition to that, we offer all kinds of amazing education. So for example, the Long Term Care Homes Act has just changed.
And we did a lot of advocacy on that and consulted with our members and wrote a submission to government. But the next step is to provide education and training for our members to help them navigate that. And then we have other things, like we have on our webpage, we have a COVID page where people can look and see all of the hundreds of directives that the government has put out over the last two years. We've really curated that information for our members to help them understand and get through this tough time.
Philip De Souza: Wow. That's amazing. So many things there. I must highlight the program that you mentioned that you spoke about, the leadership and administrator program. I know, I remember I said obviously when we were back in person, I was at a celebration, reunion of sorts. And just hearing the many stories from members who had been part of the program and how they really made some amazing connections, but also learned, and this spoke so highly of the team who was actually teaching them. It was quite, like I had never obviously been to a course, but just being there and hearing all of them talk about it. It was just, it sounded so special, the program.
Lisa Levin: Our Administrator Leadership Program, or ALP as we call it, is really exceptional. First of all, it's a whole week long and we were able to pivot it completely to virtual during COVID. And even though it's currently virtual, people really bond during that one week period of time. So we give them opportunities not just to have the formal conversations, but also informal conversations. And then at the end, we play a really amazing team building strategic game. And so our team has worked very hard to make sure that the participants in the program not only learn all of the key principles of running long term care, but also can develop a network so that in the future, as they move forward, they have other peers and colleagues that they can go to for support. And that is really one of the major elements of the culture, of being a member of Advantage Ontario, is the sharing of best practices and expertise amongst our members.
Philip De Souza: No, definitely something both organizations share very much. And that's a good segue to the AdvantAge convention. So in your opinion, why is it so important for the long term care community to come together at your annual event?
Lisa Levin: So our sector has been under incredible pressure. Even before COVID, we have been under funded, under resourced, but provide such vital important services to people across Ontario. And our members are very, very special people. And at the convention, they can come together and learn the great and amazing best practices that they've each developed in their own communities. And that's a way that they can spread the information to one another. But during COVID more than ever, it has been such an amazing support. I would say that our members, some of them talk daily now. And so at the convention, it's a time for everyone to come together. Now it is virtual this year, again for the second time, which is not the same as being together. But our education team has put together such an amazing show that we've been told it was one of the best virtual conventions around. And this is a tough thing to pull off, but people have been able to come together through this.
Lisa Levin: We have lots of opportunities for informal interaction between our members and with experts. So our education team has really been able to keep that element of it. But our world's in long term care and in seniors care has been changing so much. And this is an opportunity for people to learn about the new long term care legislation, the new national standards that are coming out, get best practices on seniors housing, hear from government, and then also hear from commercial members who have some fantastic products that really help our members. And then we have our exhibit hall, which is now virtual, but people can drop in and speak to vendors and learn about the resources that they have. And with so many homes developing new beds or redeveloping their homes, they really need a lot of support in terms of finding new products and services that can help in capital projects.
Philip De Souza: That's fantastic. And taking a slight pivot here. Lisa, if someone came to you tomorrow and said, we're giving you the power to make any and every change possible to create the optimal long-term care space. What would it look like in your eyes?
Lisa Levin: The first thing I would say to them is, can you take your powers or my powers a little bit broader and create optimal, supportive continuum for seniors to age in place. And so I would start there because not everybody needs to be in long term care and some end up there prematurely. And so I would first ask for more funding for supportive housing so that no matter what your income is, across Ontario, you can have a supportive environment to live in as you get older, if you don't need the full supportive long-term care. But in terms of long-term care, I would say we want people to feel that they are at home. Because long term care is people's homes. And some of them are living in these large facilities because it's much more efficient to be able to operate in that way. But it would be great to have smaller homes where firstly, people have their own private room, their own private washroom, especially because of infection prevention and control.
And we've see now how important that is. I'd like to see people sitting around a dining room table and eating together, and a lot of homes are starting to do that now. Good air circulation is really important. Up to date central air conditioning, wide hallways, so that you can get the equipment and wheelchairs around. Lots and lots of staff and volunteers. Do you know that we've lost 75% of our volunteers in long term care during the pandemic, Philip. And I would urge your listeners, if anyone is looking for something meaningful to do with their free time, which I know we don't have a lot of in this modern world, I would strongly encourage you to consider volunteering in long term care. There's so many great opportunities. I would look for a home that has lots of secure outdoor space where people can get outside, with gates around so that they don't wander off. We need the homes to be dementia friendly, lots of color and vibrancy and just really we want people to feel like they're at home.
Philip De Souza: No, that's, that's fantastic. And before I go to my last question, I was just thinking, hearing in your voice the passion you have about long term care and healthcare in general, where does that, where does that stem from? Where does that come from?
Lisa Levin: Yeah, so my passion in seniors care, I would say started from my childhood. We had a very large extended family. Every weekend the relatives would come and visit, and my grandparents and my great-grandmother and aunts and uncles from all across North America. And I would be forced into these lace tights and itchy dresses, but I would perform for them. And I would dance for them because I was a little ballerina. And my grandfather got dementia when he was quite young. And he was a brilliant man, a scientist who helped discover the predecessor to Gravol during the war. And to see someone like that slowly lose their mental faculties and their memory is very upsetting. And I remember he once drove me home from his house and there is a confusing sort of interchange, I'm from Montreal where there's a lot of curvy roads, and he got lost.
I was very young and I had to tell him how to find our house. So he eventually ended up in a long-term care home that was in our community. And my parents were actually involved with it, in that home. My father did some part-time work there. My mother ran the auxiliary at one point. And so it was, I would say, part of my DNA. And then when I decided what I wanted to do when I grew up, I actually decided to do urban planning, but my interest was in social planning. And I saw that the population was going to be aging and knew that this would be a growth area. So I did my masters in urban planning, but my research was on supportive, independent living to help seniors stay in place at home as long as they can.
Philip De Souza: Wow. That's an incredible story.
Lisa Levin: Thank you.
Philip De Souza: Thank you for sharing that.
Lisa Levin: You're welcome.
Philip De Souza: My last question for you before we go to the lightning round is, at HIROC, partnerships like the one with you and your team, Advantage, are critical to us continuing on our journey to turn the corner on healthcare safety. So why are partnerships important for you and the sector as well?
Lisa Levin: So I think that that's really something that is absolutely essential. We can't go this alone and we need to work together and have partnerships to learn from one another and help each other out. And so I'll give you some examples of COVID partnerships, because that's of course top of mind. We've had a number of our members, like St. Joseph's Healthcare in Guelph and the county of Simcoe and others, literally go into homes that were struggling in their communities and help them practically with staff and other supports during this pandemic.
Our commercial members have been amazing. HIROC has helped some of our homes who were unable to get insurance earlier on. And we have partnerships with others who provide insurance support. We've had our commercial members help us get PPEs to our, including like our pharmacy members who normally wouldn't have done that, and we were able to call them and get all kinds of PPEs. One of our members donated equipment and wipes and continues to do so to our members. And people have just to help each other out. And that is how we get through tough times, Philip. We get through tough times by helping each other out because you can't always do it alone.
Philip De Souza: Absolutely. Absolutely. That's a great way to end off with our lightning round. I'm going to ask you a few questions and you just answer the first thing that comes to your mind. So the first question is, Lisa, what was your first job ever?
Lisa Levin: Oh, well I was a calculus tutor.
Philip De Souza: Oh, wow.
Lisa Levin: Yes. Talk about nerd. Mm-hmm.
Philip De Souza: Funny you mentioned, you were performing and dancing for the family and now to math. That's like, wow.
Lisa Levin: Yeah, yeah. I liked math and other stuff and arts and yeah, I was doing a lot of ballet when I was younger. But yeah, I was a calculus tutor. I made some good money and it came very easily to me. Lord knows why.
Philip De Souza: What's your go to activity to unwind or simply pause from everything that's happening around us these days?
Lisa Levin: I love music. I've always loved music. And in the yearbook in high school, my quote was, "When I'm down and feeling cold, I hide in my music and forget the day," from Boston. So I listen to music. If I have time, and which I try and make, I go for a walk. And if I have more time than just a little bit, I go into a ravine and do nature bathing as they call it. And I try and do yoga regularly as well.
Philip De Souza: That's great. What book are you currently reading?
Lisa Levin: I just finished A Thousand Splendid Suns by Khaled Hosseini, who wrote The Kite Runner. Because I wanted to learn, I read The Kite Runner many years ago, and with what was going on with Afghanistan or is going on, I wanted to learn more about it. I also have a few staff from Afghanistan, so I wanted to sort of educate myself through, I would call it historical fiction, which is my favorite kind of book. And so that's a book that I just finished reading, and it was really moving.
Philip De Souza: Great. What healthcare or business person do you admire most and why?
Lisa Levin: I don't have one person. I really thought about this. And I actually can tell you, I've learned little bit of pieces here and there from different people. But I mostly have learned what I don't like because I'm of a certain age that the people that I reported to, it was sort of the old school of leadership. And that won't fly in today's world. So I actually took some of the things I didn't like and told them.
Because we need to be genuine leaders, we need to be vulnerable. And it's important not to be motivated by greed and ego. I've always wanted to be in a job where I can change the world into a better place. And I just followed my instinct and followed my gut and didn't necessarily take promotions when they were offered to me if they weren't of interest. And so I would say that I don't have a model. And I also feel it's important to judge your success by what you've had to give up to get there. So I've really never, certainly not consciously, walked all over someone to get a promotion or anything like that.
Philip De Souza: I like that fact that you, even in your response, that you're being genuine and honest.
Lisa Levin: Yeah.
Philip De Souza: You're practicing what you preach, it's amazing. And the last question is, what is the best piece of advice a mentor ever shared with you, Lisa?
Lisa Levin: So my very first boss told me, and modeled it, to treat everyone in the organization the way you would want to be treated. No matter what their role is. And so if someone was an administrative assistant, the courier, the mail person, they would get the same respect and should get the same respect as the CEO of the company or a member of provincial parliament or anyone else. And that really resonated with me. And another one of my supervisors gave me a lot of fantastic opportunities. I was working in the government. I was a junior policy advisor, and I got to brief the Minister of Housing. And my supervisor's perspective is that if I looked good, she looked good. And so I've always was very touched by her trust in me and her confidence. And so I try and do that as well with my staff.
Philip De Souza: I feel like you've given our listeners a TED Talk today. Thank you for this. Well, thank you so much, Lisa, for taking time to chat with me today, I really appreciate it. I know our listeners really value what you have to say. And also just to use your words back on you. I think you and your entire team at Advantage are doing something to change the world to be a better place. And we really value and appreciate that. So thank you, Lisa.
Lisa Levin: Thanks so much, Philip. Have a great day.
Philip De Souza: You've just been listening to our interview with Lisa Levin, CEO of Advantage Ontario. This episode is part of our Inspiring Impact series for 2022, in partnership with Advantage Ontario. If you like what you heard, please leave us a review and don't forget to hit the subscribe button so you will be notified when new episodes are released. For more information about HIROC and to listen to other episodes of Healthcare Change Makers, including the Inspiring Impact series, please visit hiroc.com and favorite the show on your preferred podcasting app. Thank you for listening.
Thank you for listening. You can hear more episodes of Healthcare Change Makers on our website HIROC.com and on your favourite podcasting apps. If you like what you hear, please rate us or post a review. Healthcare Change Makers is recorded by HIROC's Communications and Marketing team and produced by Podfly Productions. Follow us on Twitter at @hirocgroup or email us at communications@hiroc.com. We'd love to hear from you.