From the Frontlines with The Ottawa Hospital's Corporate Communications Team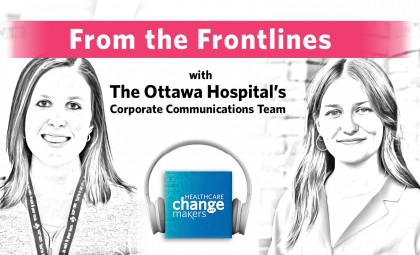 For this small but mighty team, supporting one of the largest academic research centres in the country comes with a great sense of pride.
Show Summary
Welcome to From the Frontlines, a special Healthcare Change Makers mini-series. Healthcare providers and support staff have been on the frontlines, fighting for Canadians since the start of this pandemic. In this series we're handing the microphone over to some of those amazing individuals.  
Today, HIROC's Michelle Holden and Philip De Souza sit down with three members of the Corporate Communications Team at The Ottawa Hospital. We hear from Bernie Etzinger (Chief Communications and Outreach Officer), Brooke Peloquin (Internal Communications Coordinator) and Michaela Schreiter (Media Relations Officer). 
When COVID-19 arrived on the radar earlier in the year, the team was called into action to support hospital staff, partners and the community at large. Hear from Bernie, Brooke and Michaela about what it was like to stand up one of the first assessment centres, and the tactics they've been using to keep staff and community partners connected in times of great change. 
And, if you get a chance, check out On Call: The Ottawa Hospital Podcast hosted by Michaela Schreiter. 
Key Takeaways
(2:41) Internal communications tactics the team employed during the pandemic
(8:44) Stronger together – working with public health and other hospitals in the region 
(10:25) How Corporate Communications worked with teams to stand up the assessment centre
(13:00) Solidifying a relationship with the media during the pandemic
(16:24) Connecting the dots with stakeholders – the team's special sauce
(18:04) Transitioning to a new CEO in the midst of the pandemic
Mentioned in this Episode
Transcript
Imagine you could step inside the minds of Canada's healthcare leaders, glimpse their greatest fears, strongest drivers, and what makes them tick. Welcome to Healthcare Change Makers, a podcast where we talk to those leaders about the joys and challenges of driving change in our complex and demanding healthcare organizations.
Michelle Holden: Hey, listeners. I'm Michelle Holden, Communications and Marketing Lead at HIROC. I'm here today with my Director, Philip De Souza. First, we wanted to thank you for taking the time to listen and follow our podcast Healthcare Change Makers. It means the world to us. In the past few months, we have seen how healthcare providers and support staff have been the driving force fighting for the health of Canadians. We are all so very grateful. That's why we have dedicated this special mini-series to those individuals. Over the past five episodes, we have sat down with frontline and support staff in long-term care, midwifery, health regions, and hospital settings.
As communicators, Philip and I are really excited today to have with us a few members of the Corporate Communications Team at The Ottawa Hospital. We have Bernie Etzinger, Chief Communications and Outreach Officer, Michaela Schreiter, Media Relations Officer, and Brooke Peloquin, Internal Communications Coordinator.
Bernie, I'd love it if you could tell me about yourselves and your team, and what you guys do at The Ottawa Hospital.
Bernie Etzinger: Sure. We are the Corporate Communications Team at The Ottawa Hospital. I guess I would describe ourselves as a small, but mighty team that works to support one of the largest academic research centers in the country. We have over a million patient visits a year. We have 19 sites, three major campuses, and so to support them, the communication needs to reach the clinical community, our administrative support community, and the community at large. Our small and mighty team is about seven people. And that covers the entire gambit of communications services, social media, media, internal communications, web community engagement, and a host of other functions over and above that including media relations, which used to be everything that we did that now is a component of what we do. So this small team, we were the ones that were called into action early in 2020 once we came to grips with the situation that we were facing with the novel coronavirus.
Michelle Holden: Small but mighty. That's a great way to describe the team and the amount of work you do to support staff and the community. Brooke, can you tell us a little bit about some of the internal tactics in communications that you've employed to support staff and develop trust around the pandemic?
Brooke Peloquin: One of the first things that we started doing was issuing an all staff message from our CEO every day, and I think that made a really big difference for the people who were working from home. At one point I was kind of collecting feedback from staff and someone had said, "It really means a lot to me that you're taking time out of your day to send these messages to staff because it makes me feel connected with the hospital, even though I'm not working there." So, I think that kind of goes to show the impact that these messages have, but also internal communications in keeping staff feeling connected even though we're not physically together. That's something that we started up early on in the process and that's something we continued. We've kind of changed the cadence, because we don't necessarily have to issue one every single day, but they are still quite frequent.
Oh my gosh. Internal communications, we have been doing so, so much. We started to develop a massive FAQ with any questions that staff might have in it. It literally touches on any topic you could possibly think of. We went on to develop kind of like a micro site on our internal intranet. It's a challenge reaching our clinical frontline staff and then also communicating with their administrative staff, so they have to look at multi-media ways to hit these people, hit everyone.
This intranet site was kind of a way to present the information in a way that was digestible, because we just had so much stuff coming at us from left, right and center. We have multiple pages but it's digestible. We have buttons. It's kind of recognizable and branded. We have our FAQ living there, instructions on visitor policy that gets updated whenever we have changes, that kind of stuff. It was kind of trying to figure out, how do we take this massive amount of information we are getting and make it into something that is not overwhelming.
Part of the question we were asking ourselves at the beginning was, how do we get staff to understand that they can come to us for trustworthy information, because at the beginning of the pandemic, there was so much counter information out there and we weren't sure... Like even myself, I was like, what do I believe, and what was correct and what isn't? There was so much information coming at us from all corners, and this space, our internal communications became a place where people knew they could come to for accurate information. It was up to date, and I think it really helped with making our staff feel safe, too.
Michelle Holden: Absolutely. Thank you, Brooke. Staff morale and consistent messages has been really important throughout this. Something that we've seen at HIROC firsthand through all of this as well. Bernie, perhaps you and Michaela could speak on how it took shape on the outside in terms of connecting with the public and your partners in the region.
Bernie Etzinger: The other pieces that came up then was the support that was needed than just the support the government's push to have assessment centers for example. We worked with a team of clinicians for over 24 hours to stand up the first assessment center in Ontario, or second... It was the first or second in Ontario. And to make sure that we could then take the media through that at that particular time to be able to tell that particular story, to be to not just reassure our staff, but to also reassure the general population. That testing was taking place. That you were able to know who might be experiencing COVID and be able to work with our public health partners. That was one piece.
I think the second piece was that we brought our emergency response network into play. We have a great relationship with our public health authorities, and also with the other hospitals in the region. It really became clear that we would have to act as one unit when it came to that, and not separate hospitals getting separate messages. So really, the idea that you could bring all of those voices together to speak to the million or so people that live here in Ottawa was also a key part of the strategy that we had in place. The third thing, which I think was really quite interesting, was really to link together how the community wanted to help and how we could help the community. I'll sort of just touch up two areas and then leave it to my colleagues to explain some of that a bit more in detail.
One of the pieces was, we had people who were scaling out the ventilator capacity. We had people who were 3-D printing face shields. We had people who were beginning the research around this novel coronavirus to understand what it might be. Some of the best researchers in the world, creating and tapping into networks, both for funding and then to begin that research. I'm sure it took a massive collective effort. Telling that story meant you had a public that both wanted to thank these frontline providers and also to support them. So, we launched a fund with our foundation partners as well.
Secondly, we made sure that, what we were seeing across the city were these beautiful signs the people were making. You know, we're all in it together. Kids were spending their afternoons thanking healthcare workers, sending in cards. It really was our goal to make sure that that kind of thanks was reflected back to our staff because the morale piece was so important as well. So really, you have reassurance, the morale, and then you have what I call completing the circle between innovation and community was necessary to go on. As our hospitals started to go on, treat COVID patients, the curve started to go up. And then as we slacked on the curve, we're doing that. That was really the core, the heart of our effort in the corporate communications job.
Michelle Holden: Was there anything, Michaela that you'd wanted to add to that?
Michaela Schreiter: Wow. There's a lot that we've all learned through this experience. We've touched on the regional collaboration that took place throughout it. I think that's something we'll really take away from this and see that when it comes to whatever project you're working on, we function better as a region when we work together closely. A healthcare system is very intertwined. It's not just a hospital. A hospital is one part of a wider system. I think that working with our partners and collaborating with them very closely regardless of the project, it only stands to benefit everybody. Especially when it comes to... My area of expertise is more on the external side of communications, so especially when it comes to informing the community and making sure that the public has the information they need. There's absolutely no downside, I guess, to working closely with our partners, whether it be hospitals, Ottawa public health, other healthcare organizations.
I think we've learned a lot about the importance of collaboration. Also, within our team, I think we've learned a lot about what we're all capable of, and how quickly we can mobilize things, and how quickly we can stand up and assessment center. There are so many lessons that we've learned from this experience that will help us going forward.
Michelle Holden: Brooke, as someone who works heavily in internal communications, I'd love to hear from you on what Bernie and Michaela had to say about the work that's gone in so far to the communication during the pandemic. And also, standing up the assessment center and working with the partners. How does that play out for you, and can you walk us through some of those experiences?
Brooke Peloquin: We talked about the efforts that went towards putting, standing up this assessment center, and I can kind of expand on that and talk about how it wasn't just communications that put so much work into getting this put together. It was a team effort across the hospital and across the department. Our team helped out with putting language together for signage that was going into the assessment centers, making sure staff were aware that this was getting built and put together, and it was getting staffed. In the 24 hours that it took to essentially stand up this assessment center, we had IT on site putting in the infrastructure to access our health information system. They did that overnight. We had facilities involved, putting up sign trucks so that people could be directed to the facility quickly and safely. We had graphics and printing all the signage for us, so it was a huge effort across the hospital to put this together.
It was really amazing to see, putting forward a unifying voice across the region. We have meetings with hospitals, essentially everywhere in our community just to make sure we were communicating the same thing and reassuring people that we're all in the same boat, and we're taking care of our patients. We're taking care of our staff. We're taking care of community. It's been a really incredible effort from our communication's perspective but just the teamwork perspective of it. I've worked with so many different people I might not have outside of the pandemic. I'm sure hospitals elsewhere have had similar experience in this sense.
Michelle Holden: So, having gone through this experience, and I know the pandemic isn't over and a lot has changed as Brooke and Bernie have explained, in terms of your strategy, what's one thing that you will take from this experience and use it going forward as you guys develop projects and initiatives in communications?
Michaela Schreiter: If I could, I'd like to build on a little bit of what Bernie said and that really is the role of our hospital or any hospital really in the public health sphere. Which I think in previous years, we may have viewed ourselves as a little siloed. You know, we take care of what's in our hospital, and public health focuses on the general population. But, this has really shifted our focus to see how we all work together for the greater good of the population. I think where that was really key for us was our relationship with the media.
We've always had a fairly good relationship with our media partners, but that relationship, I think, was A, put to the test and B, was really solidified and built on during this pandemic because we needed them to get the proper information out to the public at the right time. And of course, they needed us, because they needed to tell these stories, they needed to provide their listeners and viewers with information, and it became a really symbiotic relationship, if I'm using the word correctly, where we both saw how much we need each other. I think that our relationships that we had already built with the media were very key there.
Bernie Etzinger: When a crisis like this hits, it really draws people to work together in ways you didn't think was possible. It's more than just efficiency, it really is this idea that you have to do what it takes to deliver the care to the population. All the institution is becomes less important as to what is required to deliver the service on hand. As we look ahead from our particular vantage point in communications, the question is really avoid the temptation for institutions to see themselves through institutional lens and to continue that focus on communicating as a unit, and speaking with one voice and clarity the healthcare system demands, even in non-COVID times.
As we get used to living in this pandemic, then we believe it's a new normal. Are these arrangements also part of the new normal. As we communicate with people, can we continue to provide good, clear communication to people. I think the two greatest challenges from my communications point of view are ambiguity and complacency. How do we work with our public health partners to reduce both? I'm not trying to... There's no easy answer for that. I think that falls on everyone's own personal bias towards what the COVID piece is. I think if there were two drivers for providing the best possible communication that unified that part of the hospital, it would be to really reduce both of those factors in clear, and be vigilant.
Philip De Souza: Your team really took on the role of connecting all the dots for all your stakeholders, whether it was in the public health or in your organization or with the media. I heard it in all your voices, it seemed to really propel the team and bring you all together like you said, to make things happen. That's why our team at HIROC noticed it. We were like, "Wow. The communications that's coming out of your organization is phenomenal." That's why we wanted you guys to share your stories so other subscribers could learn from you. Is there any kind of special sauce that we should know about and how we all can strive to connect the dots like you guys did?
Bernie Etzinger: That's a very generous way of putting the question. I think the most important part about that piece on connecting the dots for those stakeholders is to really see the issues through their eyes and in their terms. They were able to understand why they should be a part of that, why they should be helping, essentially, in each of these different areas. Our media stakeholders, of course, were the communication stops in giving to our hospitals. We had a variety of other stakeholders. Internally, our stakeholders were the various department heads, the various features of the professional networks that we saw through the piece. And of course, the community. As we went through the community, what was particularly helpful for that was, and again, I alluded to this when we talked about did the shield face masks and all those different areas. For us, the biggest part was to be able to take what they were doing, reflect that back, and work to develop the narrative that really galvanized the support for our frontline workers.
Philip De Souza: Fantastic, that's amazing.
Michelle Holden: From what it sounds like, you guys are busy with the pandemic and everything that's going on out there. But also, in the middle of that, you were working to transition to a new CEO, and Dr. Kitts retired. So I just wanted speak on what that was like for you.
Brooke Peloquin: So, from an internal perspective, it was really interesting because Dr. Kitts had built a really great rapport with staff, sending these all staff messages with COVID updates and just general hospital updates almost every single day. I think for some staff, it might have been scarier having him leave the hospital as our CEO, and the transition to our new CEO Cameron Love. We did a lot of planning on how our new CEO is going to communicate with staff and continue these updates, but in his own voice, and what is his own voice, and how is he going to present to the community as well. That required a lot of work and a lot of planning.
I think ultimately what we came to was letting our new CEO kind of decide who he was authentically and how he wanted to communicate with staff and build trust. The transition went really well, but we're still doing planning now. Like, how do we further his internal communications in ways that are slightly different than Dr. Kitts'? We're looking into more multimedia platforms that our new CEO can connect with staff. We're looking into videos and maybe social media. These new technologies and platforms will reach staff in a totally different way.
On top of that, the farewell to Dr. Kitts was bittersweet because there were a lot of restrictions in place with COVID so we had planned on having a massive celebration to send him off so we really had to think of creative ways we could say goodbye to Dr. Kitts. We ended up sending a survey to all of our staff to collect memories and photographs of Dr. Kitts with some of our staff, and we collected a lot of great sentiments from our staff that Dr. Kitts can take with him. I think it was also a really great way to see what staff valued in a CEO, and maybe something our current CEO can look to for qualities he can portray as well.
Something else that we organized, instead of a physical event, we had a recorded, well it was half physical half virtual, but on Dr. Kitts' last day, we had staff line the hallway. Everybody was wearing masks, everyone was physical distancing. We clapped Dr. Kitts out of the building on his final day. I participated virtually. It was really sad to see him go. He had such an impact. He leaves a really great legacy for our new CEO and the future of healthcare in Ottawa is really exciting now. Having the pandemic thrown into the mix of things definitely makes it interesting. It's a new challenge for all of us, but it's also exciting. It was definitely a lot of work, having to deal with the pandemic and making our regular communications and figuring out how we transition our CEO and someone our staff trusted and introduce this new person. Our current CEO worked with the hospital before, but how do we start to build up his rapport with staff and establish him as someone they can trust and go to for information. It was a really interesting transition to say the least.
Michaela Schreiter: Yeah, and I'll just kind of add to that from an external standpoint. We had made the announcement that Dr. Kitts was going to retire last year, I believe in the summer of last year or just before, and it felt like we had all this time to get ready and then we announced that Cameron Love was going to be the new CEO in January, and he was going to take over in June. Again, it felt like we had all of this time, and we had no idea what was coming in terms of what our lives would look like at that time. It's interesting to think of what we thought. It was kind of a lesson. You have to prepare for literally anything, even the things that you can't even think about.
To Brooke's point, we thought of a lot of creative ways to send off Dr. Kitts, and to bring in Cameron and having staff line the hallways and be able to say goodbye to him in a safe way and being able to share. We broadcasted that video internally as well, so any staff that couldn't make it were able to see it, and we also put it on social media and that become our unofficial official farewell publicly to Dr. Kitts. From a media standpoint, Dr. Kitts, he's a shy guy. He doesn't like talking about himself. He wasn't keen on doing interviews, because he didn't want to make this as much about him. What he did allow us to do was film that send off and also record an interview with us for our podcast.
We have a podcast called On Call, the Ottawa Hospital Podcast, and we sat down with him for about an hour and just talked to him about his career, about his vision coming into this role of CEO and his thoughts now that he's leaving and kind of comparing and contrasting. For a guy who doesn't like talking about himself, he's probably one of the greatest story tellers you'll ever hear. He let us in on a few really good stories, including the fact that he at the most aspired to be the manager of the LCBO in Barry's Bay and he was very excited about that when he was 18. Thanks to a guidance counselor and his mom, he got thrust into going to university against his will and ended up being a doctor and we know where he went from there. We got the opportunity to tell the story as he was leaving and that was a really great thing. We adapted as we went along.
We certainly didn't anticipate what we were coming into and the world we'd be living in and the time constraints that we all had. I think we made it work because we were adaptable and it helps when you have a guide as friendly and welcoming as Dr. Kitts. As for Cameron, we're still in that transition publicly of what his plan is. We're letting him get settled into the role a little bit before we do anything too public with the media. It's ongoing. It's certainly been an interesting experience to say the least.
Michelle Holden: Yeah, I know you spoke about the video and the things that you were doing. From our side, we saw it on Twitter and even just working with Dr. Kitts in the past as an organization, it was an emotional video. It was nice to see the way that you guys adapted to that and to the transition that you're talking about, to Cameron. We'll definitely have to get him on the podcast one day soon, and also check out your podcast, On Call podcast. That's really exciting to hear.
I just want to say thank you for joining us today and sharing a little about your team. This is one of the first times we've had a communications team join us and I know Philip and I are excited about that, to hear what work you've been doing and also just different strategies that have worked and what's being adjusted. It's really fantastic to have you on. Thank you guys again for joining us today.
Thank you for listening. You can hear more of our interview on our website, HIROC.com. Follow us on Twitter at @hirocgroup or email us at communications@hiroc.com. Healthcare Change Makers is recorded by Ellen Gardner and Philip De Souza and produced by Podfly Productions for hiroc.com. Please rate us on iTunes.