From the Frontlines with Leslie Motz, Lakeridge Health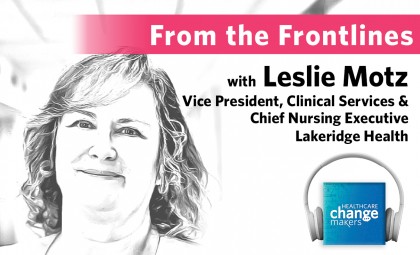 In these fast and furious times of change, Leslie Motz has built a team at Lakeridge Health that puts patients and staff first, while never losing sight of their self-care needs. 
Show Summary
Welcome to From the Frontlines, a special Healthcare Change Makers mini-series. Healthcare providers and support staff have been on the frontlines, fighting for Canadians since the start of this pandemic. In this series we're handing the microphone over to some of those amazing individuals.  
Today, Philip De Souza, HIROC's Director of Communications and Marketing, chats with Leslie Motz, Vice President Clinical Services and Chief Nursing Executive at Lakeridge Health. In this dual role Leslie's work impacts a number of areas at the organization, including patient care. She also works to ensure teams are well positioned for success, instilling the importance of self-awareness and self-care in her staff. 
Throughout the COVID-19 pandemic, change has been coming fast and furious. Leslie has been inspired by her team who have managed this change in a very calm, thoughtful way – always putting patients and their colleagues first.
Key Takeaways
Learning about Lakeridge Health
Leslie's work in her dual role as VP Clinical Services and Chief Nursing Executive 
Strategies at Lakeridge that contribute to a culture of safety 
Throughout the pandemic, Lakeridge's foundations of safety have been tested and true
Leslie and her team have adapted to the management of clinical nursing and long-term care – a true moment of resiliency 
What Leslie has learned about partnering with other organizations 
Leslie encourages her team to be self-aware and provide self-care when needed
Clapping Lakeridge's first COVID-19 patient out of the organization
Self-reflection on leadership and family during the Canadian Armed Forces ceremony at Orchard Villa 
Mentioned in this Episode
Transcript
Imagine you could step inside the minds of Canada's healthcare leaders, glimpse their greatest fears, strongest drivers, and what makes them tick. Welcome to Healthcare Change Makers, a podcast where we talk to those leaders about the joys and challenges of driving change in our complex and demanding healthcare organizations.
Philip De Souza: Hello listeners, I'm Philip De Souza, Director of Communications and Marketing at HIROC. First, I wanted to thank you all for taking time to listen and follow our podcast, Healthcare Change Makers. It means the world to us. Over the past few months, we've seen how healthcare providers and support staff have been the driving force in guiding us to flatten the curve. We're all so very grateful and truly inspired by your resiliency. And so, we thought we'd hand the mic over to some of those very amazing individuals on the frontline. Today we have Leslie Motz. She is the Vice President of Clinical Services and Chief Nursing Executive at Lakeridge Health, serving the Durham region in Ontario.
Welcome Leslie, how are you today?
Leslie Motz: I'm well, thanks, Philip. How about yourself?
Philip De Souza: Very well. Leslie, can you tell our listeners, what is your role at Lakeridge?
Leslie Motz: Sure. So I'm the Vice-President of Clinical Services and the Chief Nursing Executive for Lakeridge Health.
Philip De Souza: Tell us a bit about Lakeridge Health in general.
Leslie Motz: Sure. Lakeridge Health is actually the acute health system for Durham region. We're in the unique geography of actually having our entire health system cover Durham region. So we have five hospital sites, they're in Oshawa, Whitby, Port Perry, Bowmanville, and Ajax Pickering. And then we have many, many community clinics as well.
Philip De Souza: So Leslie, tell us a bit more about your team. Who does it consist of?
Leslie Motz: As the VP of Clinical Services, I offer leadership and support to the diagnostic imaging, pharmacy, laboratory, clinical ethics, and our interprofessional practice teams across Lakeridge Health. As the Chief Nursing Executive, I obviously offer nursing leadership for the organization and also offer the quality oversight, quality and risk oversight in fact, for the organization. So truly offering oversight in partnership with the Chief of Staff, for the quality of care our patients at Lakeridge Health receive. As well as ensuring that all of the appropriate processes are in place to ensure that our teams are also well positioned for success.
Philip De Souza: Wow, that's quite the diverse team you have and level of oversight. Now, when it comes to the risk and safety component, is there something that you would share with listeners that will help them on their patient safety journey?
Leslie Motz: We've had a lot of discussions and several strategies for working on a culture of safety. And I think certainly they have been effective strategies, but this last six months has provided us with an opportunity to really see and engrain that culture into the organization. And there's always silver linings and despite this very traumatic time in many parts of the healthcare sector, what we have learned very quickly is that we have already planted roots for a true safety culture. And I think that's really where we are focusing right now. And our quality and risk team is trying to make sure we learn from everything we've done over the last six months and start to build on it, so we don't lose momentum and that safety remains at the forefront for all of our organization. 
Philip De Souza: So having been on the frontline throughout the pandemic, can you share one thing that has surprised you when it comes to the team or the organization adapting to the pandemic? 
Leslie Motz: The rallying cry that our organization has pulled together for Durham region has been, I think, pleasantly and amazingly surprising to me. I think what we saw or what I saw was this incredible, excellent understanding of safety. The organization has incredible foundations of safety that were tested and true over the last six months. And I think that is incredibly reassuring. So as we were moving along with the industry and responding to COVID, it became more and more clear that our organization and our teams within our organization, really do have really solid foundations for safety and rallied together to make sure that not only were they taking care of themselves, but they were prioritizing the patients and their colleagues. So that was a really pleasant surprise. 
Philip De Souza: Leslie, I see you have safety at the center, which is amazing. Is there one thing you can share, a moment of resiliency that stands out?
Leslie Motz: From a personal perspective, I had several moments of resiliency where I was able to pivot, I think, as a personal professional and manage a lot of different moving parts. So I'm not sure how much you're aware, but several weeks ago, probably about 10 weeks ago now, Lakeridge Health was partnered to work with one of the long-term care facilities in Durham region. So being able to pivot and manage clinical nursing and long-term care, as well as a whole new audience of residents and families really was, I think, a great example for me, personally, of how resilient I am, although I'm not sure I knew it. 
From an organizational perspective of course, this organization and many across Ontario as I watch very carefully, have been incredibly resilient. So really being able to adapt and manage change. As you can appreciate change was coming fast and furious for the last several months. And really being able to manage those in such a way that not only were they managing them, but they were managing them in a very calm, thoughtful way to ensure that they were able to feel confident that all of the change was being implemented as safely as possible and that it was being communicated as broadly as possible. And I think that really allowed people to be resilient because they had faith and they had confidence in what was going on within the organization, so they were able to respond consistently and well throughout the crisis.
Philip De Souza: Thank you for sharing Leslie how you guys were kind of thrust into partnerships over the past few months and you adapted and pivoted and the team rallied around that. And so I just wonder, is there one piece of advice you could share with listeners on, when they're entering into new partnerships or collaborating with others, what's one thing that you've learned over the past few months that really helped?
Leslie Motz: I've learned a lot in a short timeframe. I would say the most important thing, for me to keep my eye on the prize is to understand and really actively listen to understand what the problem is and then understand where all the strengths are, so that we can pull the right people together to find solutions. And really thinking outside of our usual, if you will, "sandbox". There's been some incredible examples of how that happened almost organically just by sitting down and talking and taking the time to understand the problem so that collectively, with all of our strengths, we could figure out what some potential solutions might be.
Philip De Souza: Fantastic. And Leslie, what do you personally do to recharge, but then also take that energy and keep your team motivated? 
Leslie Motz: To personally recharge, I'm going to start off by saying I am not the master of balance, but I think that's okay. What I do do is, in this weather, I have a cottage that I go to and I enjoy the dock and I enjoy my family time. And that's something that really does personally recharge me. I will be honest and say, I also just drive in the car and spend some time reflecting and that also allows me to recharge and lets me just sort of take a breath and figure out what went well and what could be better within my days. 
How do I help others recharge, as I said, I'm not necessarily a master or perfect at it myself, but I do encourage people to be self-aware and to ensure that they're providing self care to themselves, even during the most difficult of times, keeping an eye out for each other and having each other's backs and making sure we're watching for people who need a bit of extra support and giving permission to people just to say, "You know what? I need a little bit of help here." Is really sort of the culture I have tried to live within, certainly for many years, but certainly in the last six months, more so than ever to make sure that people know that it's okay not to be okay. And know that in healthcare we're surrounded with teams who are more than happy and actually skilled to take care of each other.
Philip De Souza: So you mentioned a lot of stories there. Is there any story that sticks out to you from the frontline that you could share with listeners on how you or the folks at Lakeridge just make the difference and make that impact that we all see?
Leslie Motz: Yeah. So I think there's been a lot of planning for COVID. There's been a lot of success. I think one of the things that sticks out for me personally was the first patient we were able to sort of clap out of the organization. That was an incredibly proud moment and I think why it's so personal and resonates for me is it really provided confirmation that the expertise and teamwork that we have at Lakeridge Health is in place and that all the planning was in fact quite successful.
I think the other personal story is actually at Orchard Villa where we had the Canadian Armed Forces provide their ceremony when they leave an organization. It was pretty overwhelming, but what it really allowed me to do on a personal level is really self-reflect on being, not only a leader, but an active team member and frankly a family member. I have a family member in long-term care so I was able to really look at myself from all of those angles.
So those are two stories that have really provided reassurance that not only am I in the right spot at the right time, but that there is this incredible opportune hope for the future, that we will be able to improve the system for our seniors within the care system.
Philip De Souza: Thank you Leslie for taking time to chat with us today. 
Leslie Motz: Thanks so much. It's been a pleasure.
Philip De Souza: Before we let you go listeners, as part of our special series featuring the voices on the frontline, be sure to check out the other episodes all found under the Healthcare Change Makers podcast. Thanks again for listening.
Thank you for listening. You can hear more of our interview on our website, HIROC.com. Follow us on Twitter at @hirocgroup or email us at communications@hiroc.com. Healthcare Change Makers is recorded by Ellen Gardner and Philip De Souza and produced by Podfly Productions for hiroc.com. Please rate us on iTunes.