Episode 32: "We Are One Community" with Orillia Soldiers' Memorial Hospital CEO Carmine Stumpo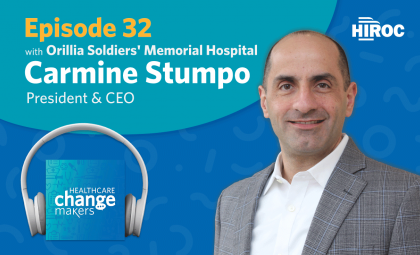 (Access show transcript) He's worked in healthcare leadership for years, but now as CEO at Orillia Soldiers' Memorial Hospital, Carmine Stumpo is focussed on making sure employees, volunteers and community partners are united in their shared purpose of managing growth and modernizing healthcare in the region.
Show Summary
Today we're talking with Carmine Stumpo, President and CEO of Orillia Soldiers' Memorial Hospital. Carmine joined Orillia Soldiers' in 2018 after spending 21 years at Michael Garron Hospital in East Toronto.
Even if one of his first acts as CEO was participating in a polar swim fundraiser, Carmine has warmed up to every element of running a community hospital. This spring he was proud to unveil the hospital's five-year strategic plan under the banner "We Are One Community". The pandemic necessitated a radical reboot in how they structured the plan but Carmine is determined that all staff, volunteers and partners see themselves in that plan.
One of his proudest – and most difficult moments during the pandemic was overseeing the hospital's support of a long-term care facility when it experienced a tragic COVID outbreak. Although he's been through crises before, Carmine said it was a humbling event that tested his personal resilience.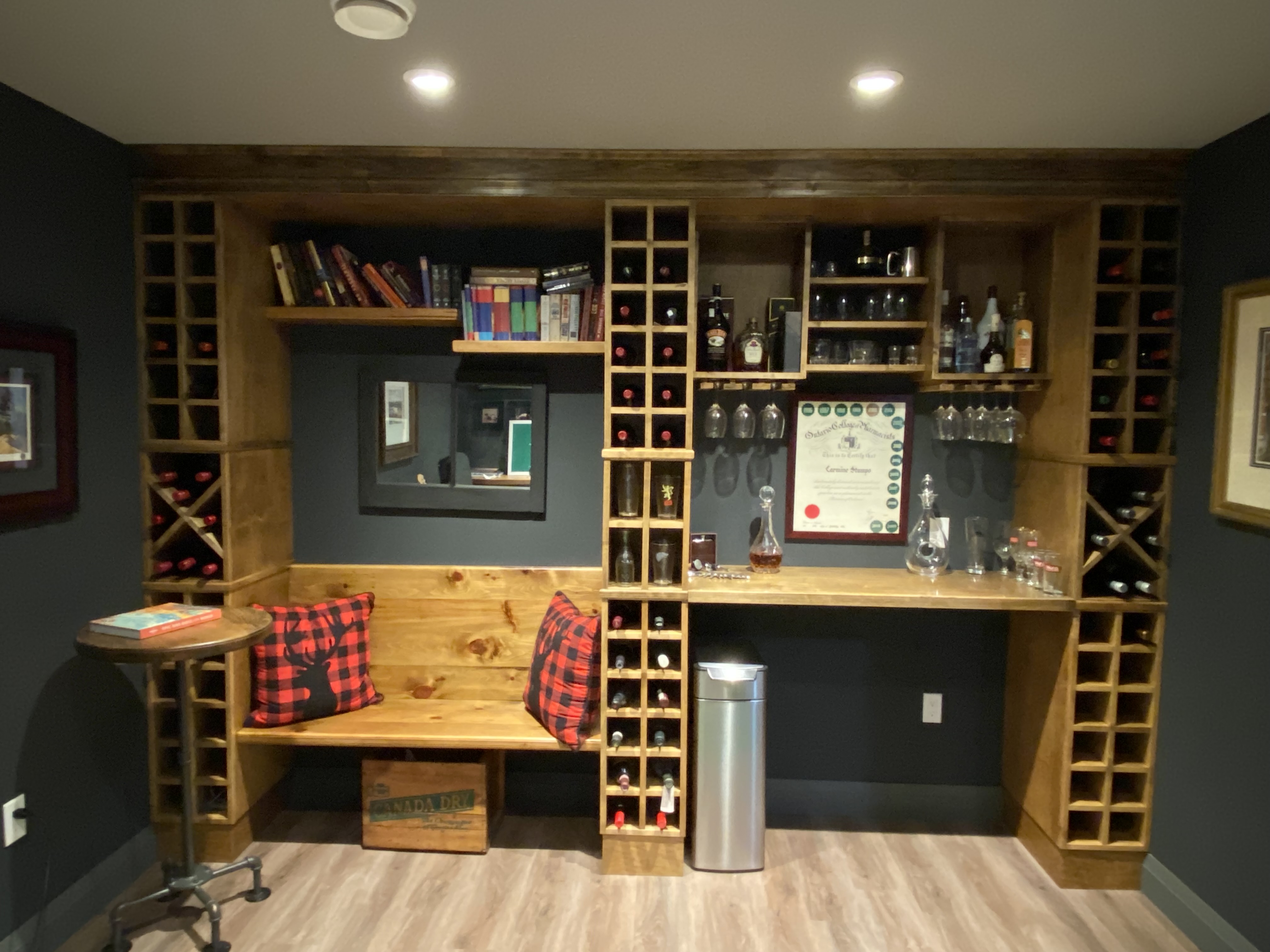 Mentioned in this Episode
Transcript
Imagine you could step inside the minds of Canada's healthcare leaders, glimpse their greatest fears, strongest drivers, and what makes them tick. Welcome to Healthcare Change Makers, a podcast where we talk to leaders about the joys and challenges of driving change and working with partners to create the safest healthcare system.
Ellen Gardner: Welcome to Healthcare Change Makers, a podcast produced by HIROC. I'm Ellen Gardner with Philip De Souza and Michelle Holden. Today we're talking with Carmine Stumpo, president and CEO of Orillia Soldiers' Memorial hospital. Carmine joined Orillia Soldiers' in 2018 after spending 21 years at Michael Garron Hospital in East Toronto. Even if one of his first acts as CEO was participating in a polar swim fundraiser, Carmine has warmed up to every element of running a community hospital. This spring, he was proud to unveil the hospital's five-year strategic plan under the banner, "We Are One Community." 
The pandemic necessitated a radical reboot in how they structured the plan but Carmine is determined that all staff, volunteers, and partners see themselves in that plan. One of his proudest and most difficult moments during the pandemic was overseeing the hospital support of a long-term care facility when it experienced a tragic COVID outbreak. Although he's been through crises before, Carmine said it was a humbling event that tested his personal resilience. 
Before getting into our interview with Carmine, we want to remind listeners to register for HIROC's upcoming conference from October 18 to 20. We know subscribers are busy. So IMPACT.NOW is all about short topical sessions on topics like cyber, property, midwifery. And of course, it's all virtual. Go to our website, hiroc.com, to find out how we'll be making an impact. 
Ellen Gardner: Welcome to Healthcare Change Makers, Carmine. You were appointed to the role of CEO at Orillia Soldiers' Memorial hospital in 2018. At HIROC we were fortunate to work with you when you were VP programs at Michael Garron Hospital. That's when we first got to know you. And I know being on a leadership team is quite different from moving into a CEO role. So maybe you can tell us some of the things you've learned going through the transition to the CEO role, and things that maybe help other newly appointed leaders?
Carmine Stumpo: After 21 years at Michael Garron, I made the transition to Orillia Soldiers' Memorial Hospital and that was a new role, a new hospital and a new community. I had the luxury of being familiar with Orillia as I spent many summers up in the area, but I didn't fully appreciate the magnitude of change. Having this new community, new role, new hospital happen at once, given my history. So lots of amazing opportunities to learn. And I think the first thing that comes to mind in your question is the value of networks. Friends and colleagues that I've worked with across the province that I intentionally made a point of keeping in touch with the transition. And it's always pleasing to see how much time people have to talk, to share stories, to share experiences. And some of the advice I received that I really valued and tried my best to live up to was really to take the time to listen as a CEO.
It's absolutely incumbent that you appreciate the strengths of a new organization, the traditions, the things that really make an organization like Orillia Soldiers' Memorial Hospital unique, and there's so many great practices here. In my mind, I had the idea, "Okay, Carmine, don't screw anything up that works." You really need to be cognizant of the fact that there's really good practices and we need to celebrate those and appreciate that because as a CEO, you're constantly learning, and you have a great opportunity to see a new organization with new practices and really embrace that. And there will always be an opportunity to go back and make your mark and see the opportunities for change and facilitate that change, but also respect the fact that there's some really great people and practices within the organization.
Ellen Gardner: Did you have any big surprises when you arrived at Orillia Soldiers'? Things that you hadn't expected?
Carmine Stumpo: I grew up in a small town in Northern Ontario. I like small communities and I thought, I need to take this opportunity. I want to engage fully, both in the hospital, as well as the community. I want to be a part of this community, I want to be an active member. A funny story early in my tenure, I was invited to take part in a fundraiser for a local hospice, which I thought was a great opportunity. It was a polar swim. So it was my first winter in Orillia, to take part in this polar swim. So I thought, no problem. I can take it. So I get out there and the announcer was introducing people as they jumped into this ice cold water and they announced me as the new president CEO of the hospital. And they felt a need to interview me prior to my jump in the freezing cold water.
It was minus 25 with the windchill. I was in swim trunks and a t-shirt being interviewed about how I'm finding the transition and I'm trying to do awareness and responding thinking, "I really want to get in the water and get back out." But again, I thought this was a great opportunity. 
You can't take yourself too seriously, you've got to get involved. I really enjoyed that and I think the lasting memory is my cannon ball into this ice cold water. I think it just goes to show you sometimes in small communities, people appreciate the fact that you're there, you're present. You're willing to engage in all fronts and on that, I look back and smile because I thought, "Okay, hopefully we do more summer activities into the future."
Ellen Gardner: That brings to life the proverbial saying, "Sometimes you just have to jump in with both feet." Into a new situation, which you did.
Carmine Stumpo: Clearly.
Ellen Gardner: Soldiers' unveiled its five year strategic plan this summer. How are you engaging staff in the plan, and around the shared purpose of the plan?
Carmine Stumpo: We are thrilled at Orillia Soldiers' to launch our 2021 to 2025 strategic plan. The vision: We Are One Community. It has been a goal of mine since the onset, that I really want to make sure we can... Every staff member, every credentialed staff, our entire team, our volunteers, everyone can see themselves in the strategy and to be able to achieve that. It really started with the creation of the strategy. So we made the decision early in our development that we would do all the developmental work internally. We were not outsourcing any of our strategic plan work and our senior team took ownership of it. We recruited five managers who were clearly exceptional managers and leaders that had a real interest in helping the organization work through its engagement and consultation. They are the eyes and ears of our frontline staff.
We started the process of our strategic plan, and I recall very distinctly at an event, the staff engagement event, we had over 150 people involved in telling us what they see as our strengths and our aspirations as an organization, and I thought "What a great event." I remember the date because it was March 11th, 2020 and that same day the World Health Organization declared a pandemic. So that made us change our entire plan. 
So in our creation of our strategy, our desire to engage our staff, we quickly had to change gears into pandemic response mode. Put things on hold for a little while. But we came to the recognition that in the development, when we picked it up again our teams just focused. We heard from our partners, we had a chance to have some great engagement sessions.
We focused in on our team, what their aspirations were, and we were able to come up with a strategy that we believe reflects, in a very positive way, in a very forward-thinking way, what the aspirations of this hospital is, what we aspire to be for our team. We've officially launched it in the spring. We shared it with our community with great response. I think our pandemic experience demonstrates that we are truly one community and how we responded to testing vaccination, precautions, etc. And this really reinforces that that is our strength, that's what's going to make us successful in creating health across our communities.
Ellen Gardner: You recently held a fireside chat where you talked about next steps for Soldiers' and the community in a post-pandemic world. I think you also unveiled the strategic plan to the public at that point. So maybe you can talk about what you heard from people at that point? What are some of the community concerns, and maybe staff were there and you might've heard some of the staff concerns as well. So what were some of your key takeaways from that event?
Carmine Stumpo: We are in Simcoe County and this is summer, so we thought a fireside chat would be an informal way to reach out to our community, to our staff. We had 70 participants, which was phenomenal, to be able to report back and more importantly, engage in dialogue and we did so with some polling, just to get a sense of where people's concerns lie. What we found in that interactive portion, was the number one concern of our participants, and that included a nice mix of community members, as well as OSMH team members, was the impact of growth. 
What we are seeing in our region, what we are seeing in our hospital. We've seen growth for years. People are moving away from the GTA and moving further north, the pandemic entirely accelerated that process. The option of virtual employment really created the opportunity for people to work from anywhere and many who considered this region their secondary home are now considering it their primary home.
And that's been reflected in our hospital. We've opened up 35 beds in the last year in response to pandemic and they remain full, with zero inpatient cases of COVID-19. We are growing so quickly. That is the number one concern. Our births are up, our employment, and it's not all negative. We've got some great employment opportunities coming our way in a variety of sectors, in utility, in public service.
So with all that opportunity, with all that growth, the number one issue is how do we continue to sustain the service? And how do we address some of our facility needs that we will have in the years to come? Which have all been accelerated because of this tremendous growth. We see that as an opportunity. We see that as a community we can plan that growth together. We can plan it with our primary care providers and our community support services and our elected officials so that we can promote that shared purpose that we've identified in our strategy together, and that includes a very strong forward thinking approach to how we modernize healthcare and plan for the future of this region.
Ellen Gardner: This past winter, Soldiers' led Barrie's Roberta Place through a tragic COVID outbreak. It's something you said you'll never forget. 71 people died during that outbreak. How do you reflect on that experience now, Carmine?
Carmine Stumpo: So working through the Roberta Place outbreak is probably one of the most challenging professional experiences and personal experiences I've ever been through. I can't talk about it without acknowledging the residents and their families, what they went through. Acknowledging the staff and leadership at Roberta Place. Excellent people that were in a completely impossible situation with an emerging variant outbreak, one of the first in the province. Professionally, I've been through crises before, managing crisis and command centers. I've never known anything quite like this, where we assembled a team in very short order, in a rapidly changing environment and a team that was comprised of a very diverse group of individuals.
Imagining back to wave two, where everyone was already so busy and the ability to contribute and help support this outbreak. We assembled great responses from all sectors, primary care, community supports, Red Cross, County of Simcoe, partner hospitals. It was a really tremendous response, but bringing that team together, assembling or meeting, and trying to create that all in an environment where we saw, within the first 12 hours that this was completely off the charts different than anything we saw. We did our rapid testing early on and, and recognized a 95% positivity rate for COVID-19. I never seen that in any of the rapid testing we done.
We knew right out of the gate that this was absolutely unprecedented and we needed to respond to that. So professionally, I felt privileged to be able to offer our support, my support, our team support. Trying to navigate that difficult challenge professionally was incredible. The work at Roberta Place really tested my personal resilience in the sense, doing double duty in two facilities, in a highly charged area, very time-sensitive focused work, recognizing how important supports are, taking care of yourself, having an incredible wife and partner who's looking out for you and making sure you're okay, the importance of self-care.
And in my case, maintaining an exercise regimen whenever you can in between meetings and teleconferences, all that on reflection, and then looking out for your staff and all the people you're working with and the moral distress that causes. It was a lot, absolutely no regrets in having that opportunity. 
But I think as leaders, it was a humbling experience around an incredibly difficult situation and reminding ourselves why we're in the healthcare industry we're in. Why we're here to serve and how important it is that we all band together in these crises and do what we can to support because it is larger than any one organization.
Ellen Gardner: Have you changed anything in your own leadership response or leadership toolbox when it comes to responding to crisis based on having gone through that experience?
Carmine Stumpo: Absolutely. You have the tools in front of you in a crisis, a command center, a structure, it's all very helpful. One of the things we did with Roberta Place, which I found personally and professionally very helpful was, about halfway through everyone was struggling. It's such a difficult scenario. We brought in a Métis elder to do a healing session for our command center. We just paused. It was a virtual smudge because we're all separated. We did a virtual smudge just to pause and reflect and give people a chance to...a time for themselves, a time to deal with the trauma they're witnessing. That's something that I probably wouldn't have done in the past and I think that was one of the opportunities we took to try something a little bit differently, and I think it had a huge impact.
Ellen Gardner: What is a good piece of advice that you give to an emerging healthcare leader?
Carmine Stumpo: The best piece of advice I can give to an emerging healthcare leader is, leadership matters. And that is, in times of crisis, we all have a role to play and our frontline staff are our true heroes. They are absolutely the ones that are carrying us through it and leadership matters for them, it matters for the people we serve. So for emerging leaders, we need to identify them early on and cultivate that. We need to create opportunities for leaders to be able to exercise their leadership skills because they are different from their clinical or their technical skills and most importantly, you need to inspire people. Despite the fact that we are in this fourth wave of a pandemic, and it's pretty tough times in healthcare. I consider myself the luckiest guy in the world to be able to do what I do. It's a real privilege to work in healthcare.
And we need to inspire people that this leadership role is of value. It does make a difference. It's a little bit harder to see at times. Having been a clinician, it's easy to see the impact you have on people when we're treating them directly. It's much more difficult when you're trying to navigate a system, but it's still so very important. And that's what I tell any emerging leader, that this work matters. You need to practice it like any other skill and I encourage people to think about that. And that's something that I enjoy doing is interacting with emerging leaders because it really keeps me inspired. It is as beneficial to me as it is, I hope, to the people that I'm with.
Michelle Holden: Hi Carmine, this is Michelle Holden from the Communications and Marketing team at HIROC. Usually I sit behind the mic with Ellen, but I'm going to jump in here today. I just want to go back briefly to your reflection on the Roberta Place outbreak. I have to express my gratitude, listening to you talk. This is the community that I live in, in Barrie. And watching our local health care organizations come together, this has really meant a lot to, not only the residents and the staff at Roberta Place, but also our community, who is watching very closely. So I just really appreciated seeing you and many other healthcare leaders in this area on the frontlines throughout this pandemic. I just wanted to say thank you for being out there in the community, giving vaccines, talking to everyone, making sure the right information gets out there. 
So before we moved on, I just had to say that really means a lot, but I also want to ask you how you maintain balance in your own life? How do you step away from all of these really tough times and take care of yourself?
Carmine Stumpo: So I'm a big believer in maintaining balance in a variety of different ways. And some of it is professionally and as well as personally. So I'll start with the professional and I can go back to my colleagues at Michael Garron. When I heard they were planning that ridiculous event of giving 27,000 vaccines to Torontonians in a single day, I thought, "Okay, I need to be a part of that." As a former colleague, a lot of the people arranging that were close colleagues. So I made a few phone calls and within the day, my wife and I, who are both pharmacists, were scheduled in on the first shift at 5:00 AM, at ScotiaBank to prep, what turned out to be 27,000 doses. Now my pharmacy skills have waned over the years. I will admit I was probably more of a liability than a help, but I really enjoyed seeing those people.
And it was energizing. It was a positive step. The energy in that room doing something very positive, the appreciation and the gratitude of people getting their vaccine, the teamwork within the walls of so many people administering, preparing, transporting. That to me, that wasn't work. That was a complete battery recharge, to be able to be a part of that, and also see, quite honestly, people that I've worked with develop into phenomenal leaders to be leading the charge and setting world records on vaccination. 
So there is that kind of recharge professionally that you need to look for. And it's sometimes, it's just doing something different. Sometimes it's getting involved in volunteerism and we repeated the same thing on a much smaller scale in Cold Water, Ontario, population 1,100. We opened up a pop-up clinic. We vaccinated 600 of the 1100 people that day and again, volunteering to do that work and just prepare some vaccines was a ton of fun, great to work with our community and really re-energizing.
So beyond the work side, one of the things that I really find helpful is exercise and I build that into my routine wherever I can. I like to run, cycle, swim and being in Orillia really offers that opportunity to see some of the best of all those sports and what nature has to offer in Simcoe County. So we do that. We do it in ways, to stay connected. With the restrictions, being outdoors has been a savior, not just for myself, but the ability to go for walks with friends, distanced safe, outside, well ventilated. We made time for that because that's what was keeping us going. 
And lastly, I'm a big believer in having other interests and hobbies and those around me know I love to build and one of my passions is woodworking. So I had a wave one COVID project of furnishing my office at home with all homemade furniture.
That to me is a release. It's taking a very cerebral job and turning it into a very manual type effort. Which again, the ability to see a final product at the end of a long process of woodworking is a real release for me. So everyone's going to have their own thing and I think those are a few of mine. But I recommend if anyone asks, find your interests, find your passion and make the time for it, because work can be incredibly all-consuming and having that release is an important thing.
Michelle Holden: Thank you. What you said about recharging your battery professionally, it's really important, I love that. And also feel like we learned so much about you just now, the woodworking, homemade furniture. I feel like every time you look at your office, you must be brought back in a way to that first wave and the progress we've made and also some of the challenges. So that's really neat to hear.
Carmine Stumpo: There's a funny story to that because part of my office is I built a wine room. A big oak wine rack, and I started the designs early on pre-pandemic and then throughout the first wave, I was able to complete it. What I didn't realize is it would become my backdrop for Zoom calls. So I have to start Zoom calls by stating that "No, I'm not in the pub, I am in my home office even though you do see what looks like, I think, a reasonably nice looking pub in the background." So.
Ellen Gardner: We'd love to see a picture of that office, Carmine. Can you send us that? With your furniture?
Carmine Stumpo: I can send it to you and in true pharmacist form, I popped my license there to demonstrate I'm a professional mixologist, so.
Michelle Holden: Thank you.
Ellen Gardner: So I think we're ready to go into the Lightning Round. Just a few quick questions, and give us the first thought that comes into your mind. So I'll start with asking, what are you reading or watching right now?
Carmine Stumpo: We are in between shows, watching right now on Netflix and Amazon Prime, but we just finished Yellowstone. So that was a different show, a different side of Kevin Costner and quite enjoyable.
Ellen Gardner: Tell us your go-to resource for when you're stuck or you need an energy boost?
Carmine Stumpo: So I have an arrangement with my wife, that if I'm stuck and thinking through a problem, I need to talk it through. We go for a walk and I'm allowed five minutes. And I have to be very concise, because it is five minutes. But as a sounding board just to reflect back what I'm thinking and just to tell me, oftentimes is, "I think you made up your mind, you just need to do it now." It's incredibly helpful.
Ellen Gardner: What's your best habit?
Carmine Stumpo: My best habit is my, I believe is my discipline around exercise. So I'm pretty regimented on that. I think my wife would say my best habit is doing the dishes.
Ellen Gardner: So you live in Orillia, which I know is a very notable town. What's one thing that people don't know about Orillia?
Carmine Stumpo: So there's a couple of descriptions of Orillia. Orillia is described as The Sunshine City. It's also described as Twin Lakes because that's where Lake Couchiching and Lake Simcoe come together at the Narrows. Both of which very aptly describe this community. And it's not just Orillia, it's Oro-Medonte, it's Ramara, it's Severn, it's numerous communities around it, but those descriptions really speak to the natural beauty that exists and the ability to really enjoy the outdoors.
Ellen Gardner: What's one thing you've learned or a skill that you've honed in 2021? So we know your woodworking skills have gotten better. Is there anything else?
Carmine Stumpo: So this goes back to 2020, but it's a funny story. I honed my sewing skills. This goes back to June 2020, where there's the big debate about masks and whether to mask or not mask, and before the wide availability of the homemade masks. So my mother was a professional seamstress, professional sewing machines. I had a few skills in my back pocket, so I made hundreds of masks out of my garage. I made a bit of a thing about it because we needed to promote masking in our community at that time, when there was still a bit of doubt about the value of source control. So my sewing skills got better, and then I found myself sewing other things too. So it all worked out in the end.
Ellen Gardner: Can you finish this sentence? If I wasn't in healthcare, I'd be working as a...
Carmine Stumpo: Hardware store representative, selling tools and building things.
Ellen Gardner: That sounds great, and maybe sewing a few things on the side. Well, such a pleasure talking to you, Carmine. You've had an incredible journey since you started at Orillia, and we just wish you all the best in the coming months. We know things are still challenging, but really enjoyed hearing your insights and your thoughts on things.
Carmine Stumpo: Well thank you, this was very enjoyable. I look forward to hearing the final result.
Ellen Gardner: You have just been listening to our interview with Carmine Stumpo, CEO of Orillia Soldiers' Memorial Hospital for more information about HIROC and our upcoming conference, Impact Now, go to hiroc.com. Thank you for listening.
Thank you for listening. You can hear more episodes of Healthcare Change Makers on our website HIROC.com and on your favourite podcasting apps. If you like what you hear, please rate us or post a review. Healthcare Change Makers is recorded by HIROC's Communications and Marketing team and produced by Podfly Productions. Follow us on Twitter at @hirocgroup or email us at communications@hiroc.com. We'd love to hear from you.