Episode 25: Delivering exceptional care "avec vous et pour vous" with Dr. Bernard Leduc, President and CEO, Hôpital Montfort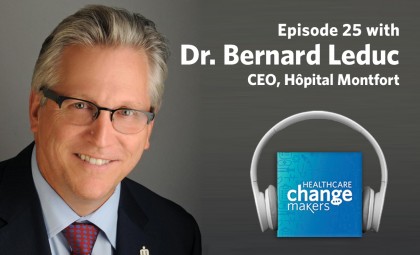 Dr. Leduc makes sure that staff and the Montfort community are aware of the hospital's noble history and stays focussed on its crucial role serving the healthcare needs of the Francophone community, "Avec vous et pour vous – with you and for you."
This episode was recorded on August 10, 2020.
Show Summary
Today, Ellen Gardner and Philip De Souza, Communications and Marketing at HIROC, speak with Bernard Leduc, President and CEO of Hôpital Montfort.
From the day he joined the hospital in 1999 as a family physician to serving as Chief of Staff and then being appointed President and CEO in 2010, Bernard Leduc has never lost sight of the mission that drives the hospital: to serve the francophone population in the Ottawa area and deliver a high level of patient-centred care. "In the words of my predecessor, 'We cannot fail'." With small step improvements and empowering staff to make changes, for this leader failure has never been an option.
At the time of the recording (August), Montfort was not experiencing a high volume of COVID cases, but by mid-September, were coping with a few more. Throughout the pandemic, Dr. Leduc and his team have stayed visible and made sure staff feel safe and protected, continuously asking, "Do you have what you need?". The philosophy that has kept the hospital on an even keel during COVID is the one that serves him well as CEO every day – it's rooted in three words: transparency, communication and recognition.
Key Takeaways
(1:14) What keeps Bernard engaged in the mission of the hospital
(3:17) How the hospital keeps employees and the community connected with the hospital's origin story
(6:24) How uncertainty about the hospital in 1999 shifted to a sense of purpose and solidarity
(7:37) Still gaps in the provision of services to francophones
(10:39) The three words he lives by during a crisis
(12:27) The importance of validating the fears and anxieties of staff 
(15:26) His recognition during the crisis of the need to rely less on consensus and be more decisive
(18:33) Why the relationship with the Board needs to be a partnership based on trust, transparency and communication
(19:35) Hôpital Montfort's vision is to deliver exceptional care "avec vous et pour vous"
(21:27) Initiatives the hospital has taken to improve quality with a focus on Lean Management
(24:21) Following the advice of an old African proverb, "If you want to go fast, go alone; if you want to go far, go together"
(27:09) Steps being taken towards succession planning
(29:13) What Bernard thinks needs to happen to "turn the corner" on patient safety
Mentioned in this Episode
Transcript
Imagine you could step inside the minds of Canada's healthcare leaders, glimpse their greatest fears, strongest drivers, and what makes them tick. Welcome to Healthcare Change Makers, a podcast where we talk to leaders about the joys and challenges of driving change and working with partners to create the safest healthcare system.
Ellen Gardner: Hi everyone, it's Ellen Gardner and Philip De Souza. Welcome to HIROC's podcast Healthcare Change Makers. Today our guest is Dr. Bernard Leduc. He is President and CEO of Hôpital Montfort in Ottawa, a position he has held since 2010. Dr. Leduc previously worked as chief of staff at Montfort and was a family physician for 27 years. This interview was conducted in August at a time when there were no COVID cases at the hospital. Dr. Leduc has since informed us that the COVID situation at the hospital is evolving daily.
You've been a part of Montfort for many years. You served as chief of staff before becoming President and CEO in 2010. So you have a long history with the hospital. What is it that has kept you dedicated to the hospital? And so engaged in its mission?
Bernard Leduc: The hospital is in Ottawa, which is the capitol city, it's close to Quebec border. So there's a lot of Francophone population coming to the hospital. And I think this mission is important for me being a Francophone myself, to make sure that we provide services to those in need and in their maternal language. So, and my predecessor used to say that we can't fail. We need to be the best we can because you won't want to compromise your services to get access to service in your language with poor quality of services. So that's the first piece it's striving for that excellence and providing exceptional care.
The other thing is the people at Montfort, I mean, there's a family sense at Montfort. You're part of a bigger thing than yourself. And I think most of the staff actually espoused the particular mission of the hospital and creates a cohesion. And people are very engaged towards the organization. You have to remember that Montfort was built to attend to Francophones before it was called East view and then Vanier. And then he became part of Ottawa because that population had difficulty accessing services in their language.
Ellen Gardner: The history of the hospital is very interesting. It was founded by two religious orders and there was a time when the hospital nearly closed and a big legal battle ensued. Then you had a stunning victory at the court of appeal in Ontario, and really what it did, what that legal battle did was it didn't just reinforce the hospital needed to be there, it confirmed the importance of Hôpital Montfort and maintaining the Francophone identity for the hospital. So how do you make sure staff and the community know about that tradition, that they know how important that story is?
Bernard Leduc: I make a point to try to be at each general orientation to new employees where we discussed the origin of the hospital. And we talk about it. It was in 1997 when the Health Restructuring Commission directed the hospital to close. So we're talking now 23 years past that particular event. At the end of that legal challenge and the community supporting the hospital on March 22nd, 1997, 10,000 people assembled at the civic centre in Ottawa to do a big demonstration against the closure of the hospital. It was the biggest event for Francophone solidarity at that time. When we marked the 20th anniversary of that particular demonstration on March 22nd, we did do a show, we did a town hall in a high school. And again, just the realization that people, the students that were there, who were not even born when these events happened.
Bernard Leduc: So I'm sure it's pretty far from their mind, but we had a good reception. We can also laugh about it. We produced a video outlining a bit of the history of Montfort from a humourist group. Obviously we were targetting an audience of high school students. So we had to put a little bit of humour and Jeunesse into it. So we do those types of things to remind them of the history of the hospital. I don't want Montfort to be remembered as the small Francophone hospital that almost closed, went to court and won. I want people to talk about Montfort because Montfort is a proud place to be, and we're delivering incredible care. Not that the care was not good before, but over the course of the past ten years, we've obviously put in place quite significant quality improvement processes and a real focus on improving outcomes.
Ellen Gardner: Were you involved with the hospital at that time in '97? Were you working there then?
Bernard Leduc: Well, I joined the hospital in 1999. I'm a family physician. So I've worked in Vela, Quebec. And when we moved in Ottawa, I started working in Gatineau on the Quebec side, moving to Ontario in January, 1999. The reason I picked Montfort was because it was a hospital centred and really rooted with family physician involvement in the hospital care and because of that particular Francophone flavour.
So it was really important for me to come to Montfort. But there was uncertainty at that time, understanding that the Divisional Court made the judgment in November of 1999. There was such a sense of solidarity in the hospital at that time. And I think the people that were there are now starting to leave because we're talking 23 years. The last orientation I did last Monday, we had 29 people. And I think only four or five, as I asked the question, were aware of that specific history of the hospital, or knew of that during the challenges of 1997 and forward. So it's important to know where we're coming from to know where we want to go and to remind us ourselves about the importance of being that Francophone institution for the community.
Ellen Gardner: Was there a time when healthcare services for Francophones were not a priority for governments and there were gaps in the provision of those services?
Bernard Leduc: There are still gaps today. There're humongous gaps today in access for Francophone services. You know, we need to, in theory, in Ontario review the French Language Services Act to be a little bit more inclusive, this is an act that was adopted in 1986. So I think it needs to be re-looked at. 
I think we've made some significant progress with the creation of the planning entity, the Francophone planning entity that we're working on right now with the Local Health Integration Network. We also in the new law about the change and transformation of the healthcare system in Ontario, in the preamble they're specific needs for Indigenous people and Francophone communities. So, I mean it's entrenched now more in the thinking, but there are still huge gaps for Francophones to access services.
We were recognized as a teaching hospital officially because we've been doing teaching since 1992, but we were recognized as a teaching hospital in 2013. And we do have a provincial mandate to help to train professionals and provide services to both patients in Ontario and also support the healthcare workers in Ontario.
Ellen Gardner: Does Montfort make a distinction in being a bilingual teaching hospital or a Francophone teaching hospital? When we've talked with staff from the hospital, it's always been in English, but I know that many staff speak French as well. So how does the hospital see itself?
Bernard Leduc: Well Hôpital Montfort is a Francophone organization. Everything is bilingual because we're talking to the public, but every communication internally is only in French. We hire only bilingual staff because we have a mandate of our region and local population. So we need to be able to service them in both official languages.
Ellen Gardner: We know the hospital developed quite an effective response to COVID. We saw that. It didn't turn into a full-blown crisis in your hospital. How did you, from your perspective as the leader, help guide people through this time and make sure that staff felt that things were okay, that they were being listened to and cared for? What did you personally do during this time?
Bernard Leduc: We set up our incident management system, like I'm sure pretty much every other organization did. I think where it's important is, I've got three words for that: transparency, communication and recognition. You have to be very transparent about what's going on. You can never communicate enough about what's happening, what you're doing, what the organization is implementing and why we are doing things. I'm fortunate to have a wonderful communication department. So I think we've done a good job. Then you have to recognize people when they do incredible work, as they did initially to make us ready for a tidal wave that we were thinking was going to hit us but fortunately didn't. So initially we adjusted, so we stopped doing elective surgery, like everyone else.
Bernard Leduc: Initially we prepared videos once every few weeks, then we went to a virtual town hall open to everyone, so they could ask questions. And we're still in a process of trying to find our footing as we are revamping and re-starting the activity on how we keep people informed. We have regular electronic communication with staff, but it's not the same. We have to adjust with what's capable in the context of what it is. Walking around on the floor and seeing, doing rounds.
I know we can always do more and people appreciate when we do. In talking to the staff and frontline workers and support workers, you have to validate the fears and anxiety that was present initially as it was becoming, I wouldn't say a new normal, but an environment that's more understood and the practices that are more important to them. Making sure that you ask them, do you have what you need? Do you know, can we do anything else to procure a safe environment? So I think again, you know, you have to be visible, you have to be transparent, you have to communicate what's happening. So they've got the need to know either electronically with dashboards and then recognize the good work that's being done.
Ellen Gardner: Was there anything that surprised you in terms of the way things unfolded or things that you might've heard from staff as you were doing those walkabouts?
Bernard Leduc: It was an interesting time because people were coming back from holidays. We had staff that were on quarantine for a while, and it was the unknown. We were looking at what was happening in Spain and Italy and people were fearful. There was a lot of anxiety about having sufficient personal protective equipment – this created anxiety, will we have enough N95 masks, what's going to happen. So we did do things to make sure that we have the staff back, tried to innovate on that particular piece and making sure that it's there. Right now when I'm touring I think it's, there's more of an acceptance of what's happening. Right now we don't have any COVID patients at the hospital – at a maximum in April and May, we had up to 18 patients hospitalized at one point. 
Now we're restarting elective activity: oscopy, ambulatory care and so we're seeing more and more patients coming in. I think we have to adjust and I'm not sure we're ever going to go back and stop everything like we did in March, but we'll have to adjust over the course of the next months or years it will take until we have a vaccine or proper treatment for the pandemic.
Ellen Gardner: Did you learn anything about yourself and your own leadership style during this time?
Bernard Leduc: You always learn, this is unchartered territory for us. Although we have plans, it was quite evident initially that you can plan as much as you want, but when you don't live through the experience, it's always very difficult. I think that for myself, you always try to work with people and come to a consensus. And sometimes, and that's something I've tried to hone, it means being more decisive. We had to make decisions pretty rapidly during that first phase of creating capacity and stopping activities. And we were asked to be involved with two long-term care. We opened an Assessment Centre. So there were a lot of things that you would do in a normal operating business, you would possibly take more time to make decisions.
Ellen Gardner: HIROC did a recent interview with Marie-Josee Martel, she's a trustee at Montfort. And she's also a new member of the HIROC board. She spoke very highly of you Bernard. She talked about how present you are at the hospital, that you're very visible there, and that it's not just words, but you do put the patient at the centre of everything that's done and that you do as well.
One of the things you did during the pandemic, she told us was that you kept the board informed on a daily basis, on a weekly basis, you provided these regular updates. And I think those updates were really valued. What was it about working with the board that was a good experience during the pandemic?
Bernard Leduc: Well, first of all, you're lucky to have Marie-Josee on your board. She's an incredible person, and I'm really touched by her praise. I'm really fortunate to have an excellent board with a wide range of expertise. And we've established over the course of many years since I've been a CEO, a very supportive and a real partnership relationship with good communication.
The board rapidly understood that we needed to do things on a more urgent basis. They rapidly understood that we might not have time for doing all the preparation for regular business as a board as usual. So they were very supportive about what we needed to do and give us a clear mandate to go on. It was important for me because everything was changing so rapidly, the number of directives coming from the Ministry on things we needed to do was changing almost daily initially.
Bernard Leduc: So it was very important for me to keep the board abreast of what was happening. So I started giving them a weekly report. We had a few daily conferences with the board, I kept my board chair appraised regularly of any issues that were developing. So what I've learned from that is, your relationship with the board is obviously a critical one. It needs to be a partnership and it has to be based on trust. And it has to be based again on transparency and communication.
Ellen Gardner: When you were at the hospital before becoming CEO, you would have had time to see the hospital evolving and yes, you came in, it sounds like with a clear vision and you knew, you know what, this is how I want the hospital to be. I want this to be our reputation. It was a matter of carrying that out.
Bernard Leduc: And again, it's important to know where you're coming from. You need to be rooted to your origins, but it's also important to position yourself and the best place we could be is just providing exceptional care for and being patient-centred. Our vision is to deliver exceptional care "avec vous et pour vous", with you and for you.
Philip De Souza: Philip here Bernard. I liked how you said that point about you wanted people to talk about Montfort and that's exactly what's happening. So we're glad to be partners of yours. Recently, I was chatting with France Morin – she's a clinical manager of the Family Birthing Centre at Montfort – about the safety grant initiative HIROC and Montfort partnered on. I'm going to read you the quote she gave us for the article coming out later this month. I think that you will really appreciate this quote. She said, "We're so fortunate at Montfort to have leadership that encourages and values thinking outside the box, our leaders are always promoting best practice, which translates into the best possible care for baby, mom and families. It's instilled in our mission and vision."
So I asked her, oh, you know, like you sound so passionate, and digging deeper she said "I was at a nice job before, but when I saw the opportunity to come to Montfort, it was a no-brainer. I wanted to be part of a team because they make things happen here." So, congratulations to you and your team for having that. Can you share an example of the team at Montfort coming together and thinking outside the box to enhance care delivery or quality safety initiatives?
Bernard Leduc: I'm happy if that France feels that way and I'm going to make a point to actually thank her for that comment. When I said we were like a big family, I think that France is actually telling you this is what we are. So we've started a few initiatives at Montfort to improve quality. So it goes through using Lean tools, Lean management. We have had a partnership with an American organization called Studer Group, which also helps us improve how we can achieve our results. You can't really improve things that you don't measure. It's a commitment to quality and it's an investment. All of those initiatives are strategic investments to achieve our goals. In the maternal and newborn section we adopted early on the MOREOB program.
Bernard Leduc: So we've been intense in applying lists and making sure that we're intentional about achieving the results that are needed. If you look at our results, I think the results speaks for themselves. You have to focus on a few things because you can't really do too much at once. So, you know, you have to build upon things and continue working on improving the delivery of care. We're quite advanced in terms of our Lean management.
I think that's a concern for me, sustainability over the long-term. As I said, we're starting to have people retiring now – how do you on-board new managers for them to continue in the same process? How do I make sure that when I leave or retire, that this thing is ingrained, it's the way things are done at Montfort, that it doesn't crumble because somebody else comes in who does not necessarily have the same vision or intention. Hopefully this is where when I retire, the board will make sure that they hire someone or recruit someone who will still continue with this patient-centred approach.
Philip De Souza: For our any new emerging leaders out there, and of course all leaders, not just emerging ones, would there be one piece of advice you would give them to see results that you've seen and in bringing the team together so that they're all unified and moving forward together?
Bernard Leduc: There's a few quotes that inspire me. There's an old African proverb that says, if you want to go fast, you go alone. But if you want to go far, you go together. So I found that every time that I came up and I said, I've got the solution, I've got the bright idea and I put it out there to the team, we always come up with a better solution. So the strength of the collective is really there. It's for you to go discover and foster that conversation so people can feel free to be disagreeing with you or provide ideas that you haven't thought about it. And that goes a little bit to thinking outside the box. You also have to be impatient in terms of the results that you're getting.
Bernard Leduc: They all say that the system is perfectly designed to give you the results you're achieving. So if you're not happy with the results, you need to change something. You need to go back to the drawing board and change. Einstein said that you can't fix a problem with the same thinking or mentality that created it in the first place. So that's why you need to look at different things.
What I've appreciated over the course of the last ten years is some of the knowledge and learnings that I've personally, and that we've got collectively as an organization from using all the different tools like Lean management – when you're empowering your frontline workers, your managers to actually make small step improvements continuously without having to raise it and ask permission to delay. So I think you have to empower the people on the ground who really can identify what are the small little steps, what are the small problems that they want to fix?
Philip De Souza: I like that, empowering and looking through a different lens. I even like the fact that you raised the point about having disagreements, that's totally fine to have that dialogue. It ensures that everyone is moving together, but you know, they're raising points that are valid. So that's great. Thank you for that.
Ellen Gardner: It sounds like succession is something you think about and that it is important to you, that what you've learned and the things that have grown and changed and been built through the last few years at the hospital, you really want to make sure that those things get passed along. So are you doing anything actively to make sure that happens?
Bernard Leduc: Well, we're having conversations, we're mapping it out when key players in their organization are going to retire and we're starting to work. I think this is where we need to focus a little bit more, because everything in the hospital is always moving so fast and you always have excuses to not necessarily to work on this. But how do you identify emerging leaders? How do you make sure that you prepare them for possible movement in the decision-tree or the hierarchy of the organization, and make sure that you create conditions for them to be successful? So I think this is what we'll be working on over the course of the next 12 to 24 months.
It'll be interesting. I've seen so much history, where you had a significant change in culture in an organization, and then the leader, or some leaders move away to other places. You look two or three years after that, and I'd say, it's not the minority, organizations fall back a little bit. Initially when I started the interview, I said that we can't fail. So this to me is still very important. So we can't fail with the transition.
Philip De Souza: As you know, HIROC started our new strategic plan this year, we have three new priorities. And one of the priorities is that collectively together we will turn the corner on patient safety. So, in your point of view, what's one thing or what's one thing that we all can do as a collective to turn that corner on patient safety, for all of us, part of the reciprocal and the healthcare community right across the country?
Bernard Leduc: That's a very good question. Sharing best practices, I think is a big, important piece. You need to make this a focus. You need to make quality and safety a focus of your organization. So again, you need to measure where you have some issues, because every organization has some issues. And after that, you put up a big team that looks specifically at your areas of concern and then you have to empower people to try to do changes. And then, but you have to do the PDSA – Plan, Do, Study, Act – change continuously and work until you're satisfied. In terms of safety and quality, I'm not sure that we should all ever be satisfied with what outcomes and how many bad events we have. We want it to be the minimum, but we should aim for zero.
Ellen Gardner: We're moving into the lightning round of Healthcare Change Makers. I'm just going to ask you a series of quick questions and just tell us the first thing that comes into your mind. So the first thing is, what's the first thing you do in the morning?
Bernard Leduc: I'd love to say I go to the gym, but actually I check the news and do a quick scan of my emails and try to visualize my day as it's coming and make sure that I know in my head what I need to do and prioritize.
Ellen Gardner: What do you do to unwind?
Bernard Leduc: Over the course of the last year, I've developed a passion for cooking. So I love to cook. I've discovered sous-vide cooking and it's become a passion of mine. So, buying fresh and cooking for the same day really helps me unwind.
Ellen Gardner: What are you reading right now?
Bernard Leduc: I just finished a book by Malcolm Gladwell, entitled Talking to Strangers. If you know Malcolm Gladwell the social perspective and how we're very poor in judging characters although we think we are, and explaining some of the mediated events that have occurred, based on some key assumptions about defaulting to truth. Why we need to be trustworthy compared to others. So it's an interesting read. And the other book I just finished reading is Indian Horse from Richard Wagamese, and it's all relating to a story about Indigenous people in the residential schools. It's a Canadian book, so I think it's a must read for everybody to better understand the negative impact we had on Indigenous people.
Ellen Gardner: What's a surprising thing that most people don't know about you?
Bernard Leduc: I scuba dive and I had the opportunity and the pleasure to trek to Everest basecamp with my beautiful wife and beautiful two daughters in 2012, to fundraise for the hospital with a group of very engaged individuals who were 21 and 22.
Ellen Gardner: Great experience. What's one thing you've learned or one skill that you've honed in 2020, an interesting year?
Bernard Leduc: I think I've alluded to it earlier on about being a little bit more decisive. And I think that's something I'll try to keep working on. Although I said that collective decisions are much better than one decision, but at one point you need to make sure that you are making decisions in a timely fashion. Sometimes we find excuses and want more information before going forward. I think the pandemic and the way we handled our incident management system, Centre Commande, as a CEO, I could have chosen not to be involved, but I decided to be really involved with the command center because we needed people on the ground.
Bernard Leduc: As a CEO, everything was shut down, so there was no advocacy or meeting outside of the hospitals. I think my focus was really internal and I think it's served me well and also helped me improve some of my decision-making skills and respecting rigorous timelines.
Ellen Gardner: I want to thank you Bernard for speaking with us today. It's been a pleasure talking to you and just hearing how you transformed the hospital. Also just everything that you, all the changes that have happened just this year alone. So we really appreciated your being with us today.
Bernard Leduc: Well, thank you so much for having me and thanks for the work HIROC is doing. HIROC has been really supportive during the pandemic with regular information. So we do appreciate the partnership.
Thank you for listening. You can hear more episodes of Healthcare Change Makers on our website HIROC.com and on your favourite podcasting apps. If you like what you hear, please rate us or post a review. Healthcare Change Makers is recorded by HIROC's Communications and Marketing team and produced by Podfly Productions. Follow us on Twitter at @hirocgroup or email us at communications@hiroc.com. We'd love to hear from you.