Episode 23: Moving Towards the Fire with Andrée Robichaud, President and CEO, Central Health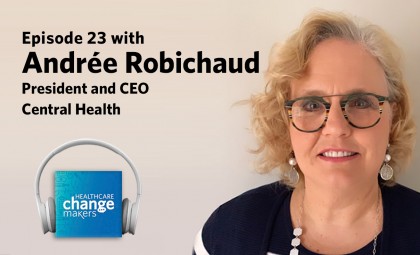 For Andrée Robichaud, President and CEO of Central Health, being a leader in healthcare means being able to explain your decisions to staff and to the community around you – accountability and transparency are essential.
Show Summary
Today, your host Ellen Gardner and HIROC's Philip De Souza speak with Andrée Robichaud, President and CEO of Central Health in Newfoundland.
Andrée shares leadership insights she's gleaned during her extensive career. She speaks to the challenges in leading such a large health authority with a vast remote population. Andrée also touches on the importance of a feedback loop when it comes to engaging with staff, physicians, partners and government. 
For Andrée, being a leader is about tackling issues head on – running towards the fire rather than away from it. 
Andrée leaves us with advice for emerging leaders in healthcare when it comes to engaging staff and communities and bringing people to the table. 
Note: This episode was recorded before the COVID-19 pandemic took hold in Canada. While we do not speak to the ongoing crisis in this interview, we felt it was important to bring you this episode and maybe take your minds off some of what we're facing today.
Key Takeaways
(1:36) The priorities for Central Health in 2020 and beyond
(5:31) Employee engagement mechanisms Andrée and her team have implemented – Central Health's I Lead teams and the value of physician feedback
(8:28) Instead of fearing conflict, Andrée says you have to be prepared to explain your decisions to employees
(9:28) The importance of getting advice from people who don't think like you and can challenge you
(11:23) The challenges of managing the largest RHA in Newfoundland with remote communities – how telemedicine has become a major focus for Central Health
(17:26) Andrée's mentors throughout her career 
(19:14) Through the 5 Partners model, leaders who work with their communities and provide good information can get great outcomes
(24:26) How Andrée's staff describe her leadership style and how her family sees her. 
(26:28) How demystifying mental health and coming in without a bias really works
(28:36) Advice for emerging leaders in healthcare when it comes to engaging staff and communities
Mentioned in this Episode
Ald

é

a Landry

Dr. Charles Bohlen

Nora Kelly
Transcript
Ellen Gardner: Hey listeners. I'm Ellen Gardner host of HIROC's Healthcare Change Makers podcast. It's been a few months since we released a new episode and a lot has happened in the world. Before we start today's episode, I want to let you know that we taped the interview before the pandemic really took off in Canada. While we don't speak to the ongoing crisis in this interview, we felt it was important to bring you this episode and maybe take your minds off some of what we're facing today. We also want to take a moment to acknowledge the exemplary and compassionate services being provided by frontline healthcare workers. And that includes all employees, directors, and offices of healthcare organizations across Canada. When your own safety is in jeopardy, it's incredibly difficult to put the needs of others first, but our healthcare providers are doing that every day without hesitation. Thank you for everything you're doing.
Let's get to it. Along with my producer, Philip De Souza, I'm very excited to introduce today's guest Andre Robichaud. Andrée is president and CEO of Central Health in Newfoundland and Labrador.
Imagine you could step inside the minds of Canada's healthcare leaders, glimpse their greatest fears, strongest drivers, and what makes them tick. Welcome to Healthcare Change Makers, a podcast where we talk to those leaders about the joys and challenges of driving change in our complex and demanding healthcare organizations.
Ellen Gardner: Okay Andrée, I want to start by asking you, what are the priorities for Central Health in 2020?
Andrée Robichaud: I've been here 13 months and when I came to Central Health, there had been a review of the regional health authority done by Dr. Peter Vaughan, who's a former deputy minister in Nova Scotia. And Dr. Vaughan had done a report on what the priorities for Central Health were. For me as a new CEO, that was a gift. The report deals with changes required around culture, around a community discontent, and also changing the medical structure bylaws, and some of those issues that had occurred in Central Health. In the first 12 months, I think my work plan was very well developed for me. And currently, we're in the process of doing some engagement with the five partners in health to develop the strategic plan for 2023.
Ellen Gardner: It sounds like when you came into the organization, there were some clear challenges there. What was it that drew you to becoming CEO at Central Health?
Andrée Robichaud: I think the report actually, I've been in the CEO for a long time now, and I had been retired. I'd had a few health problems and those were rectified and decided that I wanted to go back to work. And when I was approached and saw the report, I felt that some of my experience was very relevant and that the conflict that had permeated Central Health was really fear of controversy and lack of transparency. I thought I could help and here I am. And I think a year later we've addressed a lot of the issues and we have more to address, but things seem to have stabilized.
Ellen Gardner: Before coming to Central Health, you were CEO at the Rouge Valley Health System, and then it became the Scarborough Health Network. And before that, you were in Thunder Bay at the Regional Health Sciences Center. What did you take from those experiences that are helping you now in your role at Central Health?
Andrée Robichaud: I think that what I learned in Ontario, I learned a lot. I had good mentors. I had great colleagues. My experience was wonderful, but really learned that engagement in terms of our population, good communication and really working with our community when we want to make changes is key. The other piece that I learned in Thunder Bay, and that a lot of people don't know about Thunder Bay is they are the only hospital in Canada that holds a leading practice through Accreditation Canada on patient family centred care. I really learned there the importance of having the patient at the table and providing input at all levels of the organization. If you came to Central Health today, you would see we have a patient advisor that sits on our senior management team and in many of the committees within Central Health. And the other thing I would say is that setting the direction and then really letting your people do the work as they know the organization and the culture that you live in.
Ellen Gardner: One of the key things that you did put in place at the very beginning when you started in 2018, was putting mechanisms in place so that you could ensure getting employee feedback in a regular and consistent way. Can you talk about how that process works in practice?
Andrée Robichaud: When I was in New Brunswick and the government took the eight RHAs and transformed them into two RHA, I became the CEO of the Francophone Vitalité Health. And it was not an easy task. There were a lot of disruptors and a lot of the employees were very upset. And I learned quickly through other experiences, that engaging your employees and being transparent and having good communications is key here. One of the mechanisms that I've implemented, I think in all their regional health authorities or hospital that I manage is the I Lead Team. Okay. And the I Lead Team is really a group of, depending on how big your employee numbers are. But here is around 60 to seven, the employees, from all walks of life. From your maintenance departments, from your nursing, your physicians, all walks of life that come together to provide input to senior management on certain policy issues.
Here at Central Health, we've had, we're going to have our second I Lead, but our first one was around the use of cellphones in the workplace. They provided us with advice. And then the other issue we asked them to help us on is how do we develop a good appreciation for employees around walk the talk? Really is what's important to our employees and what should we be recognizing? That was one mechanism that always works very well. And I've had the opportunity to use it in many. And people and the employees feel that they have a say on a lot of the big policy issues. A board physician liaison committee, which is a committee of four board members with four physicians that come together twice a year. And they develop an agenda for a gathering of all physicians around, what are the topics that the physician want to talk about with the board?
There's not much interaction between the board and the physicians. But in my experience, the physicians always like to sit down with the board to really talk about what their challenges are. That's one of the mechanisms and then are leadership forums. We meet quarterly and we really talk about the difficulties of being a manager in healthcare. Healthcare is an industry that has a lot of demands and it's very hard on our managers and our directors. Those are the levels of management that really feel the crunch between what senior management wants them to do and what the employees' needs are. Those are some of the things that I put in place. I met with over, we have about 180 physicians here. I met over 50 physicians individually to get their feedback. I met with staff, I have an open-door policy.
And one of the things that I think had been lacking here is that when there is conflict, or when we know we have an area where people are not happy, instead of fearing it, is really tackling it head-on and moving towards the fire, instead of running away from it. You really need to be able to, when you make decisions and people aren't happy, you need to be able to explain to the employees why you're making the decisions. And if you can't do that, then you really, really need to consider the decision that you made.
Ellen Gardner: One of the things I've been hearing lately, and I was actually reading a book about the danger of leaders falling into the advice trap. The tendency is usually I see the problem and I, as a manager, as a leader you're, you know your background, you know what the solution should be. Do you encourage managers to move away from the advice trap and just solving the problem all the time?
Andrée Robichaud: Well, I think that as a manager at any level in an organization, is that when you do have an issue getting advice from people that don't think like you, is very important, because it brings you to a solution that maybe you wouldn't think of, and it challenges your thinking. And for me is when I'm convinced that to go one way, I always like to sit down with people that don't think like me and challenge me. And I think that if I can actually answer those questions and move those people that don't think like me to a solution that actually we can all live with, gives for a better decision.
Ellen Gardner: What's something that you've learned from physicians? Because it sounds like you have a lot of opportunities for physicians to engage and provide their input.
Andrée Robichaud: Physicians are, I believe like everybody else they're very busy. One of the things is, don't take up my time for meetings that are not productive. Be productive in your meetings. Be focused on the outcomes and the process that you want to use to get there. And I've in the last 20 years, I've stuck to that and it's served me very well.
Ellen Gardner: I want to ask you Andrée, about Newfoundland. Being in a rural place or where a lot of clients would live in very remote regions and there are isolation issues. And there's also, I know just I attended an event this week where it talked about the stress on staff. That there are higher workloads, higher levels of burnout. Is that something that you've seen?
Andrée Robichaud: Absolutely. For those that have never been to Newfoundland, you haven't seen the most beautiful parts of Canada. I think I have to say that upfront. Because I had been to Newfoundland a few times, but living here I've seen the people are absolutely tremendous. And the scenery here and the landscapes are to die for. Yes, I manage them the biggest geography, the biggest RHA in Newfoundland. I'm in central Newfoundland. And I have very remote areas, Fogo Island being one of them. I have small islands off the southern coast, Seal Cove, and so there are Harbour Breton is three hours from here. And driving down there in the winter is very difficult. I've had to cancel some of my engagement sessions because of the weather. But the interesting thing is that the population is very, very, very knowledgeable. We've met with over 300 people in the different communities throughout. And one of the things that they're asking for is telemedicine. And I thought, how insightful and how grand and what an opportunity for us to develop. There is some telehealth being done here, but not to the extent that it could be.
Some of them, the community members were reflecting on, I go to St. John's to have, St. John's is our cancer center, to have some tests. And then I drive for four hours to go there and four hours back to get results. Why can't that be done by telehealth? No reason it cannot be. And we have many examples. We here in Newfoundland, have to be very innovative and we have to lead the pack in terms of telehealth. And that will be one of our strategies coming out of 2023. The people here are very, they care about their people. It's a small community. Everybody knows everybody and they're very proud of their institutions. We have small facilities here, and these facilities are very important to them. And I think the governments have been very respectful of that.
And we have to find ways to be able to provide the services in a way that we all have budget pressures and it's very expensive to keep all of our services going. It's, we're having really good conversations with the community. And we have an obligation as managers of the system to educate our population on the challenges that we have so they can help us solve those challenges.
Ellen Gardner: Therefore, health regions spread across Newfoundland and Labrador, how do the four health authorities work together to solve some of those problems? And maybe share good ways of doing things?
Andrée Robichaud: In terms of my three other colleagues, I've won the 649. I have wonderful colleagues at eastern, western and Labrador-Grenfell. Also very lucky that two of them have worked outside of Newfoundland, have come back home. But they are Newfoundlanders and truly understand culture. That's been very helpful for me in the first year. But we meet on a monthly basis. We speak almost weekly. We email almost daily. There's no competition here. We're really great colleagues and we support each other. I also must say that the ministry here, as far as I'm concerned, have been very supportive and when I need help, they're there for me. It is a really great environment in that aspect.
Ellen Gardner: What's something that you've learned from, because you're not a native Newfoundlander, and it is a place where people do, a lot of people come from there and stay there or come back. What have you learned from some of your fellow Newfoundlanders who work in the other health authorities?
Andrée Robichaud: I would say that they have helped me understand the communities. I thought that I knew what rural was when I lived in New Brunswick. And then when I went to northern Ontario, I was the CEO of an academic health science centers and we served fly-in reserves so that was very rural. But having small facilities in very rural areas like Fogo and having a few beds, I've learned how to manage those facilities. I always managed hospitals of a certain number of beds. But what I've learned from those smaller facilities is that they care for their own and there's a caring that you don't see everywhere.
Ellen Gardner: I wanted to know, have you visited any of those areas?
Andrée Robichaud: Absolutely. I've visited all of my sites. We serve 177 communities here in Central Health. I can't tell you I've been to the 177 communities, but I have been to all my hospitals in my community health centers and most of my long-term care facilities. I've put a lot of mileage on my vehicle in the last 14 months.
Ellen Gardner: Where do you turn for ideas and inspiration, Andrée?
Andrée Robichaud: Over my career, I've had two great mentors and both of them are from New Brunswick. One of them was a former deputy minister of mine, Nora Kelly. She taught me how to maneuver the political environment and how to work with our politicians to come to great outcomes. And then my other mentor who I talk to today still, is my former, my first board chair, when I got my first CEO job in New Brunswick, which is Madame Aldéa Landry, who was a former politician, a lawyer. She's an Order in Canada. What I learned through Aldéa is that one of the most important things is to really understand your communities, but be transparent. And you get out there and if you do make it difficult decisions, being able to explain to the population. Some of them might not agree with you, but to really be able to be transparent. And when people are not happy with your decisions, go towards them, don't fear them.
And I think that was the best advice I've ever gotten. And to this day, when I have a, I need a sounding board, or I need someone to kind of help me think through certain strategies or problems that I have, I go back to Aldéa. She has been one of the persons that influenced me the most in my life.
Ellen Gardner: Can you give me an example of a situation where yes, you've had to be transparent and really be upfront about a difficult decision?
Andrée Robichaud: When I worked in New Brunswick, I was working in the ministry and I actually, I was the first associate deputy minister for Francophone services in Canada. And there was the Liberal government had just come in and the former government had closed a small hospital in the Acadian peninsula, Caraquet. And when the Liberals nominated me, the premier said, well, the community wanted them to reopen the hospital. The premier asked me to as the new associate deputy minister to make recommendations. And we created the five partners, which is an approach developed by Dr. Charles Bohlen of the World Health Organization. We brought the five partners in health and Mrs. Landry was part of that group. And we brought 144 people together over three weekends to talk about how we deliver services in the Acadian peninsula.
And there were hard advocates that wanted to get their hospital back and they wanted full services. In the first weekend, we actually brought the people together and provided them with good data and the true information and what we were seeing in terms of the services within the peninsula. And the second weekend, we actually forced consensus. We had tables of 10, we had multiple tables of 10 people. And we had our physicians were sitting at the table, and we forced consensus among all the people in the peninsula. And then the steering committee took all those decisions and brought them back and out of, I can't remember. I think there were 80 recommendations. We were prepared to recommend to the government, 60 of those recommendations. But what we did, and that I think the community appreciated is that we went back to them on the third weekend and we said, "Look out of the 80 recommendations that you have, you were recommending, we're only prepared to, we were accountable to them. We're only prepared to recommend 60. And those that we're not prepared to recommend, here is why.
And we didn't hide behind the government. We didn't hide behind anybody. We were accountable for our decisions. And at the end of the meeting, of course, we had all kinds of press there. And the biggest advocates for the hospital said, "We wanted more, but we can live with what's recommended." And to me that it was a success. That was a population actually acknowledging that maybe that was reasonable. That processes as an example, I think of when you work with your community and you provide them with good information, that you can actually get great outcomes for both the organization and your community. But that's the type of influence I believe that has drawn me towards organizations that are in trouble. And it helped me putting in processes that I think that people respond very well to.
Ellen Gardner: It is a testament to consulting with people. And then even if the news is not all great for them then, but at least they feel they've been heard.
Andrée Robichaud: Absolutely. Absolutely. And I think that that is in any change management type of approach, transparency, good information, you have to have faith in the people that you serve.
Ellen Gardner: Just a question, who are the five partners?
Andrée Robichaud: You have your policymakers, you have the community, you have your academic institutions and a lot of times they're forgotten. You have your health managers and your health professionals.
Ellen Gardner: You've worked in government. You understand government in the way that you have worked as a deputy minister. How does that help you in any way in your current role?
Andrée Robichaud: Absolutely, absolutely. As a civil servant or a bureaucrat, it's a privilege to be able to input into public policy. But it also is a challenge with the financial situation we are in healthcare. I understand that the people that work for our different ministries, they're always taxed in trying to deliver services with a very restricted budget and they provide the best recommendations they can to government. But when you're a bureaucrat, you have to understand that your job is to provide the best advice possible. However, once the decision is made, it's also your responsibility to implement it.
Ellen Gardner: How would your staff describe your leadership style, Andrée?
Andrée Robichaud: Knowing that you were going to ask me that question, I actually asked them. A few of them. And here are a few things they said about me. I'm democratic, I'm strategic, inclusive, and engaging. I can be very bold and I am patient.
Ellen Gardner: Is it very different at home with your friends and family?
Andrée Robichaud: My three boys would say that I'm organized to a point that it is a bit difficult on them. I am very bold. And that, I actually asked them how they would describe me. And then in crisis, I'm always the one that's a bit rational.
Ellen Gardner: Those are good traits to have. You sound bold. Did you always have the courage to say the things that need to be said and take the daring moves?
Andrée Robichaud: Yes. I believe that that was always there and I just, I always lived my truth. And what you see is what you get with me. And so I have some fans, but I also have a lot of people that don't appreciate that.
Ellen Gardner: Did that come from your upbringing?
Andrée Robichaud: I think that comes from my dad. My dad always tried to do the right thing. And that has stuck with me. I was young when my dad died. I was in my early twenties, but that's one thing that stuck and that I admire about him. I think that's probably where that comes from.
Ellen Gardner: That's wonderful.
Philip De Souza: Hey Andrée, it's Philip here. Thought I'd ask a couple of questions, but before we move into the lightning round, my first question is speaking about kind of the past, but what was your first, very first job?
Andrée Robichaud: My first job coming out, I worked all the way through school. I was a, I used to teach tennis and I taught swimming and I taught skiing. I'm an avid downhill skier. But when I graduated, when I finished my Master's degree, my first was director of volunteer services in a psychiatric institution in Campbellton, New Brunswick.
Philip De Souza: Wow. And did you like it?
Andrée Robichaud: Well, I was the first director of volunteer services and back then, we're talking many moons ago, there was a stigma around psychiatric institutions. There had never been volunteer services. And the first two months of my job, I wasn't getting anybody interested. And when you're from a small town that has a stigma. I started working with high school kids. I think probably 15 months later, we had a close, over 100 volunteers in our psychiatric institution. And that was part of, I have a bias when it comes to mental health programs. And that's probably where I understood that demystifying mental health really works because those kids coming in didn't have a bias. And my biggest barriers were their parents, not the kids.
Philip De Souza: That's amazing. You actually, like Ellen said, we can hear your boldness and you actually tie directly to our podcast, which is Healthcare Change Makers. And you truly are a change maker, Andrée. And one other question I had hearing you back earlier about speaking about the I Lead Team and the board physician liaison and your leadership forums. Those things are fantastic initiatives. 
And for all our emerging leaders out there in healthcare who are moving into different roles throughout the healthcare system, I would love to hear your advice for them. What's the one thing they should do? Because you accomplished all that and you're still doing it with your team, but what's the first thing any emerging leader or any leader should think about when they initiate that process of doing all those awesome things that you did?
Andrée Robichaud: As a young leader in healthcare, I think one of the things, if you're going to engage your people, be it your staff or your community, is keep an open mind. Most of us, we understand the business. And sometimes we know exactly where we want to go, but you have to believe that even though you think you have the answer, there's always a way to improve how you do it. And the population gives you those. It's really the people and your employees who can tell you how to do it in a way.
You know where you want to go, but it's how to get there and then how to bring the people to the table. And you have to, I have faith that I figure I'm never the smartest one in the room, but I'm the one that listens the most in the room. And I surround myself with people that are far smarter than I am. And that know a lot more because I'm not a clinician by trade. But what I think I can do and what I think what the young health leaders need to think about, is by having all those people around the table, is to get the best from everybody and bringing that together. And if you can do that, the sky's the limit.
Philip De Souza: That's amazing advice. Thank you for that.
Ellen Gardner: Okay Andrée, it's time for the Healthcare Change Makers lightning round. Just going to ask you a few quick questions and I want you to tell me the first thing that pops into your mind. What's your best or worst habit?
Andrée Robichaud: My worst habit is when an employee comes with something that is urgent. I always get back at them and say, "Your lack of planning doesn't make it an emergency for me." That's very frustrating for employees. They feel my frustration.
Ellen Gardner: Do you have a best habit?
Andrée Robichaud: I listen.
Ellen Gardner: What's a book that you're currently reading?
Andrée Robichaud: I love all James Patterson books. I love mysteries. I would say I almost am exclusive to him.
Ellen Gardner: Does that love of mysteries extend to your television watching as well?
Andrée Robichaud: No. I love comedy. The Netflix, Grace and Frankie, there's nothing better than that.
Ellen Gardner: What's the last thing you do before going to bed at night?
Andrée Robichaud: Check my emails and my texts and I say my prayers.
Ellen Gardner: What's something about you that would surprise people?
Andrée Robichaud: I'm very shy.
Ellen Gardner: That surprises us. What do you love about living in Newfoundland?
Andrée Robichaud: The people and the scenery.
Ellen Gardner: You've certainly made it sound like a wonderful place to live.
Andrée Robichaud: It is.
Ellen Gardner: Well, I really want to thank you, Andrée. It's been a pleasure talking to you and hearing your insights and your philosophy around leadership. Thank you.
Andrée Robichaud: And thank you very much for having me. Have a great day. 
Thank you for listening. You can hear more of our interview on our website, HIROC.com. Follow us on Twitter at @hirocgroup or email us at communications@hiroc.com. Healthcare Change Makers is recorded by Ellen Gardner and Philip De Souza and produced by Podfly Productions for hiroc.com. Please rate us on iTunes.