Episode 14: How David Diamond is Pushing an Innovation Agenda at Eastern Health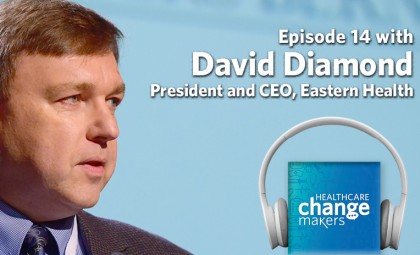 Listen Now
At Eastern Health in Newfoundland and Labrador, President and CEO David Diamond and his team are leveraging international partnerships to find new ways of working
Join host Ellen Gardner for a one-on-one conversation with David Diamond – President and CEO of Eastern Health in Newfoundland and Labrador.
David's healthcare career started in Human Resources and has taken him across the country with positions in eastern and western Canada. His time in Albert before the creation of Alberta Health Services taught him some important lessons around bringing an organization together and developing commitment to strategic goals.
Today through Eastern Health's Living Lab innovation centre, David and his team are developing strong partners around the world to influence projects, enhance safety, and cut costs in the region.  
Transcript
Imagine you could step inside the minds of Canada's healthcare leaders, glimpse their greatest fears, strongest drivers, and what makes them tick. Welcome to Healthcare Change Makers. A podcast where we talk to those leaders about the joys and challenges of driving change in our complex and demanding healthcare organizations.
Ellen Gardner: Good morning. I'm Ellen Gardner, I work in marketing and communications at HIROC. And today we're talking with David Diamond, who is the CEO of the Eastern Health regional authority based in Saint John's, Newfoundland. So David, I wanted to just start off by asking you about your early influences. Maybe you can tell us a little bit about your childhood and growing up in Newfoundland.
David Diamond: Good morning Ellen. I am originally from Newfoundland and I had the privilege of growing up in several small rural communities around the province of Newfoundland. I consider Clarenville to be my hometown. And Clarenville was about an hour and a half outside of Saint John's – a community of about 5,000 people. And it was influenced, I suppose, by the same rural values that you'd find in small towns all across the country… close family ties, the opportunity to know your neighbor and care and help each other out. I graduated from high school and moved on then to university in Saint John's to Memorial University and completed a Bachelor of Commerce degree and specialized in Human Resources and Labour Relations. And that's really what got me started in this career in healthcare.
Ellen Gardner: So what was your first job then, David?
David Diamond: Interestingly my career path was intended to be in policing. I had applied and had been accepted for a training with the RCMP in Regina when I graduated from university. I was waiting for my trip to Regina when I got offered a position in human resources at St. Clare's Mercy Hospital in Saint John's. And I really had no intention of being involved in healthcare, I didn't know very much about it – it wasn't part of my career plan. But I had this opportunity, which I took – it was a year replacement, I and really fell in love with healthcare. I decided pretty early after that that this is a place I wanted to spend my career. So I set about looking for additional training opportunities that would prepare me to be a leader in healthcare, and I ended up at the University of Alberta in Edmonton where I completed some graduate studies in Health Services Administration. So my first job really was not what I intended. I was on a path and I diverted into healthcare quite by happenstance. But I have been there… I think this is my 31st year.
Ellen Gardner: Congratulations on that. I guess that's kind of an indication of how some careers go, that it's an unexpected fork in the road that leads you into something very interesting. So you must believe in a certain amount of chance.
David Diamond: That's one of the things I often share with folks new to management or leadership, in mentoring sort of relationships, that sometimes just taking advantage of the opportunity that comes is the one that can make a huge difference. And certainly the decision to go to work all those years ago at St. Clare's has been a significant decision in my career trajectory.
Ellen Gardner: So you actually did go from Newfoundland out west, which with part of your original plan anyway. You ended up in Alberta, not in Regina, but how did that experience in Alberta influence the way you practice and work at Eastern Health now?
David Diamond: Well I've had two opportunities to be in Albert. One was in the early nineties when I went back and did graduate studies at the University of Alberta. When I graduated, my wife and I, we enjoyed and Alberta and we enjoyed Edmonton – we made some good friends and thought we might stay. It was around the time of Ralph Klein's premiership and some of the early changes that were happening in the system in Alberta. So we ended up moving back to Newfoundland. I went to a Central Health in a VP of Human Resources position and then eventually ended up as a CEO. I moved from there back to Alberta a second time and spent eight years, first of all with the Capital Health in Edmonton and eventually with Alberta Health Services when the system transformed to be the provincial system that it is now.
There was lots of learning. I just reflected on three rather random pieces of learning that I might share this morning.
One is around the importance of execution. And one of the things I learned through the transformation experience in Alberta Health Services is that for patients and families, and for communities, it's really the outcome that's important. So all of the plans and all of the bright minds together, if it doesn't result in a change that positively impacts patients and families and communities, then it doesn't mean very much. And I think that's one of the things that I've taken back from my experience through that major transformation that created Alberta Health Services, back to my time in Eastern Health in St Johns. And, that's been very much a part of the discussion with our executive leadership team and our management team. And down through the organization here. And so we've tried here at Eastern Health to be an organization that's very much focused not just on good plans and not just on good evidence, not just on the good research and the bright minds around the issues, but actually executing on the initiatives to get the outcome that we know is important for patients and families and communities.
And the second one for me when I think about my time in Albert is around the power of aligning an organization around a small number of strategic goals. But the early days of AHS when you know, the strategy and goals and what we were trying to accomplish, I think we're not as clear as they could be… but slowly and surely over the time that it's been in existence as it's gotten clearer on its goals and its strategies and it's got a level of alignment through the organization, from the government, through the board, and an executive, down through the organization, you know, they have developed into a very first class organization. And I think for me that has been something we've tried to do at Eastern… we have a strategic plan that we have with the organization and the board of trustees, we've put in place a three year strategic plan. But we've really tried to take that seriously to drive the execution on the strategic plan and really get the organization, down through the management structure to the front line, aligned around a small number of strategic objectives. And then the idea of focusing and finishing. So to have a small number of objectives, really execute on those objectives and then finish and move on. And that's a piece of learning that I think I bring back to Newfoundland from my time in Alberta.
And then the third one is around organizational resilience. One of the things I'm amazed, having lived through much of the early transition in Alberta Health Services, is just how resilient good organizations are at the frontline and at the clinical level. And so through all of the chaos at governance levels and a restructuring of administrative and organizational structure, the organization carried on and provided good care to patients and patients got looked after and community services happened. And so many pieces of that organization were very resilient, And it's one of the things I bring back as an observation of how that transition… how all that transpired and how impressive it was to see that, you know, the at the frontline of that organization in chaos in the early days, it was still a resilient organization where frontline care happened. And so I just, for me, that's, uh I think often, and it's actually a conversation even in Eastern Health we're having today around how do we ensure that through whatever changes we might be subjected to as an Eastern Health organization, that we're resilient at the frontline level and the entire management structure and our leadership and board so that whatever comes at us, we can fulfill the mandate that we have.
Ellen Gardner: Well, I'm certainly struck by, you know… those are three very good points. But the point also about resilience and just being able to work through difficult times and challenges, has that one been particularly relevant in terms of Eastern Health, and just the kinds of challenges, not just the regional health authorities working through, but the province as a whole?
David Diamond: Yes, well we have been challenged and obviously nowhere near the challenges of the transition that occurred with the creation of Alberta Health Services, but it has been a challenge in Newfoundland and Labrador. Particularly around finances. It's a very resource-based economy and as a fortunes within the oil industry goes, so does the availability of revenue for public service. And so in the last five years that I've been back in the province, we have been challenged financially to find significant savings within our system, each of those… almost each of those five years. Ad so I think as we have done that… I feel very pleased with how Eastern Health, the organization, the managers and staff have risen to that challenge. And, you know, there's at least two ways to react to that. It can be from the perspective of resisting any sort of change, to rolling up your sleeves and they're looking for innovative and creative ways to continue to provide the services that the population needs. Even sometimes if the resources are not everything that you think you might need. And I think here we've done the latter. We have actually taken money out of this system, which is very difficult to do in the health system. So not only have we flat lined on budget, but we've actually taken money out and spent less in some years than in previous years. So I've been very pleased with the level of resilience within Eastern Health, but I never take that for granted.
Ellen Gardner: So really, the region is quite large. It looks like you deliver healthcare services to over 300,000 people. And that must be spread across quite a large geographic area. So what works best for you, David? Just in terms of talking to staff and getting feedback.
David Diamond: Well, I think there's nothing like being out and about, face to face. And so a walk-about on a unit, whether it's a safety walk-about, or just an opportunity to drop in on an emergency department that is struggling with patient flow and speak directly to the physicians and the nurses and other staff that are involved. I think that's really the best connection and the best feedback I get about, communication. That's when you can actually be out there on the unit and talking to people face to face. And so we try and build that in as best we can. You know, with 15 facilities and 13,000 staff, it never feels like you could do enough. But that's part of our strategy to continue to do that. And we continued to do that more.
Ellen Gardner: Eastern Health really does prioritize the enhancement of healthcare through innovation. In fact, and Anne Snowdon said that EHS is leading the innovation agenda. And we know that you've held certain successful hackathons and you're at the forefront of telehealth and remote patient monitoring. How does being a small province help you in pushing an innovation agenda, David?
David Diamond: Ellen, I probably wouldn't have thought that our size would have been an advantage until we've gotten involved in innovation in a significant way over the last two and a half years. It's probably one of the most exciting developments in my 30 years. We're looking at innovation and the benefits from innovation in two main categories. We see lots of benefits for our patients in leading-edge care, the ability to bring the best and leading technology and information systems. So we think that our patients in Newfoundland and Labrador will really benefit by an aggressive innovation strategy and the course that we're on. But there's also an economic benefit to the province as well, which is quite significant. We have recently developed a living lab and we've partnered with 10 private-sector partners. And that's a combination of the large international partners… Deloitte and IBM and Medtronic amongst them, and some local Atlantic Canadian partners… Mobia is a small company owned of Halifax, and a local Saint John's group, Vision33, which is a local entrepreneurial group in the IT space here in Saint John's.
So we have a living lab where we're able to match expertise from the private sector with the big problems that we're dealing with clinically in healthcare with our clinical leaders, and do joint development. We're able to receive new ideas that are coming from university students or from the entrepreneurial community in St John's or even to test a product from the international market to do clinical trials on medical technology here. So we're very excited about our living lab, we've received some support from the federal and provincial governments. Lots of support from our academic partners. We share a campus here at the Health Sciences Center with Memorial University. And there's a lot of leading edge research that's happening there, which is feeding into our innovation agenda. And then support from our other public sector partners, The Newfoundland and Labrador Center for Health Information and then the other regional health authorities.
So there's a very vibrant innovation ecosystem in Saint John's, which I think some folks probably would be surprised to hear. But in the ocean industries sector, for example, and in aerospace, and in security and in the banking industry, there's already quite a robust technology sector here. And we're hoping now to create something similar in medical technology.
You asked about size and perhaps I should answer the question that you asked. And in this case, I think we see Eastern Health from two perspectives. One is that we are actually large. Eastern Health has 13,000 employees and we service a 300,000 population in eastern Newfoundland. And for some of our tertiary services, we serve the entire province. So Eastern Health is a big organization. It's an academic health sciences center. It has the full continuum of care, right out to community and public health. It has an urban and a rural component. And so if you can do innovation and produce product or produce services that works in an Eastern Health environment, then that's very transferable to many other jurisdictions. And so we're large enough to be relevant, but the ecosystem is small. And so, we have one university and we have Eastern Health as a big player and three other regional health authorities. But the environment here is small. And so people in a small environment know each other. We work well together. It's easy to convene around the table the people that you need for whatever sort of meeting needs to happen. We have very strong, close relationships with the provincial government and other agencies. And so it's easy in this environment to be very nimble and we're learning in our relationship with the private sector… is that the ability to be nimble when you're looking at innovation is important, as is a level of commitment. And what we're finding here with the partners that we have – our 10 public sector partners, our academic partners, our other public sector partners – a really interesting and exciting thing is happening around innovation in Saint John's, and I would not have thought that could have happened even a two or three years ago.
Ellen Gardner: I really was going to ask you about partnering with organizations… industries… private sector or companies outside of healthcare and how that really does have a positive impact on where your organization is going.
David Diamond: Yeah, well, we look, in almost anything that we do, whether it's quality or in the clinical world, we look anywhere in the world where best practices are happening for inspiration and new ways of doing things. And in the innovation space, it's been similar. We've been really fortunate to have made connections and partnerships really around the world. In Ireland we have been involved with enterprise Ireland for about 10 months now on some partnership there. They've actually been to St John's and we have partnered some Irish innovation companies in med tech with some of our private sector partners in our living lab. And there's some joint development that's happening. We're in a conversation with an Israeli partnership around some cybersecurity developments. We have had some connectivity through our private sector partners with Spain… the medical technology sector that has developed quite robustly in Catalonia. And there's lots of learnings there for us as a similar, small jurisdiction, looking to play in an innovation space. We've have some people who have been connected into the University of Tennessee, as an example, where value-based procurement is one of the leading centers in the world around concepts for value-based procurement. And we're wanting to learn about value-based procurement and we're experimenting with some contracts in value-based procurement because we think this is one of the things from a sustainability perspective and from an innovation perspective that will be important. We've had a visit with the folks at Chum, the French system in Montreal, in some of the innovations they're doing, particularly focused around artificial intelligence. And so we have partnerships and relationships really around the world and continue to look for others. But are probably the most interesting thing that we've done is to bring on our 10 private sector partners. And that's given us a group of private companies who know how to commercialize product, who know how to develop, who knows what can be sold nationally and internationally. And so for an innovation living lab, where we're interested not only in producing product for our own use, but also to be commercialized, our 10 private sector partners that we have are really critical to what we're doing. So we're very excited. It's a great time. It's early days, but we already have a number of projects working its way through the system and some of that product about to be sold and to generate a royalty… a revenue stream for Eastern Health that we can then pump back into innovation and development. And so we're very excited about where we are.
Ellen Gardner: It's interesting that you talk about values-based procurement as a way of, you know, moving innovation forward and… you know, when you think about procurement, it really is about vendors and product and it looks like through your partnerships with Spain and Ireland that you're taking it in a completely different direction. Why do you think that that's a good way to go?
David Diamond: First of all, I should say that I think until recently it probably wouldn't have been possible in our jurisdiction, with traditional public service procurement legislation. And so our provincial government as part of its broader innovation strategy and development strategy made some changes to its procurement legislation last September which really allow us to pursue a value-based procurement strategy.
I'll give an example of where we think this will be very valuable to us. We're working with the provincial government and with the other RHAs to implement a workforce management system, a scheduling system that we think is absolutely necessary for our operations within the system… to be able to schedule and to do electronic payroll. We think if we do that there are some significant savings. And so we've worked with a vendor, a consortium of vendors, on… a value-based proposal that will allow us to implement what we think will be leading-edge technology but to be paid for through a value-based procurement. So we won't spend any money up front. We will get a leading-edge system and the vendor will get paid, assuming we meet the targets that we've agreed to in savings once this system is implemented.
We're also looking at some possibilities in the clinical world. And so we are about to award a contract to do a pilot for improvement in care for diabetes patients, and we're going to take a cohort of diabetes patients, work with our private sector partners on an algorithm for treatment with a guaranteed improvement in the outcomes for diabetes patients.
Ellen Gardner: I'm wondering, you know, if we were going to ask one of your staff, how would they describe your leadership style?
David Diamond: Oh, that's always a tough question. I would hope they would see my style as values-based… think would be important for me. I think they would speak to a focus on execution that we talked earlier about… not only just to get a plan but to get it done and ensure the outcomes and move on. And I think, I'm a down-to-earth folksy type. I come from a rural environment and that's my small town approach. I think folks see me as approachable and that's the way I like to operate, very much in a team environment. And so this is not about me. This is about the team and what we're trying to accomplish.
Ellen Gardner: We hear that you lead with humility, David, and I guess that is a challenge when you're working with such a large population of staff. How do you make sure that people get to know the real you?
David Diamond: Yeah through my whole career… I'm in a leadership position in an organization where clinical skills and clinical expertise is really our core business and I don't have that expertise. And so for my whole career, in order to be successful… my work is about listening to the other experts.
Ellen Gardner: Have you had a lot of mentors in your life, David… people who've helped you along the way? And now that you're in a leadership role or you've been in a leadership role for a long time, that you actually mentor other people as well.
David Diamond: Yes, this, one of the things I've been really fortunate over the course of my career, really in every stage of my career, I've had really strong mentors. I think you know, whatever success I've had as a leader comes in large part because of a serendipitous connectivity with folks along the way. And as a result of that… mentoring for me is really important and I give back. I value the opportunity to do that. I have an executive team here at Eastern Health, some of whom are in their first roles as VPs, so it's a great group of folks. Several of them are fairly new to executive leadership and so it's been a great opportunity for me to provide that mentorship in that environment. And also in our leadership development program as we're developing senior leaders… our human resources team has a leadership development course that I participate in. And we are going to start to take a Masters students from the, Master's in Health Services program at Dalhousie starting this summer. And so they will work with me and with the executive team in a mentoring sort of relationship. So developing the next generation of leaders is a critical piece of work in our system because the gaps are tremendous, even now, and likely with the demographics will get even more significant. And so… I see that as quite a key role for me as a CEO in this organization.
Ellen Gardner: At HIROC we value continuous learning and we've just implemented a new program called the learning group strategy. So we're really focused on helping employees learn, finding new ways to learn and just hearing from them what they want to learn about. So that makes me wonder, what is it that really would like to learn more about at this stage of your career?
David Diamond: I guess there's three things that I've thought about and they are issues that are part of our executive agenda at this point.
One is in the area of quality and patient safety. In Eastern Health. I think we have a very robust structure around quality. If you've been around the system long enough, you'll know that in the early 2000s, we had a major quality issue in the lab here with cancer care testing and a public inquiry that followed. And so our quality infrastructure at Eastern Health as a result of that, it's been very robust, with the quality and safety committees at the board level and at the executive level and within each of the portfolios. And so we have good structure and we have a great team of quality experts that do reviews and do audits and work with accreditation. And that formal level. What we're wondering as an executive team and me as a CEO is, you know, what's next in the whole quality journey for us. So when we think about high-reliability industries like aerospace and the best functioning health systems in the world from a quality and safety perspective, what are they doing that we're not doing and that we could learn from. So I think one of the areas is around quality and patient safety. How do we move the organization, an organization that I think is very strong in quality and safety, but how do we move that to a different level and what does that look like is one of the areas.
I think the secondary is around population health. And so for us as a regional health authority, we have accountabilities across the full continuum of care. But we know particularly in our province, and I think it's true around Atlantic Canada and maybe anywhere you go in the country, but we need to do some things differently in population health if we're going to sustain the system because we have, generally speaking, a very unhealthy population and all of the tertiary care that we can possibly provide… the problem is not going to change unless we find new ways, new practical ways of changing the dial on population health indicators. And we know there are some, you know, there's good research out there and smoking and obesity and, many things, but we're not making progress very quickly. And in some areas, you know, we're regressing. And so in Eastern Health and with our board and our executive team, we're trying to understand what are the best practices, what else could we do as a regional health authority that would improve the health of populations.
And then the third is the value-based procurement that we talked about. And so we're on a learning journey. We think value-based procurement as part of our innovation strategy is a significant component of what we want to do and how we can add value.
Ellen Gardner: If I was going to look at your bedside table, David, what would I find there as the subject of your reading material right now?
David Diamond: I always have about four books on the go and it's usually a very eclectic list. And so I'll give you what's on my table as we speak. One is a history of France in French. I'm reading a book called Capital in the 21st Century, by a guy named Tom Piketty and it's just a general interest in the economic history. I'm reading a book on Newfoundland food security. And so part of our population health approach that we're involved in in Eastern Health involves strategies around food security and how we use food and growing food for therapeutic reasons, for example, and the employment opportunities. And so I'm trying to understand better food security. And then the last one which has just come on my table… I just attended a CPSI a session in Toronto a month and a half ago. And the folks there recommended a book called Safer Healthcare: Strategies for the Real World. And in line with our previous conversation about the things that I need to learn and quality and safety… this is a book that's been recommended and I'm about to start. So there you go. That's my four. I always have four floating around somewhere in my house… And that's the strange list that I have at the moment.
Ellen Gardner: Well, it's been a pleasure speaking with you, David, in hearing about your strategy and your leadership philosophy and just all of the exciting things going on at Eastern Health… just in terms of your innovation agenda and partnering with so many interesting organizations outside of health. So we really enjoyed talking to you and thank you so much.
David Diamond: Thanks very much, Ellen.