Is your site protected against water damage? Here's what you need to know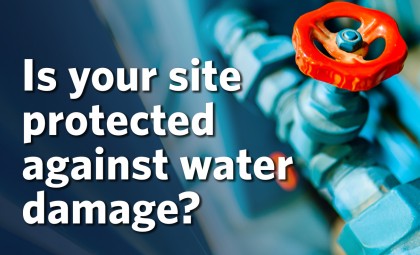 Water damage continues to be the number one property loss driver for the healthcare industry.
Your property insurers, HIROC and FM Global, have collaborated to provide the most effective resources and guidelines when it comes to creating, maintaining, and enacting your liquid damage emergency response plan. 
This advice is based on learning from our history of losses, scientific research, and our engineering knowledge. 
It's critical for your facility not only to develop a comprehensive plan, but to also ensure the below key points are considered. This will ensure the time it takes to detect, respond, and recover from a water leak is significantly reduced. 
Although there are many other parts to a complete plan, these are top points that are extremely critical, but often missed: 
Create a list of valves in the facility that includes main water shutoffs, heating/cooling, sprinkler control valves, and areas controlled by these valves. Map out the valves and label them clearly. Exercise these valves annually to ensure they are not seized when they are needed. 
Designate personnel for all shifts, including those authorized to shut off valves – this is extremely important in an emergency during the response. 
Regular training and mock drills should be performed (at least semi-annually) to ensure the plan is enacted accordingly, and that all members involved are well trained in their roles. 
Have a list of restoration contractors available and on call, as well as readily accessible abatement equipment to respond to the leak, in the recovery procedures. 
There are key items to consider for mitigation of a leak, pre-planning to respond effectively during an event, and the entire recovery process. 
FM Global and HIROC are here to support your local sites in creating and applying an effective liquid damage emergency response plan. 
Please reach out to your HIROC's Engineering Liaison, Jean Asuncion – jasuncion@hiroc.com for further resources and best property loss prevention guidance. 
 
By Shiva Nourmansouri, Account Engineer at FM Global