What the Winners Said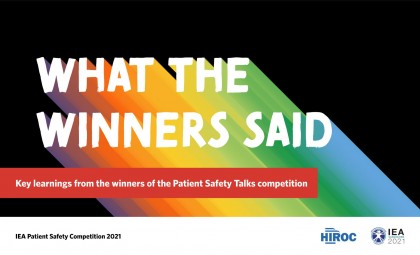 World-class healthcare human factors and ergonomic initiatives were on full display at June's Patient Safety Talks competition, part of the virtual 2021 International Ergonomics Association (IEA) Congress.
As a partner of this event, HIROC and the Health Quality Council of Alberta co-hosted the session which featured the four winners.
The competition was a collaborative effort, all with the goal of sharing knowledge to support safer care.
The partners included:
HIROC
Health Quality Council of Alberta
International Society for Quality in Healthcare (ISQua)
Healthcare Excellence Canada
Interactive Media Lab (IML), University of Toronto
During each of their TEDx-styled presentations, the winners identified a problem and followed up with several key learnings and takeaways for healthcare organizations to consider when implementing human factors or ergonomics solutions.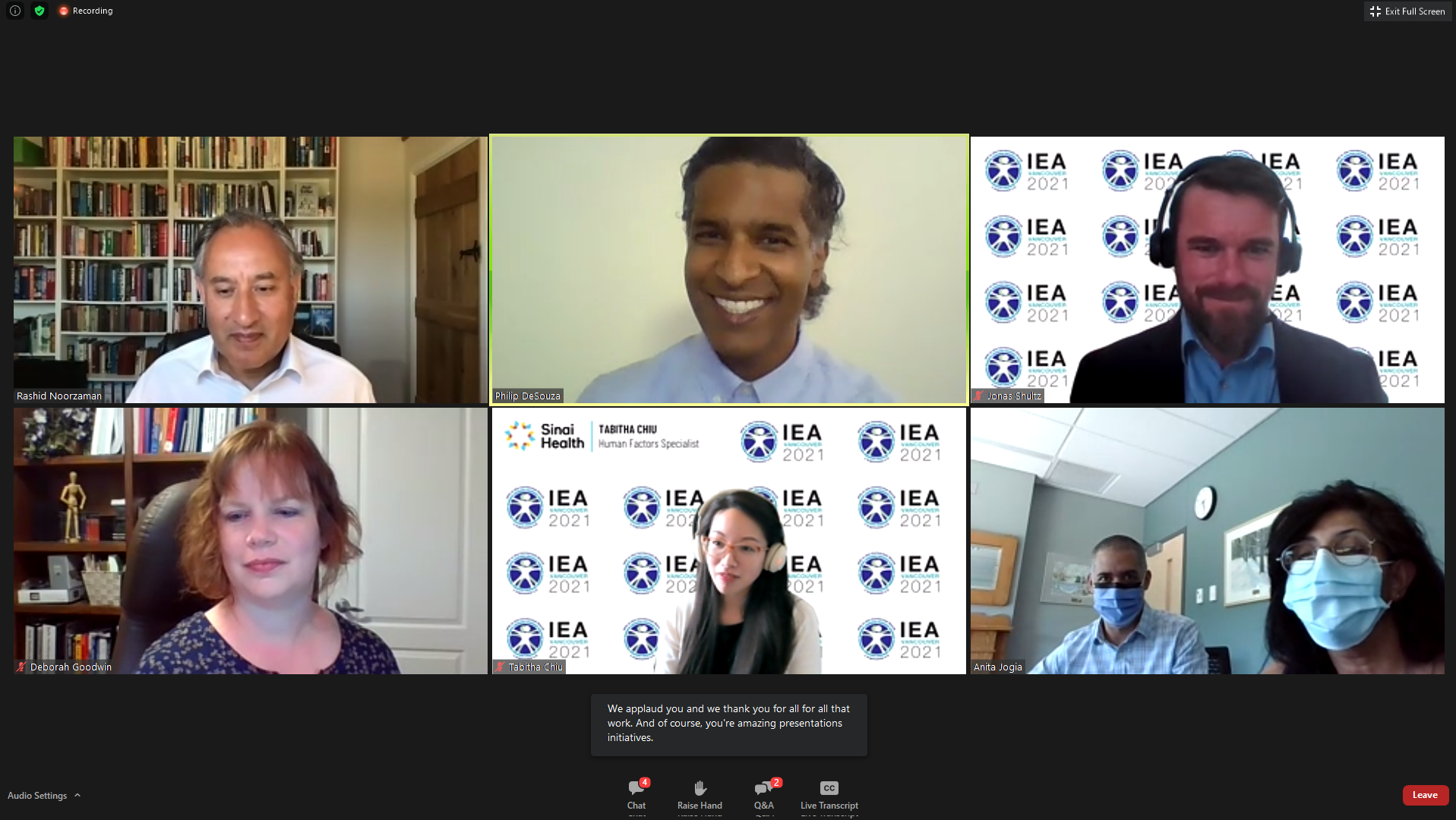 Design for the Frontline
Our first winner featured was Tabitha Chiu, Human Factors Specialist at Sinai Health System, who designed and prototyped a specialized lockbox addressing a growing problem of opioid diversion in the clinical area of the hospital.
When creating a potential tool to be implemented into the workflow of clinical staff, Chiu says it is critical to involve staff for testing and feedback.
"By understanding the end user's workflows and needs, we are in the process of designing both the lockbox and the use of the lockbox to fit their clinical workflow in a physical space," said Chiu.
Chiu collaborated with a nursing unit on the frontline to figure out user requirements and needs for proper design. For example, she learned that it had to be transparent for an easy visual check, big enough to store the medication, and it had to be able to withstand frequent disinfection over time.
Although COVID-19 halted testing of the lockbox, Chiu has plans for future simulations with their Labour and Delivery Unit and Post-Anesthesia Care Unit to help assess implementation and feedback.
"Being able to validate the effectiveness of the lockbox intervention via simulated testing with frontline staff before implementation, will allow us to save time and effort in the long run," said Chiu. "This approach also engages our frontline and empowers them to continue to proactively identify and mitigate risk, instead of waiting to reactively respond to an incident that we could have prevented."
Partner with Students for Case Studies
London Health Sciences Centre's (LHSC) X-ray department performed roughly 61,000 X-rays in the last two years, with an average of 200 patients per week. According to Anita Jogia, Ergonomic Specialist at LHSC, most of the time spent during those X-rays involved healthcare staff repositioning patients to ensure proper imaging.
To investigate a way of reducing the amount of time patients spend in X-ray, Jogia teamed up with a professor and two students from Fanshawe College to examine the ergonomic and human-computer interaction (HCI) factors that went into the purchasing of X-ray equipment.
"It is always helpful to have students," said Jogia. "This study probably would not have happened without them."
Using tools like NASA TLX and Nielsen's Heuristics, the students were able to study X-ray usability and task workload by surveying seven Medical Radiation Technologists from LHSC. They found that there were a high number of reports among the technologists for mental demands, frustration, and performance.
With this information, Jogia then connected with a team of designers at LHSC who were responsible for redesigning a new X-ray computer interface. They recommended she incorporate ergonomic and HCI factors at the point of purchasing because they can already identify hazards and potential issues with schematics via software.
"In talking with our designers, they had said that if we could apply ergonomic and HCI factors during the purchase of X-ray equipment, it would really make for a seamless process in building the X-ray suite," said Jogia.
"Our team feels future work should look at whether to identify HCI factors during the purchasing process," added Jogia. "A rigorous research approach will also support sound decision making."
Gain Multiple Perspectives from Key Stakeholders
For her project, Senior Ergonomist at Alberta Health Services (AHS) Deborah Goodwin set out to develop provincial guidelines that would ensure future healthcare facilities are designed with the proper space and equipment to promote safe patient handling.
To do this, Goodwin recruited a working group that had a diverse membership from across Alberta's healthcare system, including AHS Workplace Health and Safety, Operations, Infection and Prevention Control, Capital Management, Procurement, and the provincial government Ministries of Health and Infrastructure.
For two years, they formed a plan that involved a comprehensive literature review, a gap analysis examining best practices from multiple organizations, and a process for incorporating onsite observations and patient feedback to truly capture the lived experience.
"We met and consulted with many stakeholders through focus groups and semi-structured interviews, hearing directly from patients, families and healthcare workers," said Goodwin.
"It was essential for the guidelines to reflect all perspectives and was not just a worker safety initiative. A truly collaborative effort which considered the needs and journey of the patient in our healthcare system, and the logistics of what it takes to build and operate that system."
As of September 2018, the guidelines were finalized and endorsed by the Ministry of Health and Infrastructure and are now a part of every new Class A and B facility project in Alberta.
Keep Ergonomics & Human Factors Top of Mind
In the early days of the COVID-19 pandemic, the U.K. government issued a challenge to manufacturers to rapidly design and produce new ventilators during a severe shortage.
For Dr. Noorzaman Rashid, Chief Executive of the Chartered Institute for Ergonomics and Human Factors (CIEHF) in the U.K., this was a concern because the government had challenged manufacturers but provided no context regarding ventilator best practices revolving around human factors or how it fits into healthcare processes.
In response, Rashid gathered a team of writers and 30 experts from around the world to create guidance for manufacturers and finished it within 48 hours. 
"Our guide provided designers and manufacturers of ventilators with overarching guidance on the key themes for consideration and specific human factors issues in a period of crisis management, requiring rapid design and production," said Rashid.
It was critical for Rashid and his team to circulate the guide internationally to ensure that the new ventilators being developed functioned with hospital systems and were intuitive to use.
"What we have learned from our endeavours here is that the science of human factors through collaboration can be quickly gathered to provide advice that can make a significant difference to patient safety, life, and well-being.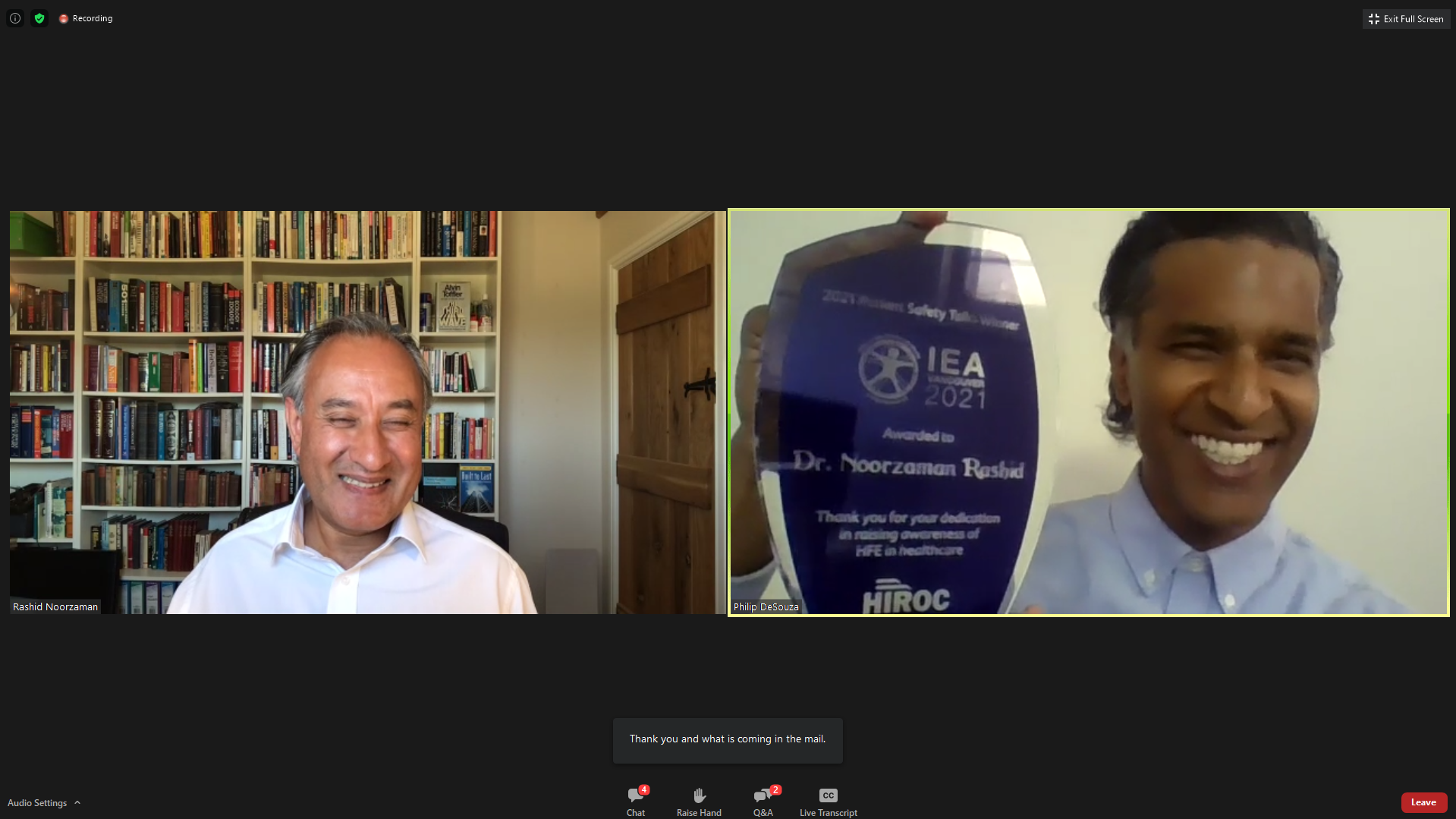 Congratulations again to all the winners and your continued commitment to patient safety!
Want to learn a bit more about human factors and how it impacts patient safety? Check out our Talk with HIROC interview with Human Factors Specialist and Patient Safety Talks co-host Jonas Shultz.
By Marc Aiello, Communications and Marketing Coordinator, HIROC