We're Here For You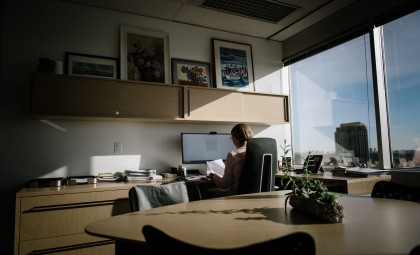 Dear Subscribers, 
Thank you to all of our Subscribers who were able to attend HIROC's virtual Annual General Meeting (AGM) on April 27. At the AGM we welcomed six new Directors to the HIROC Board of Directors, and we released HIROC's 2019 Annual Review.
Given the effects of COVID-19 on our communities and the healthcare system across our country, it seems surreal to be writing about 2019.
So before doing so, I want to express how truly appreciative HIROC is for the exemplary, dedicated and compassionate services provided by our frontline healthcare workers and all employees, directors and officers of healthcare organizations across Canada. When our own safety is in jeopardy, it is incredibly difficult to put the needs of others first. But you, our healthcare providers do that without hesitation. It makes us proud to be associated with you, and if we can help it is truly an honour to do so. Thank you for everything you do!
For us at HIROC, 2019 was framed by optimism as we made final preparations for launching our 2020 Strategic Plan. This optimism underscored our drive to be of increased service to you, as together we navigate some concerning trends in claims costs, resulting claims reserves requirements and medical malpractice insurance generally.
We believe our new strategic plan has captured your priorities and we look forward to sharing how we will incorporate you and your teams in every element of our plan in the coming months.
2019 was also a year that saw HIROC being called upon by many of you, our valued Subscribers, our dedicated partners and also government from various jurisdictions to consult, provide recommendations, and guidance. It's a privilege to be chosen as your trusted healthcare safety advisor and we're strengthened by your resolve to do what is necessary to ensure Canada has the safest healthcare system in the world. 
I'm proud to say, HIROC provided assistance in moving the dial on patient safety and risk mitigation. One shining example is how the HIROC Safety Grants rallied teams to think outside the box and shift culture. In our annual review, you'll learn how healthcare change maker Michelle Hoffe and her team applied their grant to create something special, while leveraging the knowledge of a fellow HIROC Subscriber. That is exactly what the reciprocal model is all about – a shared purpose, ensuring a focus on the safety of those we serve and their families and the many dedicated healthcare professionals across the country. 
So, on to 2020. I am certain that together we will turn the corner on patient safety and that our collective efforts will serve to control the risk of harm to those we serve. We thank you for your trust in us and for your patronage.
In the coming months, you'll be seeing and hearing more from HIROC as we reach out to pinpoint exactly how we plan on supporting you and your teams. From sharing knowledge so you can scale tactics, connecting with your boards to convey the importance of risk and safety culture in good governance, to sitting down with you to demonstrate how HIROC's world-class tools and resources can help you make better decisions – we are here for you.
At the end of the day, the reciprocal model was created by you to support the collective – we're here to help and to make an impact.
Sincerely,
Catherine Gaulton
Chief Executive Officer
---
Download HIROC's 2019 Annual Review (PDF)