We Missed You in the Spring, but Caught Up With You in the Fall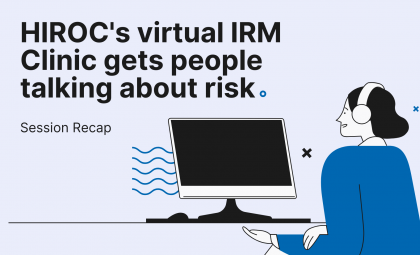 We recently sat down with Lori Borovoy, Wendy Hooper and Stefano Gelmi to learn more about the IRM Clinic their team hosted.
Why does HIROC host Risk Management Clinics? 
In November HIROC hosted its seventh clinic. HIROC initially started with Integrated Risk Management (IRM) and Risk Register Clinics to assist our Subscribers' on their IRM journey and help them refine processes. 
The Clinics have evolved to also include a focus on Safety. As many of our Subscribers know, we usually host one of the HIROC  clinics on day two of our annual conference in the spring, however, this year we postponed it.
The November Clinic was HIROC's first all virtual clinic and we were thrilled to have participants from across Canada. We organize these clinics to provide an opportunity for knowledge sharing, and tapping into the expertise of our many Subscribers – feeding off their safety and risk management energy, hearing how they innovate, and we at HIROC get the opportunity to share our best practices as well as key strategies.  
What's the goal of the event?
The Clinics provide an opportunity for subscribers to come together and learn from the experiences of each other. Effective Integrated Risk Management is a journey which develops through maturity. 
The clinics also allow us to live HIROC's vision of partnering to create the safest healthcare system – just one example of an avenue to foster safety knowledge where subscribers come together to share and learn. 
New to the clinic this year was the opportunity to hear from three healthcare organizations and their experience of putting their HIROC Safety Grants awards into action, with the goal for clinic participants to explore how they can perhaps scale these innovations at their organization. 
We also published a special issue of The HIROC Connection which outlines a few more Safety Grant successes.
We encourage everyone to check it out.
What are some takeaways you can share about the event for those who may have missed the event?
The Clinic provided attendees with an abundance of practical information to take back to their organizations from topic areas of: 
From the safety grants presentations we learned about from three different safety projects including: 

Successful reduction of newborn CPAP rates and CPAP algorithm development, 
Recognizing patient deterioration at the bedside through standardized assessment of acute illness severity,  
Strategies for creating a safe work environment for PSW's caring for clients with cognitive impairments in homecare

Use of tools for IRM relating to risk identification, risk analysis, actions, indicators, and risk recording
Developing an IRM program and steps for risk assessment and risk reporting
Experience based dialogue to delve deeper into some trending risk topics such as; COVID-19, Cyber Risk, Diagnostic Error Risks and Governance Risks
Attendees also had the opportunity to participate in small group discussions revolving around identifying risks related to COVID-19 and the challenges of adapting to these new risks 
What did you personally enjoy about connecting with Subscribers at events like this?
There is always new learning at the clinics, whether it be from innovations on safety, listening to speakers about their IRM journey and this year—how to keep leaders motivated and informed. 
At HIROC, we're all about actively listening to our valued Subscribers, and so we always ensure there are engagement sessions where there are opportunities to share insights on risks or safety issues in small groups. 
Subscriber Engagement is a personal favorite as we also get great feedback form the rich dialogue, as well as suggestions for ways to improve, evolve, and enhance current IRM tools and resources.
Additionally, the team at HIROC enjoys seeing and hearing how the tools and resources we develop are  being used to assist in advancing IRM – this gives us joy knowing there is great pick-up of our items, and connecting back to our strategy of turning the corner on patient safety.  
"The conference and speakers were excellent. I also really enjoyed the small group session for dialogue on topical risks with peers."

Lorri Eckler, Manager, Quality & Risk - Southlake Regional Health Centre
Finally, is there one or two HIROC resources people would find useful as they continue on their patient safety + risk journey?
Definitely, as you many of our Subscribers know, we have over 350+ resources and tools on our website under the RESOURCES tab, however, here are a couple I'd like to spotlight:
•    2020 Top Healthcare Risk Report 
•    Risk Reference Sheets which have been refreshed for 2020 on various topics, providing common claims themes, case studies, and mitigation strategies  
If you have any questions about HIROC's risk management tools or resources please reach out to us anytime at riskmanagement@hiroc.com.