Walking the Talk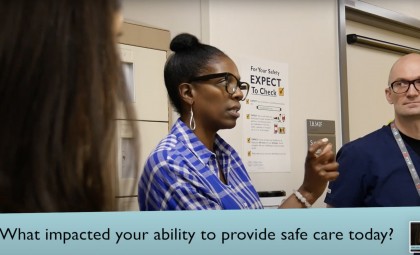 Executive Patient Safety Rounds positively impact the culture at William Osler Health System
At William Osler Health System (Osler) conversations around safety are not defined as top-down or bottom-up. That's thanks to Osler's Executive Patient Safety Rounds (EPSRs) initiative launched in 2019. 
EPSRs see leaders engage in candid conversations with staff about safety culture and discuss opportunities for improvement. 
In support of this project, Osler received a 2018/19 HIROC Safety Grant. 
In the early stages, senior leaders were fully briefed on this evidence-informed process that many organizations have used to drive critical change.
Through their work in patient safety education, Elaine Richards, Patient Safety and Quality Improvement Specialist says there was often a disconnect between what the leaders heard and what staff were experiencing on a day-to-day basis. They viewed EPSRs as an opportunity to open the lines of communication and get a bird's-eye view of organizational successes and the challenges frontline staff were facing. 
"When it comes to patient and staff safety, you can't really have one without the other," says Richards. And a critical element of staff safety is culture, creating a safe space to have open conversations.  
How EPSRs Work at William Osler
Each week, one senior leader, a patient safety lead, and anyone working in the unit gather together for a 30-minute conversation. Depending on the unit, the group could include nurses, physicians, housekeeping, allied health, pharmacy, and others. Unit managers are also present for transparency and staff comfort. 
Senior leaders received training on EPSRs and the types of conversations that may arise. This was critical for the project's development, understanding that not all leaders have a clinical background. "The leaders that aren't in a clinical role have learned a lot in terms of what happens across the organization," shared Richards. 
In advance, staff and leadership have a chance to review the questions that will guide the discussion that week. Because Richards and her team may receive a long list of suggested changes depending on the unit, they ask the teams to prioritize their top two during the rounds. 
Since the first few rounds, Richards says they have revised the way they ask questions to help staff in the moment. "So instead of asking, 'What is affecting your ability to provide safe care?' we might say, 'What has affected your ability to provide care in the last three days?'"  
Driving Improvements
Through the EPSRs to-date, 48 improvement opportunities have been identified. 
For example, an EPSR revealed that Osler's ambulatory clinic sees many soon-to-be and new parents seeking care for mental health issues related to pregnancy and post-partum. The appointments are very one-to-one, with a clinician often alone with a patient and at times, the patient's family. The configuration of the rooms also added a challenge, with the clinician positioned at the back of the room. Clinicians felt that if there were instances of escalating behaviours, there was no way to let other team members know that support was needed. Code White buttons were identified as an improvement opportunity by the clinical team, and through the EPSR process the clinicians were supported in obtaining Code White buttons to address this safety concern. 
Another EPSR success was the identification of a falls risk associated with a certain type of geriatric chair used specifically in Osler's seniors' population. "The Chief Nurse Executive was the senior leader on the round and was walked through the risk with the chairs," said Richards. "They immediately worked with the manager to look at what could be done."
From Project to Program
While the concept of EPSRs started as a project, Richards says it has evolved into more of a program for the organization. With some interruptions as a result of the COVID-19 pandemic, they will continue with EPSRs on an ongoing basis – in a virtual format if needed. 
Findings from EPSRs are also aligned with corporate risks – adding to the organization's awareness of risk and the development of solutions. "We let the conversation flow organically, but we definitely compile our information and put it in buckets based on what we are hearing," said Richards.
Today the team is focusing on circling back with the programs regarding the changes that have been made. "I think that's really key to the success," said Richards. They are also working to share learnings organizationally with all staff on their intranet, creating a more visible presence around safety culture. 
By Michelle Holden, Lead, Communications & Marketing, HIROC 
---
This story was originally published with a collection of safety grants stories in the The HIROC Connection, Fall 2020.