Virtual is Vital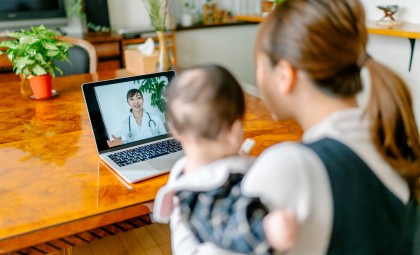 As Canadian hospitals prepared their emergency departments for the arrival of COVID-19, many at-risk patients with chronic conditions were anxious about accessing hospital services with new social distancing measures in place.
The leadership team at Scarborough Health Network (SHN), like many organizations, understood that to maintain safe access to care during the pandemic, they would have to improve and expand their virtual care program. Kristy Macdonell, Manager of Health Equity, Patient and Community Engagement at SHN, was asked by leadership at the start of the pandemic to play a leading role on the Virtual Care Task Force, prioritizing SHN's virtual care program and access to care concerns caused by COVID-19.
Prior to the pandemic, a typical day for Macdonell was developing and implementing a patient, family and community engagement framework. Macdonell would identify population health needs and gaps by conducting needs assessments, focus groups and mapping of patient journeys to recognize opportunities for reducing health disparity.
"It has been a privilege to work with the task force to implement virtual care as it aligns with improving access of care for people in our community," says Macdonell.
As a supporter of initiatives that improve access to care and patient and staff safety, HIROC was curious about SHN's expansion of the virtual care program in response to the pandemic. As any program evolves, it's important to review the experience from the perspective of both staff and patients.
Quality and Safety at the Forefront
One of the primary goals of the task force was to develop opportunities for physicians and clinicians to provide virtual care, while keeping quality of care and patient safety top of mind.
"Our task force focused on developing processes and tools that would allow our programs to transition from in-person appointments, to receiving care virtually in the comfort of their homes," said Macdonell.
SHN commits itself to providing patient-and-family-centred care (PFCC), where they harness powerful partnerships with those who have lived experience and invaluable insight. The task force partnered with Patient Family Advisors (PFAs) to review and provide feedback on many aspects of the virtual care program, including consent forms, patient education material and website content.
To ensure processes were clear and allowed for a seamless experience, Craig Lindsay, who has been supporting the Medicine program as a PFA for several years, tested the virtual care process by engaging in a mock exercise. The feedback he provided was insightful and instrumental in rolling out a truly PFCC service.
Scaling Knowledge Sharing
In preparing SHN's healthcare providers for virtual care, the task force created an online toolkit and webpage hosting critical training items like webinars on how to use the secure Ontario Telemedicine Network (OTN) portal. In one particular training session, 140 leaders attended, showing that the Network, regardless of COVID-19, was committed to continuing to deliver care.
"Many patients preferred to see a doctor's face, rather than speaking on the phone," said Dr. Shubarna Amin, Internist and lead of Virtual Medicine at SHN. "They were happy to use the OTN portal, and our older patients were able to have their children or younger family members help set that up."
Dr. Amin focuses on providing care to patients from the comfort of their homes, such as post-discharge checkups, following up on bloodwork, making referrals and writing prescriptions.
"The biggest thing that virtual care misses is physical examinations," said Dr. Amin. "But, many patients do already have monitors at home to check their vitals, and if they don't, we work to deliver the equipment they need. Before I check in with patients virtually, I ask them to have their readings ready, like blood pressure and heart rate."
For patients who do still require an in-person evaluation by a doctor or physician, SHN has an assessment clinic reserved for patients identified through virtual care or referrals.
"Until we either have a vaccine or a better idea of how this virus is evolving, virtual care as an alternative is an advantage to many patients," said Dr. Amin. "I have a far greater reach to my patients, and I get to see their appreciation day-to-day, which is normally missed working on the frontline."
After persevering through the first few weeks of the pandemic to expand virtual care, Dr. Amin says she is now seeing many referrals and patients every day, which ultimately helps reduce the burden on the emergency department. With virtual care here to stay, Macdonell and her task force are now creating a sustainability plan for the future.
By Marc Aiello, Communications and Marketing Coordinator, HIROC
---
Learn more about virtual care services at Scarborough Health Network.