The Value of Being an Insider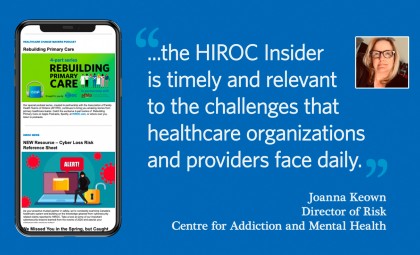 We caught up with a reader of our monthly newsletter, The HIROC Insider, to hear her thoughts on how this resource helps her in her role
Joanna Keown is the Director of Risk at the Centre for Addiction and Mental Health (CAMH).
Part of Joanna's role is always being on the lookout for the latest trends in risk management, and staying on top of mitigation strategies designed to promote patient safety. 
Joanna also sits on HIROC's Subscriber Advisory Council.
Why do you enjoy receiving the Insider?
The Insider provides information covering multiple topics impacting patient safety, risk management and health system transformation across the continuum.
The content – from podcasts, reference guides, and scholarly publications, is timely and relevant to the challenges that healthcare organizations and providers face daily.  
What's the first thing you do after reading the Insider?
I share the Insider with many of my colleagues, particularly if there is content specific to their area of practice.  
I think it's important to disseminate the expert knowledge contained in the newsletter to support improvement opportunities throughout the organization.  
It's always well received and generally leads to requests for further resource materials.
Become an Insider Today!
If you're already receiving the Insider, we encourage you to share it widely at your organization.
And if you're not an Insider, what are you waiting for? Sign up today by entering your email address in the box below in the footer of every page on our website.