Trevor Hall to take the Helm of HIROC's Healthcare Safety and Risk Management Portfolio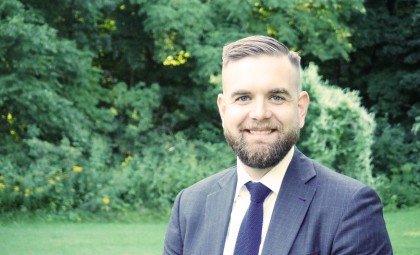 "Drawing upon my experience, not only as a HIROC subscriber, but as a leader who works day in and day out with the true end-users of healthcare, I am excited to start this new journey with HIROC," said Trevor Hall.
Trevor will commence his new role at HIROC effective September 30, 2019.
"As someone who understands HIROC's mandate and who is keenly aware of the complexity of healthcare, I feel it's important to have a safety intelligence lens," said Trevor. "At the end of the day it's about helping the frontline make the best decisions for patients and their families."
Risk management and informed decision making are what differentiates HIROC – it is the cornerstone of our model. Whether it's the 300 plus resources available to HIROC subscribers, the Risk Assessments Checklists (RAC) program, or the Risk Register application – HIROC is committed to partnering with healthcare organizations to raise awareness and mitigate risk, ultimately leading to a safer healthcare system.
Trevor currently holds the role of Director of Quality and Patient Safety at Humber River Hospital, overseeing safety systems and their insurance and risk portfolio.
"Starting my career as a firefighter taught me the value of teamwork, high reliability, and the impact that well designed safety systems can have."
Trevor's vast experience spans several key leadership roles within healthcare safety and risk. He's also had a hand in designing safety systems for institutions, governments, and intergovernmental organizations. Trevor holds a Master of Science, a business degree, a nursing degree, and he is also Fellow of Quality Improvement and a Fellow of Biosecurity. 
"I'm looking forward to having Trevor's voice at our leadership table," said HIROC's CEO, Catherine Gaulton. "His passion for complexity and taking on new challenges, coupled with his unique lens in human factors and behavioural insights, will add to our already diverse team."
Philip De Souza is HIROC's Director, Communications & Marketing