Top Healthcare Risks 2018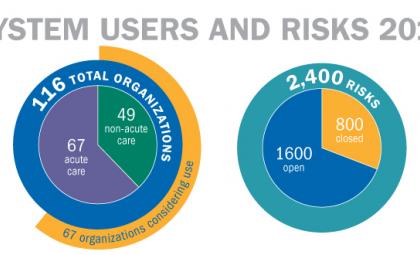 REPORT ON A SHARED CANADIAN SYSTEM FOR INTEGRATED RISK MANAGEMENT (IRM)
Monday, May 07, 2018 – HIROC News

From all of us at HIROC, we are proud to share with you the release of the third annual report on a shared Canadian system for Integrated Risk Management, Top Healthcare Risks 2018.

The report brings together data on top risks by 116 Canadian healthcare organizations currently using HIROC's Risk Register application – a solution which was developed in 2015 by a national steering committee of HIROC subscribers. The result is a 'by healthcare, for healthcare' solution that has saved an estimated $650,000 per organization on the program and $75 million overall. 

At the organization level, the Risk Register application aims to assist participating organizations in developing a more effective and mature Integrated Risk Management (IRM/ERM) program. Over 2,400 risks have been entered into the system, which supports organizations in creating and maintaining records for their key risks and the ability to produce reports.

For HIROC, our goal behind creating the program and sharing this vital information with you is to assist healthcare organizations to manage critical risks and, in turn, help strengthen the system. All with the overarching goal of helping you and your boards make better decisions.
 
ACCESS THE REPORT
To access the report, log in the subscriber portal of the website and head to the IRM Risk Registerpage under the Risk Management tab. If you attended our AGM and Annual Conference on April 30 you will have received a hard copy in your delegate bag.

We encourage you to review the report with your teams for a detailed overview of the key risks that healthcare organizations are dealing with in today's challenging environment.

If you would like more information about HIROC's IRM Risk Register application, please reach out to us at riskmanagement@hiroc.com. Data on the application can also be found in the Risk Register Infographic.