Thank You for Your Feedback!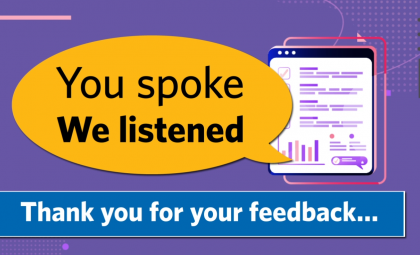 We're listening and continuing to evolve our Service First strategy
In service to you, our valued Subscribers, we decided to forge ahead with our annual Subscriber Engagement Survey in late 2020.
We were delighted to see how the first year of our new strategic plan was being received, specifically around embracing a relentless customer focus.
Many to thanks to those who took time out of their busy day to share your thoughts.
Your feedback will continue to guide how we serve you and continue to evolve, especially during the current global pandemic.
Reinforcing the Reciprocal Advantage
It's clear the Reciprocal model is working for you!
Overall satisfaction with HIROC is sitting at 99% among all respondents – Thank you for your trust in us!
Here are some key themes emerging from the data:
Responsiveness:
Prompt response time to queries
Appreciate the depth in expertise and support
Service exceeds expectation
Patient Safety and Risk Management Support:
HIROC's tools and resources are helpful
Communications:
The HIROC Insider - monthly newsletter has abundance of valuable information
Pandemic Support:
The COVID Bulletins have helped inform and guide decision-making
Support and advice ensure safety comes first
Proactive approach
We heard you!
In addition to all the positive feedback, we're very well aware there's always room for improvement. Here are some of the items we've already flagged for review:
More educational sessions
Refining existing tools
Facilitating greater networking opportunities among Subscribership so to share knowledge and scale across the system
We're also proud to announce the start of our Subscriber Advisory Council, the newly formed group made up of Subscribers and HIROC staff recently met and work is already underway to meet the needs of you, our valued Subscribers.
What's next?
We aim to share a more comprehensive plan of steps we will be taking to evolve our service… stay tuned!
Until then, we appreciate all you do, and please do not hesitate to reach out with any other feedback you have – we are here for you!
Catherine Gaulton is HIROC's CEO