Zayna Khayat: The Team that Lasers Together Stay-sers Together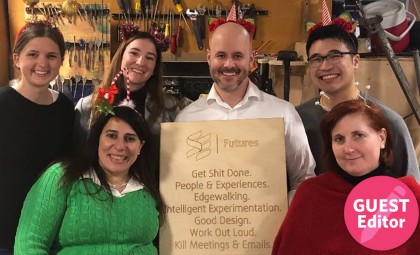 Thank you to Zayna Khayat, Future Strategist at SE Health (Saint Elizabeth Healthcare) for being HIROC's Guest Editor for the January issue of The HIROC Insider. 
---
Why high-performing teams need to find their own "way" of working
 
"The team that lasers together stay-sers together". That was the caption that my colleague Paolo Korre wrote under the picture above after our SE Futures team offsite where we learned how to work a wood cutting-laser at the Toronto Tool Library Makerspace. For our main project we chose to etch into permanence our seven core working principles that shape how we do our work future proofing our health organization, SE Health (Saint Elizabeth healthcare). 
Our team exists to try to protect the future from the past, in a sector (healthcare) where the inertia and nearly every policy, operating model and business model is optimized perfectly to protect the past from the future.
In many ways we are trying to do the impossible. We have failed – and will continue to fail – at nearly every experiment we have attempted in our first two years. This is the nature of the playing field when your mandate is to build and execute the innovation pipeline for a 110-year-old health organization in a health system that operates on 19th century paradigms. Outside of a narrow focus on just a few ambitious projects, a key driver of our success is our core working principles. These are our ways of working as we grind it out daily. They are what we come back to as the only constant that we hold ourselves to, especially given how volatile the external and internal environment can be.  
Every statement and word in this set of work principles took hours of discussion and debate across our team before it made it on paper. Further, we revisit our principles regularly to make sure they still reflect how we believe we need to work to deliver on our ambitious mission and mandate.  
As of the end of 2019, these are our seven principles: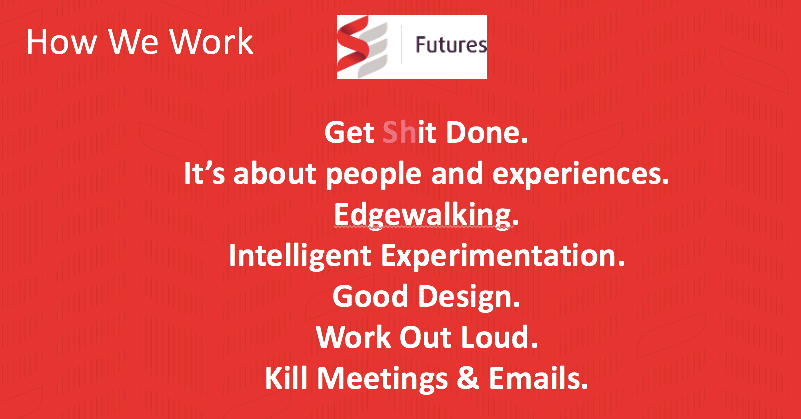 Here I unpack each principle to explain why and how it informs how we choose to work. 
Get Sh*t Done 
A strong bias to action is vital when the opportunities far exceed the explorative capacity of your team and organization. It is also vital when nearly every minute could easily be swallowed up by low value-add activities that seem useful or important at the time, but don't really advance the agenda. One way we have operationalized this principle is by running our projects on 30-day sprint cycles. We hold each other accountable to three to four milestones over each cycle via a wide-open monthly review of each sprint that any person in the organization is welcome to participate in.
It's about people and experiences
This principle reflects two foundations to how we work. The first is that everything we do is co-designed with the two key types of people at the heart of where value is created during healthcare experiences: the person-served (patients and their family caregivers, also sometimes called the "unit of care"), and frontline carers (nurses, physiotherapists, personal support workers, etc.). The second is that we are focused not on point solutions, but rather on creating new customer experiences that require new business models and new capabilities.
Edge walking
This principle reflects the tension of working with one foot in the future vision of the organization, and one foot in the current state reality. On the one hand, we need to shed legacy mindsets, ways of working, business models and policies in order to create the future our clients and staff need, want and expect. On the other hand, we can't realize the future vision at scale without the relationships and assets of today's system. Helen Bevan, Chief Transformation Officer of the National Health Service in England, gives many talks about how change agents operate as boundary between-walkers in that delicate space between old power and new power. See her brilliant schematic shown here.
Intelligent Experimentation
This principle reflects the emergent nature of our work. Because the scope of problems and opportunities are so complex and systemic, by default we only understand the challenge the more we try to solve it. Therefore, we take a laboratory approach to our work via iterative cycles of designing>testing>refining. The approach to this experimentation is deliberate – hence the qualifier of "intelligent". We take risks, but we are very careful stewards of resources in taking these risks, ensuring we are maximizing our ability to learn about what does and does not work, so the next cycle of designing and testing can be shorter, faster, smarter and lower cost.
Good Design
Our projects are focused on creating new experiences that include new human workflows, new processes, new mindsets and behaviours, new technologies, new data flows, and often, policy and payment changes. Each one of these changes needs good design to ensure the people who are involved in making the changes happen are having their functional, sociological and emotional needs and expectations met. Hence, human-centered design is the core methodology that we use to do our work.
Work Out Loud
The industrial era of healthcare has dominated operating models for the past 50+ years. As a result, nearly all organizations in healthcare have been optimized in to cones of expertise (a.k.a. "silos"), including silos of expertise within departments in health organizations. This work principle runs counterculture to a dominant paradigm of "not sharing" (and sometimes purposefully hiding) what your unit or organization is working on. Rather, we prefer to work out loud – being highly transparent internally and externally with what we are doing. This approach maximizes opportunities to get a wider set of fingerprints on our work, while also helping others connect dots between their initiatives and our work. Our hyper-communication entails activities such as consistently sharing our ideas on social media, our open bi-weekly innovation breakfast, being prolific in publications, media and speaking (TV, radio, blogs, podcasts, articles, our book, events, etc.), our bi-monthly newsletter, sharing what we read on Flipboard, and more.
Kill Meetings & Emails
This last working principle often makes colleagues uncomfortable. Killing emails was fairly easy because we exclusively use a collaboration platform (Slack) to communicate internally as a team, and we invite our collaborators to engage with us via Slack. We only use email when we have no other way to communicate, usually with people outside of our unit or company. Killing meetings is also relatively easy. We minimize our internal team meetings to one 60-minute tactical meeting each week, and one monthly project pipeline review meeting. Outside of our team, we are ruthless about our time – we try to restrict meetings to either 20-30 minutes for quick decisions, or 90+ minutes if a working session is needed (we are not fans of 45- or 60-minute time blocks for meetings). We try to ensure meetings are high performance: i.e., ensure there is an agenda, invite only the needed people, take detailed minutes, share minutes and action items right afterwards. 
Hopefully some of these principles validate your own approaches to your work trying to modernize and future-proof healthcare, or might even inspire you to shed legacy models of working and try something new in 2020.
By Zayna Khayat, Ph.D. – Future Strategist at SE Health (Saint Elizabeth Healthcare)
---
Want to hear more from Dr. Zayna Khayat? Check out her episode of the Healthcare Change Makers podcast, where she shares her work and life experience, her inspirations, and her thoughts on technology and the future of healthcare.