Summer Student Roundup!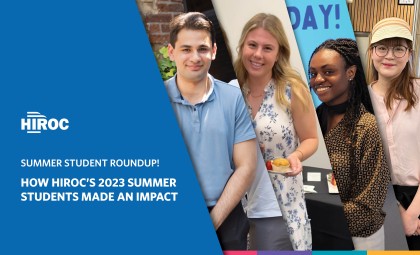 How HIROC's 2023 Summer Students Made an Impact
Welcome to our summer student roundup! Every summer at HIROC, we take on a group of post-secondary students from all over Canada, allowing them to get first-hand experience in a corporate environment.
In doing this, we hope to help them: cultivate and improve on skills, gain experience learning from industry experts, and make long-lasting connections all geared towards building their professional resumes. 
We also love to see what our students, each with their unique perspectives, bring to HIROC and our work.
"We are so fortunate to have gifted students join the team for the summer. Their energy, excitement and zest for learning really adds to our amazing culture," Catherine Gaulton, CEO, HIROC.
This year we had five new students join us in the office: 
Stephanie Koo, Jacob Saldanha, Madison Lovell, Alexandra Doane, and Ava Policicchio!
Let's get to know our students a bit better and hear about their experience this summer. 
What was your role at HIROC this summer?
Stephanie: I am the Human Resources Co-op Student. 
Jacob: I'm the Finance and Accounting Summer Student.
Madison: I was the Communications and Marketing Student, where I worked on creating content for our internal work community as well as our Subscribers. 
Alex: I was the Legal Summer Student at HIROC working with both the Legal Department and Healthcare Safety and Risk Management Team.
Ava: My role at HIROC was within the Insurance Services department where I supported the team in validating Subscriber data, completing third-party certificates, creating PowerPoint presentations and completing policy renewals. I have also been able to support the Claims department with some of their administrative requirements.
How did you adapt to the new working environment?
Stephanie: It wasn't too difficult for me to adapt to a new working environment because my previous work experience was very similar. I also quickly adapt myself in new work settings. One thing that helped me adapt was having an amazing supervisor, Caitlin Duncan, and the HR department. Their assistance has played a huge role in facilitating a smooth transition into the work environment.
Jacob: The people in my department made it easy to adapt to the new working environment, especially when it came to learning new systems and the different protocols.
Madison: Although I was nervous at first, everyone at HIROC was very welcoming as well as respectful of each other, which made it easier to get into the groove of things. They really succeed at fostering a culture of collaboration without sacrificing their individualism, which is seen in their work. My own department as well as many others, made the transition as smooth as possible for me with their patience and willingness to help when they could. 
Alex: I was able to adapt quickly to working within HIROC because everyone has been very welcoming and supportive. From my colleagues in the IT department, to HR, and then the individuals in the departments that I report to, I have always felt there was someone to answer any questions should they arise. 
Ava: HIROC was my first experience in a corporate office setting. I was very uncertain as to what to expect, however, I was immediately put at ease after meeting all the wonderful people both within my department and throughout the company.  Everyone has been so supportive and made me feel very much at home here at HIROC. 
What skills did you gain or were able to develop while working at HIROC?
Stephanie: During my time at HIROC, I had the opportunity to develop my communication skills, but particularly in the HR field. I was able to experience how to utilize the HRIS system. I was also able to develop my decision-making skills with recruitment. 
Jacob: I was able to improve on my Excel and organizational skills.
Madison: During my time at HIROC, I was able to improve on my research and writing skills through content writing which I'm excited to further implement within my own academic and professional spheres.
Alex: I have improved my research skills given the nature of the work, which is useful for any future career. As well, I have been able to enhance my communication skills by developing my ability to pose more thoughtful and effective questions. 
Ava: My time at HIROC has been a wonderful learning experience in many areas. Maneuvering through a day that involves a variety of tasks and communication channels has certainly enhanced my ability to prioritize and manage several different work packages. I have also learned new systems. I was also able to further develop my Excel skills, which will definitely help in future school assignments!
Share one or two things that you've learned during your time with HIROC?
Stephanie: I learned a lot during my time at HIROC, but I would say the most important thing I learned is the importance of collaboration and teamwork, working on a team that is supportive, and lends a helping hand, makes a world of a difference in how efficiently we can get things done. 
Jacob: Being at HIROC helped me learn, understand and utilize different finance systems.
Madison: Being at HIROC helped me better learn to self-advocate for help with tasks, grow my confidence with my work and also to never underestimate, the importance of a good team. 
Alex: I have learned about civil procedure, as well as the scope and importance of risk management within healthcare. 
Ava: In addition to all of the learning I gained while supporting Insurance Services, I have also learned so much about insurance, healthcare and the nature of a reciprocal. Participating in the HIROC U learning sessions and the staff meetings taught me a great deal about the structure and various facets of a corporate environment as well as insurance and the important work we do at HIROC to support the healthcare system.
Lastly, do you have any words of wisdom for future summer students?
Stephanie: Learn to trust the process.
Jacob: It's always a good idea to listen, learn and participate when you can as HIROC has a great work culture.
Madison: Always ask for help when you need it and take things one step at a time.
Alex: My advice would be to get involved with any project opportunities that are presented to you as it may become a very valuable learning experience. As well, I would recommend working with as many different people as possible and asking questions consistently so that the experience is maximized.  
Ava: My words of wisdom to future summer students would be to absorb all the training and learning HIROC has to offer and that includes not being afraid to ask questions and to enjoy the experience with such a supportive team of people here at HIROC!
At HIROC, our priority is cultivating a healthy and growth-oriented environment where our employees can thrive. We hope that your summer with HIROC was an informative and fulfilling experience, and we wish you good luck in all your academic and professional endeavors!