"Success through synergy"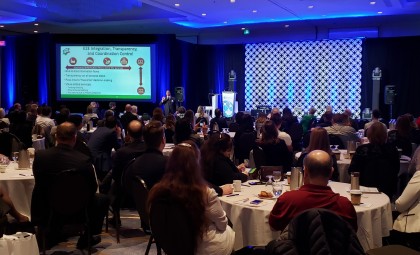 Automation, robotics, blockchain, drone delivery, cloud computing – the amount of technological change taking place right now in the supply chain field is enough to make your head spin.
At the 2019 National Healthcare Supply Chain Conference, delegates came together to bring clarity to this fast-moving field. This year I had the pleasure of connecting with hundreds of supply chain, insurance and healthcare professionals – to hear about how they're handling these rapid shifts.
Partnerships are critical to HIROC's model, so the opportunity to support this conference, connect with subscribers and non-subscribers alike, learn and spread that learning was not only inspiring but also rooted in our organization's priorities.
Here are some of the top themes from this year's conference:
A tsunami of new technology
The conference's opened with an engaging and insightful keynote by Dr. Randy Bradley, Assistant Professor of Information Systems and Supply Chain Management at the University of Tennessee, who spoke about the "tsunami of new technology" coming toward supply chain professionals.
Included in this wave are things like blockchain technology, which can improve procurement and other business transactions, and drones, the use of which to deliver medical products from warehouses directly to hospitals is feasible in the very near future.
Dr. Bradley believes that with all this new technology coming down the pipeline, there will be an increased desire and need for accurate information at critical times. Healthcare professionals and patients demanding greater communications and responsiveness is the best expression of this problem.
Dr. Bradley recommends that healthcare organizations and their suppliers increase their focus on information technology (IT) for "facilitating the nexus of cost, quality and ultimately healthcare outcomes." Since IT professionals deal in technology every day, Dr. Bradley believes they'd be most effective in promoting a consistent exchange of valuable information.
AI on the brain
Possible uses of artificial intelligence (AI) remains at the forefront of healthcare's front lines and the supply chain. At the conference, Lydia Lee (Partner and National Digital Health Lead at KPMG), Karen Belaire (President and CEO of Shared Services West), and Anya Todic(Project Manager of Supply Chain Optimization at Shared Services West), hosted an excellent discussion on understanding how AI will impact healthcare procurement and create value for patients and hospitals.
In hospitals across Ontario, AI has already been implemented in some form, and the results have been encouraging. Processes that would've otherwise taken twice as long have been shortened and improved by providing AI systems with accurate patient data. The progress stemming from AI fields such as Natural Language Processing (NLP), machine learning, and robotics are just some of the many ways AI is changing our healthcare landscape and providing value for organizations and patients alike. According to the panellists, if healthcare organizations are to continue to foster innovation and develop patient-focused systems, they must make AI technology part of their overall business strategy.
At an event earlier this year, Brian Hodges, Executive-Vice President of Education and Chief Medical Officer at the UHN shed light on the future for humans in an AI world. Read this article to learn how healthcare professionals can work with AI as new methods and technology emerge.
Making effective strategic partnerships
On the second day of the conference, Shahbaz Haque, Director of Insurance Services at HIROC, presented a concurrent session on the state of healthcare organizations in Canada. Haque highlighted the need for new partnerships that can link the supply chain, guided by the Risk Approach to Decision-Making.
Effective strategic partnerships are essential to any healthcare organization, so it was vital that the session examined real-world case studies that demonstrate where the Risk Approach system would be most effective. Haque recommends that an organization consider risk factors early on when evaluating a new opportunity.
For example, if a Canadian healthcare organization wants to enter into a partnership across the border or overseas, it should first qualify the benefits of doing so, identify the possible risks involved, mitigate those risks, and then revisit their cost-benefit analysis before moving forward.
"By looking at the calls I receive day-to-day, conversations within the healthcare industry are continuing to change, with a greater focus on evaluating risk factors and looking for appropriate coverage," said Haque. "You don't want to be in a situation where you regret your decision. You want to be in a position where you're prepared for associated risks."
If your organization is interested in taking a more in-depth look at risk, visit our Risk Management page to learn how we can partner with you. For more information on the Healthcare Supply Chain Network, please visit www.hscn.org.
Marc Aiello, Communications and Marketing Coordinator, HIROC