Subscriber Exclusive: Risk Register Office Hours from HIROC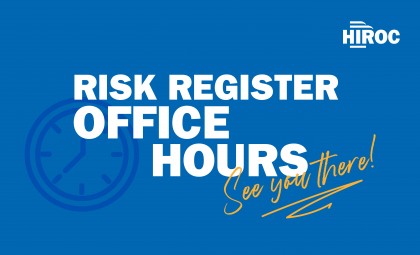 Sign-Up for Risk Register Office Hours Today!
A Q&A with HIROC's Risk Management Coordinator Nadia Andani
We value you as a Subscriber, and being part of our community. We're always here to answer your questions about all things healthcare safety as well helping you tap into our many valuable resources, such as the Risk Register tool, and to help do this, we are offering Risk Register Office Hours.
We caught up with Nadia Andani, a Risk Management Coordinator at HIROC, who provided a sneak preview of what Subscribers can expect during the "Risk Register Office Hours" sessions.
HIROC: What is the Risk Register?
Nadia: The Risk Register is a web-based application that supports your organization's Integrated Risk Management (IRM) efforts and initiatives. It is used to manage, track, and report key organizational risks.
It is a secure and confidential system, available to all HIROC Subscribers. The tool enables one or more users to contribute and collaborate towards tracking key organizational risks, and allows users to perform an aggregate analysis of their self-identified top risks.
HIROC: How does it help Subscribers?
Nadia: The Risk Register assists Subscribers to advance their integrated risk management program. The tool provides Subscribers with a centralized repository system to create and maintain in-depth, longitudinal records for each risk, and to collate these records into easy to-to-use reports, dashboards. 
In the end, the Risk Register helps Subscribers in making key decisions that support safety at their organization.
The Risk Register data supports HIROC's annual Top Healthcare Risk Report, which includes risk trends spanning across healthcare sectors, provinces, and territories. 
HIROC: What can Subscribers expect during the Office Hours session?
Nadia: During these drop-in sessions, 45 minutes in length, a demonstration will be provided walking Subscribers through the tool; focusing on how to enter risks and how to leverage various features in the Risk Register—the use of actions, progress notes, linking documents, and reports.
Most importantly, the sessions will be tailored based on the needs of the attendees; there will be opportunity for Subscribers to pose questions, and also hear from fellow Subscribers—what works for them and more!
HIROC: Why is it important for the healthcare risk community to share knowledge and best practices?
Nadia: HIROC Subscribers are leaders in risk and safety, by sharing with and learning from others, it doesn't only allow them to advance their safety and risk efforts, but enables their peers—and our healthcare system—to improve. 
Being part of the Risk Register community and attending the Office Hours provides the opportunity to leverage the knowledge of the collective, and have the ability to raise awareness of specific or unique risks.
Want to learn more about HIROC's Risk Register Tool? Reach out to us at riskmanagement@hiroc.com.
Don't forget to connect with us on Twitter, LinkedIn, and Instagram; sign up for our newsletter if you haven't already by entering your email address below in the Newsletter Sign-up box!