Staff Pick: Risk Notes on Construction, Non-Owned Auto, and Contracts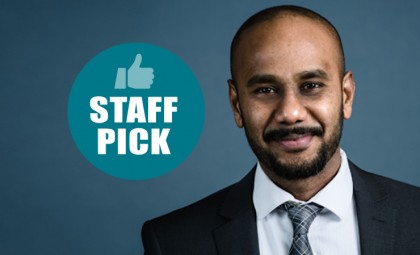 HIROC's Jey Sivaprasad shares a few of his most-recommended Risk Notes. 
Role at HIROC...
I am a Senior Account Executive at HIROC Insurance Services. My main function is to look after the insurance needs of our subscribers. My role could be as simple as responding to a coverage inquiry, finding an insurance solution for a new risk that our subscribers may be taking on, or negotiating renewal terms and conditions on behalf of our subscribers with our insuring partners.
Has been at HIROC since...
June 2018. I am not sugarcoating it when I say this but HIROC really is a wonderful place to work. I have worked at some very nice organizations but HIROC has been, by far, the best. The people, culture, and work environment are all superb. It is a cohesive group of people, driven by a common goal – we work with our subscribers to make a positive impact in healthcare. 
Best part of the job...
There are quite a few things that I can note here but I think finding insurance solutions for our subscribers may be the best part for me. It might sound simple but this is the core of what we do as Brokers (Account Executives), and when I can do this efficiently and cost-effectively for our subscribers, it feels good.  
---
One set of resources Jey recommends to subscribers is HIROC's Risk Note collection, particularly those under the Finance and Insurance category. Risk Notes can be accessed and filtered by category under the Resources library on HIROC.com. 
What are HIROC's Risk Notes?
Risk Notes are brief, informative documents on some of the risks that our subscribers may absorb as part of fulfilling their organizations' goals and objectives. These risks can come in many different forms (i.e. managing claims, building new treatment facilities, communicating through social media). HIROC has developed Risk Notes to assist subscribers in understanding and mitigating the losses stemming from these activities. 
Usually Risk Notes will provide an overview of the topic, the general risks associated with it, and how to best manage it so chances of a loss or claim are reduced.  
When would you recommend…
This one is great for subscribers whose staff, board members, or volunteers are using their personal vehicle for work-related activities. Although the vehicle owner's policy will be the one to respond in the event of a vehicle accident, the organization may be found legally liable for the automobile accident.
This Note provides our subscribers with an overview of the coverage, how it works in the event of an automobile incident, and who needs such coverage.
Many of our subscribers are expanding and adding new facilities or completing major renovations to existing facilities. Insurance around construction activities can be confusing as there are many parties involved with a project (Owner, General Contractors, Architects, Engineers, etc.) A simple oversight at a construction site can lead to costly claims. Not only that, but construction sites can also be susceptible to theft and vandalism. 
Construction Insurance is one way to ensure you protect your organization from these types of perils. The Construction Insurance Risk Note provides an overview of the key insurance components to consider and address when starting a construction project, such as knowing who is responsible for insuring the project, and the key coverages to consider. 
I recommend it anytime a subscriber is in the process of leasing a new space, or in the process of renewing or renegotiating an existing lease – as a landlord or as a tenant. A landlord-tenant lease agreement has many components to it and it should be read and understood carefully by both parties before agreeing to terms and conditions. A clearly written and agreed-upon lease agreement will ensure a smoother landlord tenant relationship. 
The Commercial Lease Agreement Risk Note provides subscribers with insights into key common provisions they will find in a commercial lease. The Note also defines the responsibilities between the tenant and landlord with respect to the use of property, maintenance, safety and security, and insurance. 
Why are these topics particularly relevant to healthcare organizations today? 
In my experience, most healthcare organizations run into one or more of these situations at some point in their existence. We're seeing a lot of major renovation projects being carried out by our subscribers to replace old and outdated infrastructure. If it's a leased space, we're seeing organizations move into a new space to avoid old and outdated spaces altogether. Being familiar with these topics will help our subscribers better align themselves to mitigate risks associated with these situations. 
Most of our subscribers find Risk Notes very helpful. The one on non-owned automobile coverage in particular came in very useful for one of our organizations recently. 
This organization had one of their employees frequently using his vehicle to transport small medical equipment from one location to another. Our subscriber did not know what impact it would have on insurance or who would be responsible if an accident were to occur during the transport. We referred the subscriber to the Non-Owned Auto Risk Note. Although they still had a few questions to go over with me, the subscriber felt it was extremely helpful in providing their organization with an understanding of what their risk is and what needs to be addressed in order to mitigate it. 
In these types of situations, Risk Notes definitely help our team provide the most accurate and concise response to queries and give subscribers an overview of the risks. From there we are able to have a larger conversation about risks and coverages when our subscribers need it. For our team it's all about being proactive and making sure the awareness is there.
---
Jey Sivaprasad is a Senior Account Executive with HIROC's Insurance Services team. Jey can be reached at jsivaprasad@hiroc.com.