Staff Pick: Multi-Patient Lookback and Notification Guide for Health Alerts, Advisories and Recalls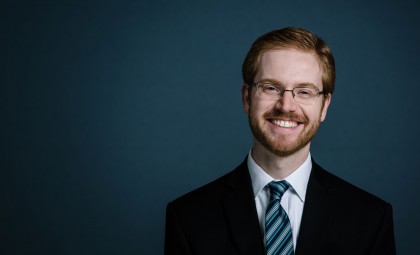 June 5, 2019
Role at HIROC: As Legal Counsel for HIROC, most of my time is spent defending subscribers in civil lawsuits (often for medical malpractice, but also in other lawsuits like slip and falls). I also spend time responding to general queries from subscribers about day-to-day issues that arise. For example, a hospital may call me if there's uncertainty about who the correct substitute decision maker is for a patient.
Has been at HIROC since: 2013.
Best part of the job: The most rewarding part of my job is helping subscribers deal with difficult situations related to patients as they do their best to provide quality, safe care. The highlight of most of my time working is the people that I work with. We have great people in the Legal Department and more broadly at HIROC, and they are a huge part of what makes this a great job.
One resource Jonathan recommends to subscribers is HIROC's Multi-Patient Lookback and Notification Guide for Health Alerts, Advisories and Recalls. Here's what Jonathan had to say about his Staff Pick.
HIROC and Borden Ladner Gervais LLP (BLG) received a number of very similar queries over the years related to how to respond to alerts, advisories and recalls of various products. In particular, the queries concerned whether patients needed to be notified of the alert, advisory or recall by subscribers, and if they did, how that notification process should occur.
A lot of the advice being given was the same. So the purpose of the Guide was to package the general advice into a form that we could provide to all subscribers and help build their capacity to respond to alerts, advisories and recalls.
The thought behind the Guide was that it would help subscribers use a similar approach to these situations (it helps if there's a consistent response across organizations) and make the process of responding to an alert, advisory or recall more efficient, because that process wouldn't require as much consultation with HIROC or BLG.
Of course, HIROC is still available as a resource to assist when subscribers have questions.
The Guide would be most effective in the hands of subscriber staff who deal with deciding how to respond to an alert, advisory or recall. Often this will include risk management staff, but there are a number of others who may be involved.
One of the recommendations in the Guide is that each organization have a designated person or department who is responsible for ensuring that an internal team evaluates whether notification is required. Those people may find this useful, particularly if this is a new situation for them and/or the organization is changing its process for how it responds to alerts, advisories or recalls.
Examples of when this Guide would most useful are when a subscriber receives a Health Canada alert about a piece of equipment used (such as a heater-cooler device) or a manufacturer's recall notice regarding an implant.
Those who are interested in the Lookback Guide's subject matter would be interested in HIROC's Critical Incidents & Multi-Patient Events Risk Resource Guide. It's a significantly larger resource, which addresses responding to critical incidents more generally and multi-patient events stemming from different causes, such as infectious disease outbreaks, sterilization failures, diagnostic errors and privacy breaches.
If you have questions about HIROC's Multi-Patient Lookback and Notification Guide for Health Alerts, Advisories and Recalls, please contact our team at riskmanagement@hiroc.com.
Jonathan Gutman is Legal Counsel at HIROC.