Spot It. Prevent It!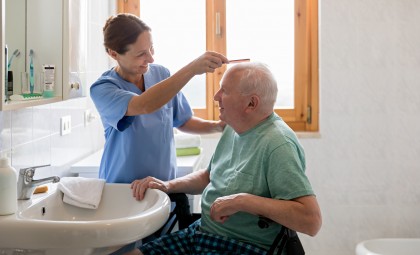 Creating a positive safety culture at VHA Home HealthCare 
For Personal Support Workers (PSWs) caring for clients in the home, the work can at times be isolating. Delivering care within the four walls of clients' homes can leave providers vulnerable in a number of ways – one of those ways is provider abuse. 
In recent years, cases of abuse towards home care providers have been on the rise; and not all incidents are reported. The team at VHA Home HealthCare recognized their responsibility to step in and promote a safe work environment. "You need to build trust and say, 'It's okay. It happened. And, we know it's not your fault'," said Sandra McKay, Director of Research at VHA Home HealthCare. 
This became the focus of VHA's Spot it. Prevent it! awareness campaign, part of a larger project which received a 2018/19 HIROC Safety Grant. 
Provider Abuse
McKay says abuse tends to stem from the number of individuals in home care with behavior issues related to cognitive impairments, known as responsive behaviours. The project was launched to reduce incidents of workplace violence in the home. It also aimed to decrease the perception of risk that comes with caring for clients with cognitive impairments who may exhibit responsive behaviours.  
Responsive behaviours, such as hitting, cursing, and biting, are some of the challenges PSWs may experience in the home. These behaviours are often a response to something in the personal, social or physical environment of a client with dementia, mental health, substance use and/or other neurological disorders. 
McKay and her team also understand that VHA's PSW workforce is largely made up of racialized minorities. "We know from the literature that vulnerable minorities are reluctant to speak up when they believe there may be an impact to their employment, to their status within the organization, and if it's unclear what will happen." 
The Spot it. Prevent it! Campaign
VHA's project was split into two parts, targeting PSWs and their supervisors. It integrated education on best practices and de-escalation strategies for mitigating risk. And for incidents that do take place, it provided tactics such as a rapid-response algorithm to visualize the reporting process, videos, posters, policy updates, ethics education sessions, and integration into new-hire orientation sessions.
The campaign by McKay and the team communicated the message that when PSWs and supervisors report an incident, these are the steps that you can expect the organization to take – it was about clarity. "That clarity provides a level of comfort to people and it allows them to make decisions based on the available information." 
VHA monitored the campaign through a survey to providers and supervisors. They saw an overwhelming response rate – an indication to the research team that they were speaking about something that is really important to PSWs. 
VHA also received buy-in from supervisors, who met once a month with the research team to provide an update on individual cases that had occurred and where they had used the algorithm to support staff. "We developed a much closer relationship with the teams," said McKay, who expressed the importance of creating a positive safety culture.
McKay emphasized the fact that the project wasn't inspired or developed in a vacuum. A great deal of support came from VHA's work with client partners –  clients and their caregivers who work with VHA on a variety of initiatives and have first-hand experience with home care. 
For McKay and her team, the campaign's message of trust and open communication was incredibly powerful and is something that carries through into their work today. The impact it has had on VHA's culture is a reminder for everyone involved of the responsibility to speak up and put safety first. 
By Michelle Holden, Lead, Communications & Marketing, HIROC 
---
This story was originally published with a collection of safety grants stories in the The HIROC Connection, Fall 2020.