Speak the Change You Want to See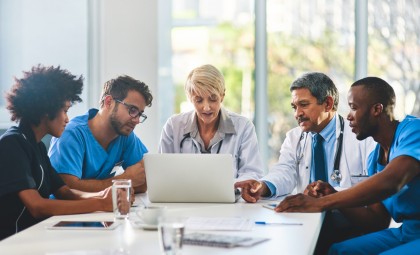 On January 22, 2020, Choosing Wisely Canada (CWC) hosted a webinar showcasing the incredible work Sunnybrook Health Sciences Centre and Cornwall Community Hospital did to become more resource-efficient.
Choosing Wisely Canada, like HIROC, is an organization dedicated to sharing knowledge and educating healthcare professionals nationwide. A big part of their mission is to support Canadian hospitals transform their working cultures to reduce unnecessary tests and treatments.
According to a 2017 CWC and Canadian Institute for Health Information report, up to 30 per cent of tests, treatments and procedures in Canada are potentially unnecessary, and each year, Canadians have over one million potentially unnecessary medical tests and treatments.
To join the CWC movement, hospitals must implement the recommendations found in CWC's entrant resource – Diving into Overuse in Hospitals: A Starter Kit for Reducing Unnecessary Tests and Treatments, developed with support from the Ontario Hospital Association (OHA) and Ontario Health (Quality) ( formerly Health Quality Ontario). Currently, 25 hospitals nationwide have or are in the process of receiving a Level 1, 2 or 3 designation.
In May 2019, Cornwall Community Hospital became the first hospital in Canada to be designated as "Level 1" by Choosing Wisely Canada. For Dr. Lorne Scharf, Chief of Staff at Cornwall, this achievement stemmed from an organization-wide culture shift, with an emphasis on communication around quality of care
"The perspective I took with implementing Choosing Wisely was that it was a change management project," said Dr. Scharf. "I thought about how to launch it as an exercise in changing how we think about things."
Dr. Scharf's strategic direction for the hospital involved a year-long campaign to promote the CWC philosophy by having a conversation about it at every meeting he attended, including meetings with Cornwall's Board of Directors. As soon as Dr. Scharf saw a chance to apply for a Level 1 CWC designation, he took it and celebrated this short-term win by publicizing it with press releases and good news stories, creating a positive influence on medical leadership within the hospital.
When he stepped into his role six years ago, Dr. Scharf's personal goal was to orient Cornwall staff toward quality of care and establish accountability and a feeling of obligation. In the spirit of that goal, Dr. Scharf and his team continue to work toward a higher designation by applying strategies to amplify internal CWC promoters, such as requesting all department chiefs include a CWC discussion at departmental meetings.
At Sunnybrook, their main strategy was centred on promoting cultural change and engaging staff at all levels. This involved engaging clinical champions and creating internal educational campaigns with the help of their communications team. With this strategy, Sunnybrook became the first hospital in Canada to receive a "Level 3" designation in May 2019 because the concept of resource stewardship is baked into their culture.
"I believe every single instance where we've been successful, one key ingredient has to happen, there has to be a lead role for grassroots," said Dr. Andy Smith, President and CEO of Sunnybrook. "Change has to be an organizational priority bottom-up and top-down."
Before CWC gained momentum and popularity as a brand, Sunnybrook had already begun incorporating aspects of resource-efficiency into their processes and saw a high level of engagement from clinicians. In 2016, they established a hospital committee responsible for oversight and decision support in ensuring resource stewardship. But to continue to move things forward, they knew forming partnerships from both clinical and operational leadership was crucial.
"Having better data capturing, decision support, and communications at the table was really instrumental in being successful in making Choosing Wisely an organizational priority," said Dr. Adina Weinerman, General Internist and Medical Director, Quality and Patient Safety at Sunnybrook. "Engaging communications helped set the right tone in convincing staff that overuse was a problem."
One of the ways Sunnybrook's committee convinced staff to change was to complete smaller, more attainable CWC projects first and build a foundation to tackle more significant problems in the future. An example of this is their educational campaign to reduce the overuse of catheter lumens during treatment, teaching staff what the harm and risks were for choosing a double lumen PICC line. Senior management noticed that frontline staff had become accustomed to using two lumens over the years when in practice, one lumen would be more effective, evidence-based, and resource-efficient.
"Communications posted infographics on our hospital's intranet to get the word out and update people from all levels of staff on what the new practice was moving forward," said Dr. Weinerman. "The campaign was called 'One lumen is better than two,' and after it was over, we saw a significant drop in resource uses."
Congratulations to Cornwall and Sunnybrook, and to all HIROC subscribers who are on a journey with CWC. We applaud your efforts in driving change through engaging communications with your teams. 
If your hospital is interested in receiving a Choosing Wisely Canada designation, head over to their website and download the Diving into Overuse in Hospitals Starter Kit and begin tackling overuse and unnecessary treatments today.

By Marc Aiello, Communications and Marketing Coordinator, HIROC