Simple Steps to Advance Safety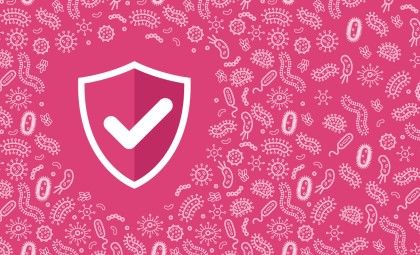 At HIROC, we believe that our healthcare community should continue to share successes and learn from the programs, strategies, and projects that have made a positive impact to truly move the dial on patient safety. That's why we are thrilled to present to you the initiative below from our Subscribers at Hamilton Health Sciences' McMaster Children's Hospital (MCH), who utilized a simple yet innovative approach to promote safety at their organization. If your organization has a safety story to share with HIROC, please connect with us at communications@hiroc.com.
The pediatric surgery unit at Hamilton Health Sciences' McMaster Children's Hospital (MCH) significantly advanced patient safety during the pandemic, reaching 1106 days without any patient acquiring a central line infection – that's three years! The team's 'bundle' approach to care made this achievement possible.
Central line infections, which can lead to serious complications, are one of the preventable causes of harm that can occur in hospital. Fortunately, such infections are rare. During the stretch of infection-free days, there were approximately 3500 "line days." A "line day" counts each patient with one or more lines in place at midnight each day.
Central lines are similar to an intravenous (IV) line. However, they are much longer than a regular IV and they are inserted into bigger, deeper veins that lead close to the heart. They are used with both adult and pediatric patients who have conditions that require large amounts of medicine, fluids, blood or nutrition, or require specialized IV treatments that must be given over several weeks or months. For these patients, a regular IV would not be suitable for their needs.
Working to Eliminate All Hospital-Acquired Harm
As part of MCH's partnership with Solutions for Patient Safety (SPS), the pediatric surgery unit has been actively working at eliminating all hospital-acquired harm to create a zero-harm environment. Metrics are reported both corporately, to Hamilton Health Sciences' Hospital Harm Steering Committee, and also to SPS. This accountability ensures that initiatives are not simply checked off and forgotten.
The teams at MCH started by first collecting and submitting data to SPS, analyzing the factors that may influence central line infections and then implementing a bundle of care aimed at eliminating risk. Since central lines are in large veins and are needed for long periods of time, an infection in these lines can be life-threatening for patients.
The bundle to prevent these complications included interventions when lines are inserted and also interventions when lines are being cared and maintained on a daily basis.
Bundle steps include:
hand hygiene
skin prep
using sterile procedure and using a safety checklist when inserting
teams reviewing the need daily
using standard dressings and scrubbing the hub prior to use
reviewing all central line infections (when they do happen) with the team to understand and learn about any additional opportunities to strengthen the bundle and sharing these findings with teams 
"We know over time, staff require additional refreshers about the bundle and any changes, especially if and when other priorities emerge," says Denise Johnson, manager of patient safety for McMaster Children's Hospital.
"However, at MCH we are committed to becoming a high-reliability organization and the constant drumbeat of monitoring and reviewing both adherence and infections in real-time supports our mission. This has been a huge undertaking for our teams and leaders across all of MCH and could not have been achieved without the commitment of our leaders, educators and frontline staff."
Process Observation Leads to Remarkable Achievement
Through process observations, the team ensures adherence to these bundle items on an ongoing basis.
"We know there is still more work to do, but 1106 days is certainly a remarkable achievement that sets our pediatric surgery unit apart as leaders in this work," says Johnson.
Looking for risk resources on Healthcare Associated Infections? You can find that and more under the Resources section of our website. If you have any questions about this article or if you're interested in sharing a safety story from your organization with HIROC, please connect with us at communications@hiroc.com.