Service First in Action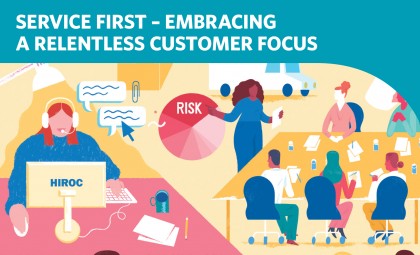 In alignment with our new Strategic Plan, HIROC is proud to announce the launch of our Customer Advisory Council, designed to help us turn the corner on patient safety.
One of the key priorities from our Strategic Plan is Service First – Embracing a Relentless Customer Focus.
To put service first in action, we plan on tapping into the experience and expertise of you, our valued Subscribers.
Our CEO, Catherine Gaulton, said it best last week at our AGM, "Our strategic plan puts people at the centre. It's about you, your teams, those you serve, and of course, the many stakeholders who help to positively impact the healthcare system." 
With Subscribers at the centre, we're well aware you can help provide strategic input and help us act on our promise to you.
HIROC's Customer Advisory Council will allow us to hear your thoughts, ideas, questions and concerns. But most importantly, this newly created council will help support HIROC's customer success strategy – being tasked with product and service testing, as well as providing recommendations.
Stay tuned for details on how you can help us take action on driving service excellence for HIROC's 600+ Subscribers.
Application details will be announced soon.