Retirement of Heather Brown, HIROC's Vice President of Insurance Services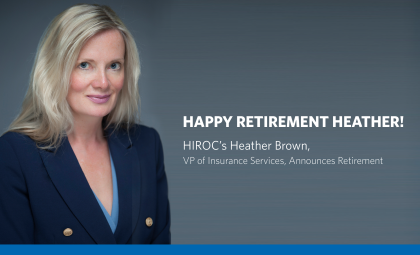 Heather Brown, our dedicated colleague, who helped shape HIROC's foundation and long-standing traditions, will be retiring effective September 29, 2023.  
Heather has been with HIROC since 1990, starting in the Underwriting and Client Services Department. She was the Manager, Insurance Operations for many years before becoming Vice President, Insurance Services, and Managing Director of our Brokerage. Heather has been in these roles for over 10 years.
During her 33 years at HIROC, Heather has provided a wealth of information and experience. Heather's focus on knowledge sharing, mentorship, and guidance has allowed the growth and development of her team – a team which we know will continue to put Subscribers first. 
We are extremely privileged to have had Heather represent HIROC over the years.
Please join us in wishing Heather a happy retirement.
Catherine Gaulton
CEO, HIROC