Resilience Takes Centre Stage at HIROC & FM Global Event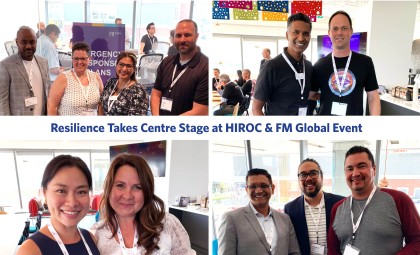 HIROC was thrilled to team up with our partners at FM Global recently to host Subscribers for a hands-on learning day.
The Resilience On Tour event had Subscribers spending the entire day learning how to take proper precautions to protect their healthcare facilities from losses related to liquid leaks, fires, and other property-related incidents.
Participants also had exclusive access to explore FM Global's SimZone truck, which featured an interactive miniature flood table, fire sprinkler testing systems, multiple shutoff valve demonstrations, an interactive map, and so much more!
"The design of the day was fun and informative, that covered key areas. It was also nice to meet with other colleagues from different hospitals, to share ideas and information on challenges and solutions," said Hajnalka Risebrough, Director, Facilities Management & Biomedical Engineering, Brightshores Health Systems, and one of the event's attendees.
"Seeing the Subscribers collaborate and exchange contact information made this event so special!" added Jean Asuncion, HIROC's Engineering Liaison. "A big shout out to our partners at FM Global and all those who participated in the day."
Here are four key takeaways from the event that will help your healthcare organization better protect its facility:
1) Create and Practice an Emergency Response Plan
Help minimize disruptions and ensure staff and patient safety by taking time to develop a comprehensive emergency response plan (ERP). Practicing your ERP is essential to ensure staff are familiar with their roles and responsibilities, allowing for a more efficient response in an emergency.
Whether you're planning for flooding, water leakage, snow build-up, or wind emergencies, HIROC and FM Global have you covered with templates to help you create yours:
2) Water and Sewage Damage is the Leading Cause of Property Losses by Frequency and Costs
With water leakage being the leading cause of property losses, healthcare facilities should implement regular inspections and maintenance of their plumbing and fire prevention systems. When possible, they should also install water leak detection systems and educate their staff on how to quickly respond to leaks.
A water leakage response plan should be developed for each facility to provide site personnel with a detailed overview of actions to take before, during, and after a water leak.
Check out the Property Loss Prevention Manual for more information.
3) A Hot Work Management Program is Essential
A hot work management program helps prevent fires and accidents caused by activities like welding, cutting, and grinding that generate sparks and high temperatures. FM Global's Hot Work Permit System includes key steps such as the "35-foot rule," guidance for fire watch, what's considered verified fire protection, and much more.
Find a sample copy of the permit system in the Property Loss Prevention manual.
4) Reach Out to the Experts Before an Adverse Event Occurs
HIROC and FM Global experts are your best asset when trying to mitigate your property risks. Our insights can help healthcare facilities proactively identify potential vulnerabilities, develop effective ERPs, and implement preventive measures that will strengthen your preparation.
If you have any questions or concerns, please don't hesitate to email us at inquiries@hiroc.com – we are here to help!
---
Should you have any further questions or need support from a property perspective, please do not hesitate to reach out to Jean Asuncion, HIROC's Engineering Liaison at jasuncion@hiroc.com.