Reconnecting With Dr. Michael Gardam on Improving Healthcare With Systems of Engagement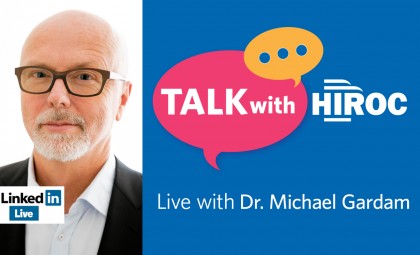 Discussing some of the biggest healthcare system changes (and lessons learned) from COVID-19's first wave
On a recent Talk with HIROC episode, we spoke to Dr. Michael Gardam, Senior Medical Advisor to the CEO of Health PEI on systems engagement and an expert in infectious disease, complexity science and safety.
The episode was steered by HIROC's Trevor Hall, Vice President, Healthcare Safety and Risk Management. Trevor started things off by asking Dr. Gardam one very simple and relevant question: what takeaways from the first wave of the COVID-19 pandemic can Canadians action now?
Gardam shared how during the first wave, medical professionals tried so many things to help: from the variety of different PPEs available, scaling back the healthcare system, and implementing all of the public health measures available, like physical distancing and wearing masks.
Missed the talk? Watch it now!
Dr. Gardam added that with Canada's healthcare system being so conservative, risk-averse and not bringing about a lot of changes too quickly, it's therefore also not very experimental. However, when the pandemic came with such a strong force, there was a huge push towards virtual care, and almost overnight it was being used almost everywhere. This action moved the Canadian healthcare system ahead, perhaps 10 years, whereas before it was almost unheard of. 
The concept of partnership was the next big change that Dr. Gardam shared with the Talk with HIROC audience.
Healthcare systems are often seen as working in silos – hospitals, long-term care, and community care partners all working on their own. With the outbreaks, especially in long-term care homes, there was a vast change in how the different systems work together. Without the pandemic, Gardam added, this would have never happened. The big question, however, is whether it will stay this way or if things will eventually go back to how they were. 
On what recovery for Canada's healthcare system will look like going forward: 
"We have at least 2-years of catch-up before we can start looking at the pandemic from the rear-view mirror.
There's an enormous pressure to the system to do things differently if we want to move forward. It's a real opportunity for Canada to shake off a lot of shackles and innovate, or an opportunity for us to get bogged down. I hope we can really push things off for the former."
On what positive things have been learned during the first wave of the pandemic:
"From knowing that control measures work, to ensuring that PPE supplies are available for frontline healthcare workers, because when they aren't available, that's when they can get sick are essential. Keeping people off ventilators, and using various treatments, can provide real benefits to people who become sick"
Dr. Michael Gardam truly believes that we're in a better place, and we have to all reflect on that, be thankful and learn more as we go on. Going into the second wave, this is all hopeful news. 
Want to check out more episodes from the series?
Just head on over to HIROC's LinkedIn page and you'll find all the episodes under the "video" tab as well as in our feed.
While you're there, don't forget to click the "follow" button so you'll always be in the know when new episodes air.
Some of the topics we've featured so far include:
Innovation
Insurance
Human factors
Claims and legal perspective
Communication and media relations
Truly something for all of our viewers – and we're excited to bring you more unique topics and engaging guests over the coming weeks.