Recognizing Patient Deterioration at the Bedside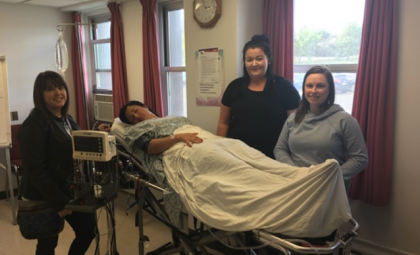 The successful implementation of an Early Warning Score at Central Health
The HIROC Safety Grants 2020 program is now accepting applications until September 30, 2020. Apply for a safety grant today! 
When Michelle Hoffe and her team at Central Health in Newfoundland recognized a rise in patient deterioration, it became clear that issues were not being detected early enough. 
Hoffe and her team immediately started thinking outside the box. In that way, they function like a startup – focusing on what they can change, and tapping into the expertise of partner organizations like HIROC and CIHI. 
In 2016, as Clinical Patient Safety Coordinator, Hoffe jumped into research and created a plan to develop an early warning score and escalation system at Central Newfoundland Regional Health Centre's Medical Unit. 
In 2018 Central Health was one of six healthcare organizations to receive a HIROC Safety Grant in its inaugural year. The grant assisted Central Health in integrating an Early Warning Score (EWS) with their Meditech Electronic Health Record system, purchasing equipment and developing education for unit staff.
Tapping into Peer Experience
Hoffe says one of the team's challenges was mimicking the UK's paper-based early warning score in their Meditech system – she knew there had to be a better way. Hoffe came across the work of Dr. Alison Fox-Robichaud, Director of Medical Education at Hamilton Health Sciences. 
"We were almost building the exact same thing," said Hoffe, who connected early on with Dr. Fox-Robichaud.
Hamilton has since modified the national early warning score to suit their needs – creating the Hamilton Early Warning Score (HEWS). Hamilton has also implemented alarm triggering on mobile devices, alerting providers in real-time.
"I am pleased to see that early warning scores, such are HEWS, are being spread within Canada," said Dr. Fox-Robichaud. "The goal of reducing in-hospital cardiac arrests and improving early recognition of clinical deterioration should be standard of care."
Hoffe credits the ingenuity of Dr. Fox-Robichaud's team and their advanced technology with keeping Central Health on their toes. "It helps us to have a vision of where we need to get to and to keep fighting for it."
"When our Subscribers lean on each other and share knowledge to advance patient safety in their own organizations, it is inspiring and speaks directly to HIROC's vision of partnering to create the safest healthcare system," said Catherine Gaulton, CEO of HIROC. 
Innovative Education
Another barrier, says Hoffe, was staff education on early warning scores and deteriorating patients. Much of the training and education was happening on the sides of providers' desks. Hoffe and the team developed a creative solution, launching an escape room scenario on the early warning score and escalation pathway, where nursing staff received an hour of dedicated training in small groups. 
Having their undivided attention and allowing staff to ask questions before implementation had a strong impact on the success of the project. Staff were able to provide feedback on the program in dedicated binders on the unit. "We are constantly iterating," said Hoffe, who added that it's important to clearly articulate the why when developing new programs that will change the way staff work. 
Today, the program has been fully integrated in all nine acute care facilities at Central Health. 
Hoffe says the next step is to develop a way for patients and families to escalate care concerns. "This came out of HIROC's Risk Assessment Checklists, with regard to deteriorating patient," said Hoffe. 
While reflecting on the project, Hoffe appreciates the support of her manager, Melanie Hewlett, who was instrumental in this work as both a mentor and in providing great leadership in moving the work forward.
When asked what advice Hoffe has for other healthcare teams looking to tackle big projects like mitigating the risk of patient deterioration, she said it's about focusing on one project and sticking with it. Investing in staff, following quality improvement methodology, and getting key stakeholders on board is also critical for improving a project's success factor. 
By Michelle Holden, Lead, Communications & Marketing, HIROC 
---
This story was originally published with a collection of safety grants stories in the The HIROC Connection, Fall 2020.