Putting Safety Intelligence Into Action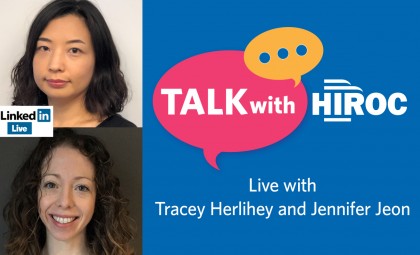 In this episode of Talk with HIROC, we sat down with Tracey Herlihey, head of safety intelligence at Healthcare Safety Investigation Branch (HSIB) in the United Kingdom, and Jennifer Jeon, human factors and patient safety lead at Sinai Health in Toronto.
Missed the episode? Watch it now!
WHAT IS SAFETY INTELLIGENCE?
Tracey breaks it down into three different kinds.
Local. Tracey says this includes incident reporting, data about complaints, and patient experience surveys.
National. This is analyzing trends at a macro level; thematic reports, huge datasets of coroner investigation reports, and patient safety alerts.
Intel about intel. Tracey says this is the study of pitting different types of safety intelligence against each other, and understanding the strengths and weaknesses of each to find the best fit for a specific problem.
WHY IS IT IMPORTANT?
"Safety intelligence, to me, provides an indicator of where we should focus patient safety action and effort," Tracey says.
She adds that it's a great way to focus on patient safety using data in your toolbox.
"I think a lot of the time, people have their own niche areas of expertise, or things that they think we should focus money on," she says. "Using the data – and the broad data – can help to directly inform where we direct those activities."
For Jennifer Jeon, she says it's about setting the right priorities.
"There are always more problems, and more challenges to address than we have the capacity to do something about," she said.
"Prioritizing based on evidence to prioritize high-impact areas rather than fixating on indicators is important."
Jennifer adds that there's definitely lots of data available to us in healthcare, but putting it into action is the real challenge.
MAKING SURE SAFETY INTELLIGENCE GETS PUT INTO ACTION
Tracey says although much of the work her and her team do is investigative, it's still about solving problems – even though they may be working to stop them before they happen.
She says at the end of the day, what the healthcare organization does with the recommendations and tools is what can really help patient safety.
"These are all tools to help us understand the system more," she says.
"But there really has to be investment and participation from those who are involved and using the tools, following the processes and so on, to really make that change happen."
For that to work, Tracey says people within the healthcare organization need to be on the same page.
"It's important to work with people, rather than trying to impose change," she says. "This is one way to encourage action."
She adds that any investigative work must include the "levers" to allow change.
"If the management or reporting structures aren't in place to support the investigators, then you can only get so far," she says.
Jennifer agrees. "At the end of the day, our recommendations have to be acted upon," she says. "That's our biggest challenge."
For more information on putting people at the centre of your healthcare organization, be sure to check out HIROC's strategic plan.
By Julian Abraham, Communications and Marketing Associate, HIROC